BRIGHTON PARK — Ald. Raymond Lopez (15th) rebuked drivers and spectators who blocked firefighters to film a blaze that consumed three garages in Brighton Park this week.
Ald. Lopez took to Facebook to call out drivers who delayed fire crews trying to access a fire near his Brighton Park ward office.
In the Tuesday post, Lopez said "drivers were too busy blocking the alley taking pictures and would not get out of the way of fire trucks responding to the scene. That is unacceptable behavior!"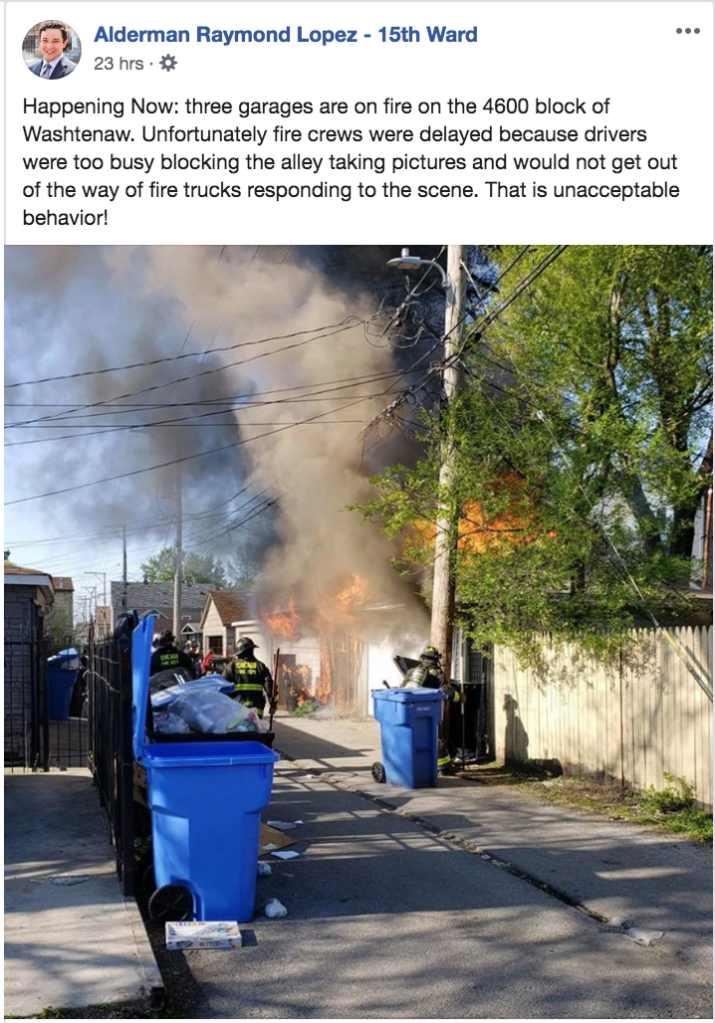 At 5:07 p.m. Tuesday, the Chicago Fire Department responded to a fire in an alley in the 4600 block of South Washtenaw Avenue, Larry Merritt, a Chicago Fire spokesman said. 
The cause of the fire was unknown and no additional details on battling the fire were available, Merritt said. 
On Wednesday, the alderman told Block Club Chicago some members of his staff, along with a neighboring business owner walked over to the fire and were shocked to see the alleys "completely jammed" with at least eight to 10 cars and people "gawking and taking photos and videos" of the fire.
Lopez said he, his staff and neighboring business owners tried to get people to move the cars and make way for fire trucks, but were unsuccessful.
"We were concerned if the fire spread there could have been fatalities and more damage and put lives and more properties at risk," Lopez said.
Lopez said "resistance" to their efforts to move cars "blew his mind." 
"This could have been the difference of life and death if this went further," he said. "We have seen — at any accident, or any incident … people come over who take photos, but I have never seen so many people and cars impede emergency responders trying to put out multiple garage fires simultaneously."
Lopez's post comes at a time when state legislators are working to hike fines for drivers who fail to move over for emergency responders.
On Tuesday, Governor JB Pritzker unveiled legislation aimed at keeping first responders and construction workers safer on Illinois roadways.
Scott's Law requires drivers to move over when approaching law enforcement and emergency vehicles stopped on the road or any vehicle displaying flashing emergency lights.
Fines would be increase from $100 to $500.
After a new City Council is sworn in, Lopez intends to introduce a resolution to see what impact social media is having on response times and what can be done to address the issue so no lives or property are unnecessarily lost or damaged. 
In the meantime, Lopez said his Facebook post was meant to draw attention to people going to social media rather than reaching out to first responders in an emergency situation. 
"Your first instinct should not be to whip out the phone [and film] when you see something going wrong and first responders are needed," he said. 
"This simply is to remind people of common sense. Call 911, help individuals first should be your priority. Not your selfie with an accident or fire," Lopez added.  
Do stories like this matter to you? Subscribe to Block Club Chicago. Every dime we make funds reporting from Chicago's neighborhoods.