UPDATE: The cat was returned Tuesday evening. The woman who took her "thought she was a stray" and had her friend return her because she was embarrassed, the flower shop owner told Block Club.
LOGAN SQUARE — A thief was caught on surveillance camera Monday stealing Fleur's beloved shop cat, Sweet Pea.
Kelly Marie Thompson, the owner of the flower shop at 2651 N. Milwaukee Ave., is now looking for help identifying the two people in the video responsible for the brazen — and shocking — theft.
Thompson said she doesn't want to press charges — she just wants Sweet Pea back.
"When we saw her scoop her up and walk out, it was pure shock," Thompson said. "You can't take a person's pet — ever."
In the video, a woman can be seen petting the cat, a 17-year-old Tortoise known to many customers as Shop Kitty, for several minutes in front of the shop by the windows. The woman's friend also comes over to see the cat.
After a long petting session, the woman walks away and browses throughout the shop. When the woman and her friend go to exit the shop, the woman can be seen picking up the cat and taking her out of the store.
Thompson said the brazen theft happened Monday evening. When she locked up the store, she left a bowl of food for Sweet Pea, assuming she was hiding in one of the stores many nooks and crannies.
It wasn't until Tuesday morning that Thompson and her employees immediately realized Sweet Pea was missing. After tearing the place apart, they pulled up the surveillance video where they saw the woman and her friend brazenly stealing Sweet Pea.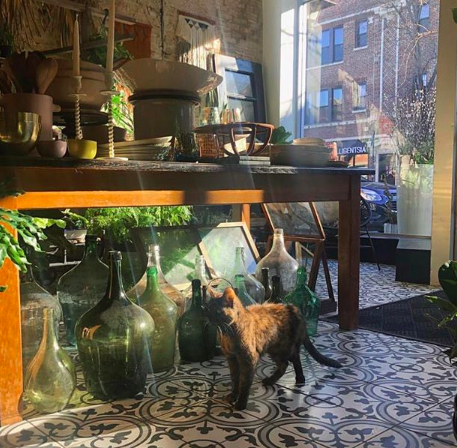 Thompson said it could've been an act of vigilantism because Sweet Pea is old and frail, but if the woman and her friend assumed the cat was in need of better care that couldn't be further from the truth.
"She's very well loved and taken care of," Thompson said. "We tease and say she gets a mani pedi every week. She gets monthly checkups and her nails trimmed."
Thompson said she's worried Sweet Pea will suffer in the thief's care, or lack thereof. Sweet Pea has extreme medical needs. She takes medication every couple of days and eats special food.
Anyone with information should contact the shop directly.