AVONDALE — Tenants facing eviction from an Avondale apartment building and their supporters are taking a stand against what they describe as "greed and inhumanity" carried out by a property management company.
But Mike Zucker, CEO of that company, Peak Properties, defended the move, saying the tenants are "under paying" for rent. He also contends Somos Logan Square, the anti-eviction neighborhood group behind the protest, is not acting in the best interests of the tenants.
About 35 people, most of them tenants' rights advocates and members of Somos Logan Square, rallied outside of Ald. Ariel Reboyras' 30th Ward office Monday afternoon.
The goal was to convince the alderman, whose ward includes the apartment building, to intervene and help their newly-formed tenant union reach a "fair negotiation" with Peak Properties. Reboyras didn't immediately respond to a request for comment.
Herb Linn, real estate lawyer with the firm Pedersen & Houpt, bought the 34-unit building at 3108-3116 N. Milwaukee Ave. in February for $3.2 million, according to Cook County property records. Linn tapped Peak Properties to serve as property manager.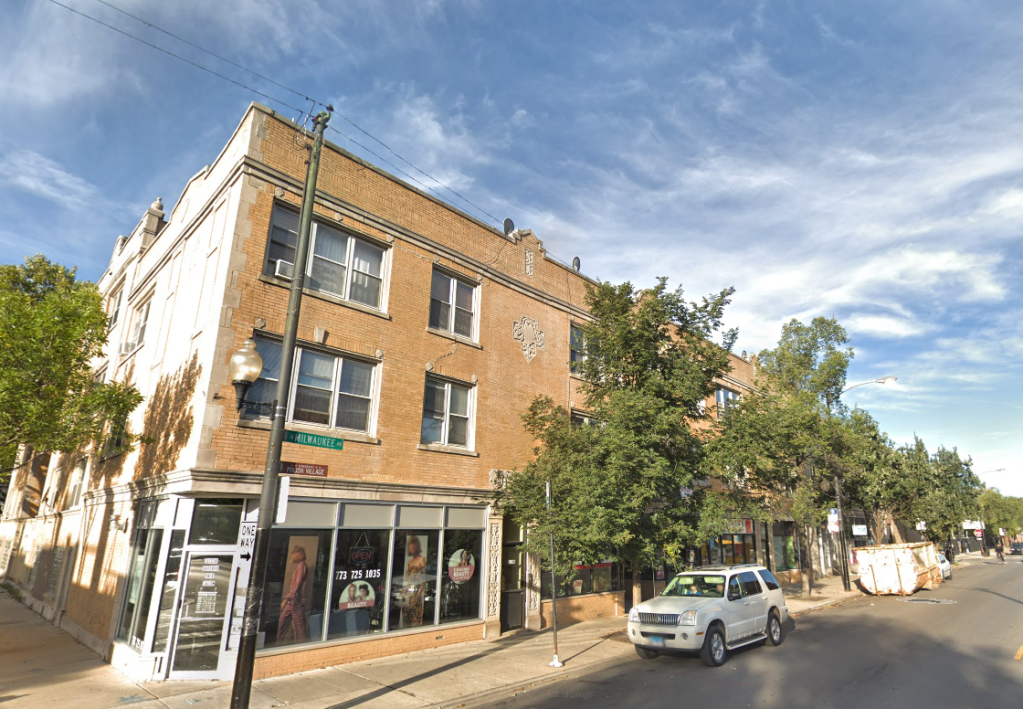 The project partners began renovating the apartments less than a month ago, according to Zucker. The plan is to let the current leases expire and then charge new tenants market rents once the renovation is complete.
Of the building's 34 apartments, 12 of them are currently occupied, Zucker said. The tenants began receiving 30-day eviction notices in March, according to Somos Logan Square.
Caritina Rodriguez, 75, is among the tenants who received an eviction notice.
At Monday's rally, Rodriguez said she recently returned home from a trip to Mexico — where she went to visit her ailing father — to find out she was being evicted.
"I began to despair and entered a state of anguish," Rodriguez said through a Spanish translator. "At my age, where can I go?"
Patricia Scardina, another tenant who received an eviction notice, said this isn't the first time she's been pushed out of her Chicago neighborhood.
Scardina, a daycare teacher, said she's lived on the Northwest Side for 37 years, but grew up in Lincoln Park. In the 1960s and '70s, when Lincoln Park was gentrifying, Scardina was pushed out of the North Side neighborhood due to rising rents.
"Now I see it happening all over again," Scardina said. "I'm being displaced, and I'm not being treated like a human being."
The tenants want Peak Properties to recognize the union and ultimately give them more time to find new homes. But Zucker won't work with the union. He said he will happily work out a deal with tenants on an individual basis, but not with the union.
"If any tenant wants to come to me and work out a deal, my door is wide open," he said. "[Somos Logan Square] wants all tenants to be left in the building and to stay there for at least a year. As soon as they said that, I was like, I don't want to work with you."
Zucker said while Somos "may appear to have a mission of helping others, their mission is 100 percent self-serving," adding, "They make money on this."
The group, however, denies the accusation.
"Somos Logan Square has never received money from settlements between tenants and landlords. Somos is all volunteer-run," the group wrote in a statement.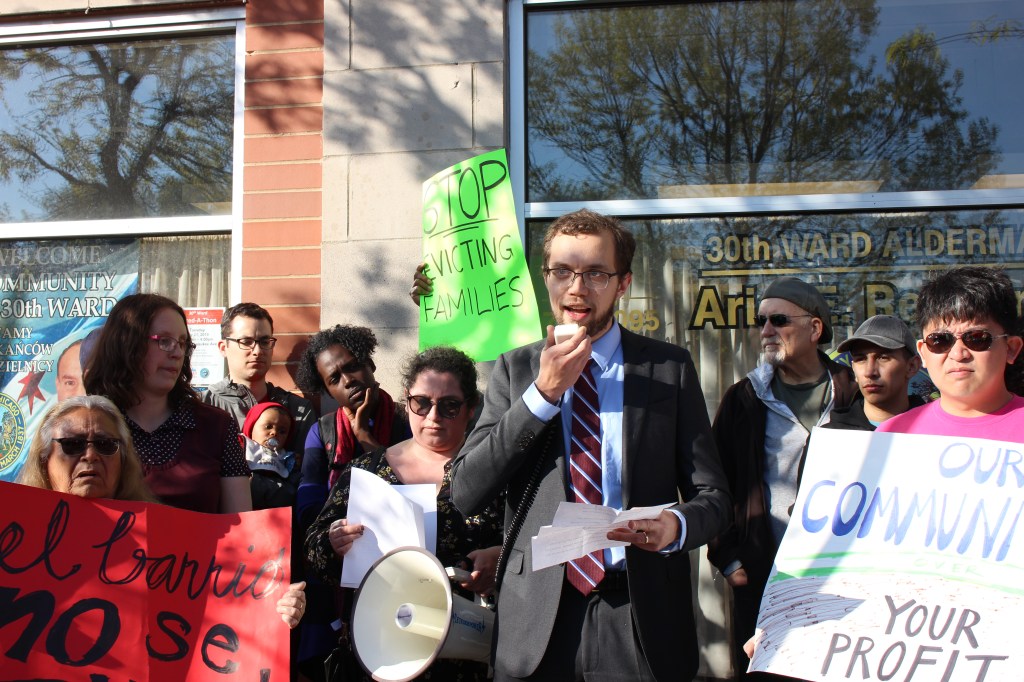 Somos aside, Zucker said the current tenants are "under paying."
"People are paying $750 and market rents" are higher, he said. "I'm not pushing them out. I'm saying when your lease is up, it's time to go."
Zucker said he plans to charge around $1,250 for one-bedrooms and around $1,550 for two-bedrooms once the renovation project is complete.
In addition to the evictions themselves, the tenants and their supporters are also concerned about the ongoing construction. Scardina said she comes home to "dust in the air and debris everywhere," as well as "pounding and noise all day, six days a week."
"When I get home, I want to relax and I can't. The landlord is trying to force us out and tell us we're not wanted here. But I am paying rent and I have the right to peaceful enjoyment of my home," she said.
But Zucker disputes the allegations. He said he toured the building with city officials and the alderman Monday morning and didn't find any issues.
"The building is 100 percent safe," he said. "It is clean and we are 100 percent following the building laws for the city of Chicago."
In fact, Zucker said, his team is making the building safer. The building is nearly 100 years old and was in bad shape before his team started renovating, he said.
"In all, sincerity, I have no bad motive here. If someone needs help or assistance or needs to stay longer — I'm already letting people stay. If they need more time, I get it," Zucker said. "There are a lot of hipsters in the building who have nothing but a bed and a bicycle and they could've been out yesterday if they wanted."