LINCOLN SQUARE — Getting a tattoo can be an intimidating experience for first timers. The shops themselves can feel unwelcoming to newbies — and some scoff at walk-ins. Lincoln Square's Tattoo Avenue aims to change that.
Co-owned by married couple Amanda and Stephen King, the shop at 5122 N. Lincoln Ave. opened in January and aims to be a neighborhood place for people to pop in and chat, and to get their first tattoo.
"Our goal was to open a shop by the time we were 35 and now we're 30 years old," Amanda King said. While on maternity leave from her day job at Floyd's Barber Shop in Wicker Park, Amanda King started looking around for places to open a shop while also taking care of her newborn.
"If we don't do it now then we're never going to do it, you know?" Amanda King said. "We wanted something for ourselves and this neighborhood didn't have a tattoo shop."
Stephen King has been a tattoo artist for the past 11 years.
He attended the American Academy of Art in Chicago and earned a degree in graphic design, but he's always been an artist.
"But I think by the time I graduated I was over looking at a computer screen. I wanted to get back doing hands-on stuff," Stephen King said. "I had been tattooing all through art school on the side and decided to take it seriously to the next level and make a career out of it."
One thing he finds most interesting about the job is chatting with his customers while working on their ink.
"There's this lady that keeps coming in. I think she started coming in when she was in school for creative writing and some time later came back for her third or fourth tattoo," he said. "We're catching up and she's like, 'Oh yeah, no big deal, my web series got nominated for an award.' It's nice to see people grow if they're a regular client."
The shop at the corner of Winona Street and Lincoln Avenue is a bright open space with large, street-facing windows showcasing the works on the walls by various artists.
"The feedback we've been getting from a lot of people is that a lot of other tattoo shops seem unapproachable. I think there's this stigma that you have to be a big burly tattoo person," Amanda King said. "We wanted our shop to be very open and I think that we have been very friendly. People stop in just to say hi to us all the time and that's what we wanted."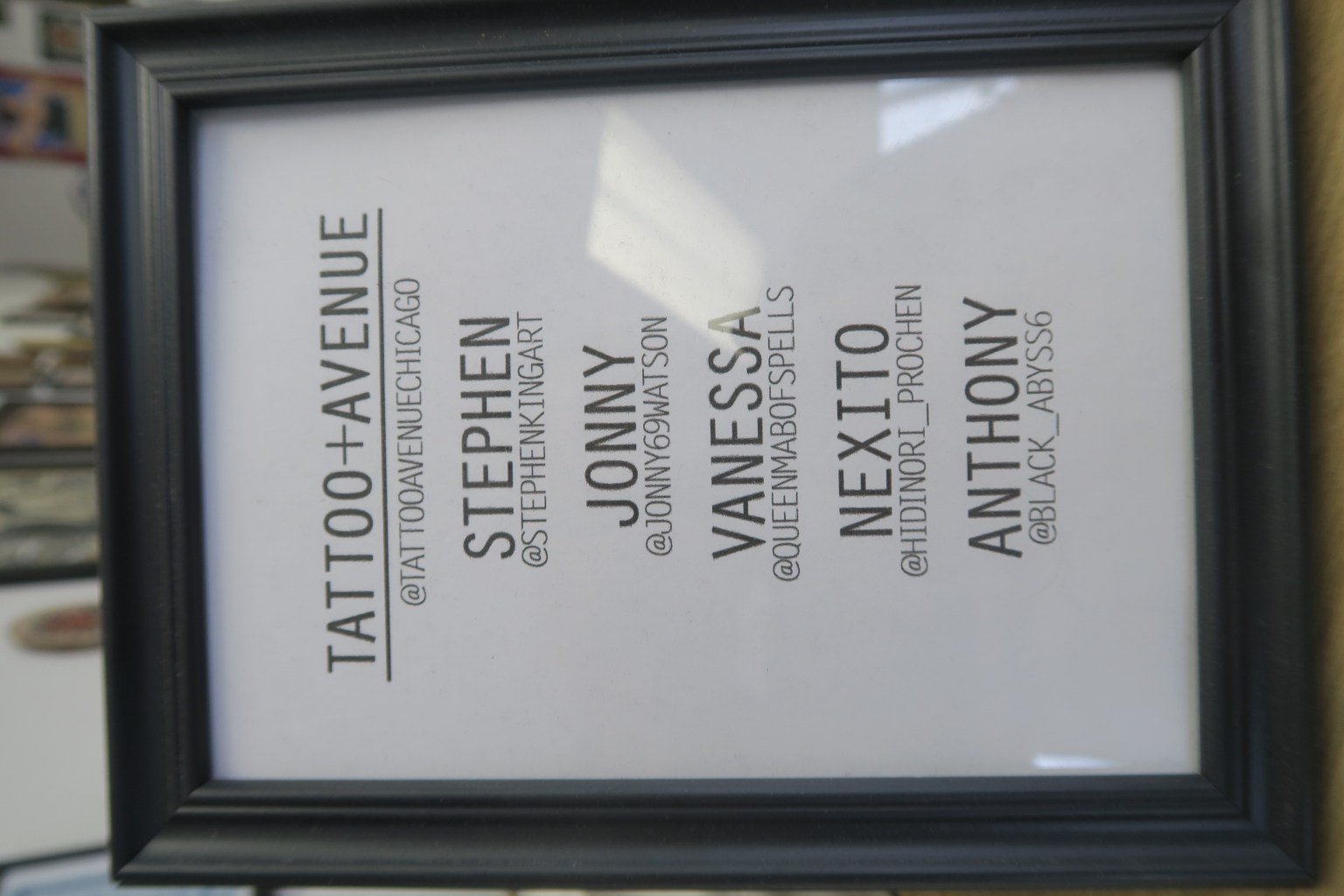 In addition to Stephen King, the shop has four other artists on hand, including Jonny Watson, Vanessa Vargas, Hidinori and Anthony Ficuciello.
"Our artists are our family. When people come in here I want people to recognize them and everything they've done for us; that's really the most important thing to us," Amanda King said.
Some of the Tattoo Avenue family will join tattoo artists from across Chicago on May 22 for a Chicago Themed Art Show at The Native, 2417 N. Milwaukee Ave. For more information visit the event's Facebook page.
Do stories like this matter to you? Subscribe to Block Club Chicago. Every dime we make funds reporting from Chicago's neighborhoods.