SOUTH LOOP — High school can be tough, but it's especially difficult for students who make up the minority population in a predominantly white school.
For Sullivan Anderson, a junior at Jones College Prep High School, 700 S. State St,. being black in a mostly white space can be uncomfortable.
"A lot of black students struggle to find friend groups that are like them and understand their experiences," Anderson said, adding that she faces derogatory comments about her hair and other "microaggressions" regularly.
Then, outside of school at a community event in October, she discovered Black Girls Break Bread.
Black Girls Break Bread, an official Chicago Public Schools programming vendor, works with universities, colleges and nonprofits to create safe spaces, boost confidence and empowerment for black women and teens. The program was launched in 2016 to simply bring black women and girls together to share a meal — and have important conversations they may not be able to have openly in predominantly white spaces.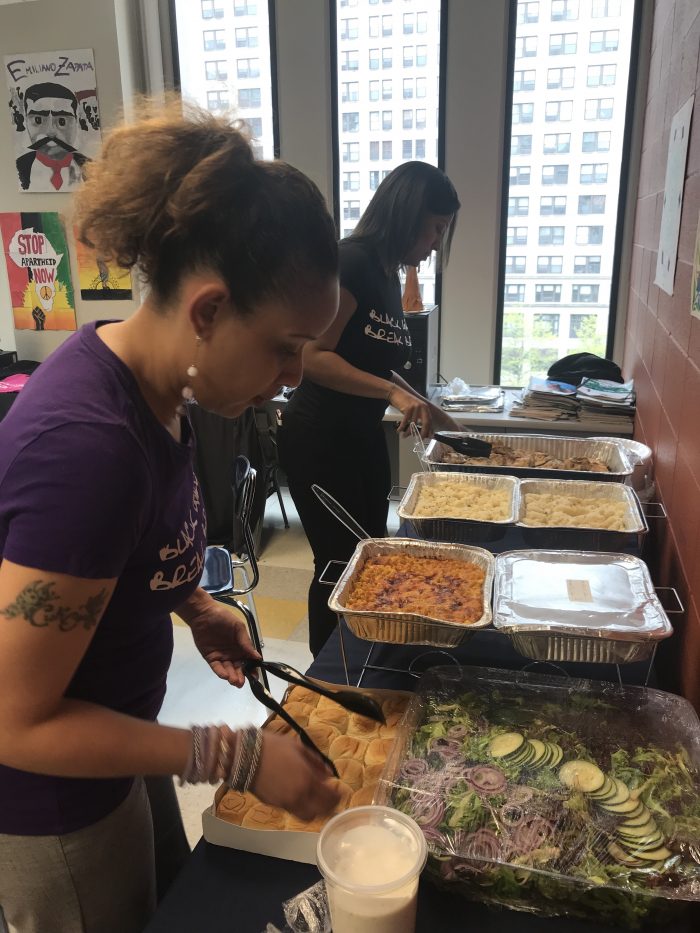 Immediately, Anderson got to work and organized a Black Girls Break Bread event at her school to help students create a more positive peer culture, feel valued and connect other black students they might have never met.
"We need this here at Jones because we really need the empowerment [and] affirmation that we belong in this environment that wasn't necessarily created for us," Anderson said.
As the president of the Natural Hair club at the school, Anderson felt compelled to bring a sense of community and empowerment to the black girls at Jones.
The event came together in late April, when more than 40 girls and faculty members discussed community building, representation, empowerment and navigating mostly white spaces — all over a hearty meal by Dream Chef Kitchen, chosen by Anderson. Pairing a meal with honest and challenging conversation is how Black Girls Break Bread got its name.
For Black Girls Break Bread cofounder Jazzy Davenport, hearing Anderson's experience of racial prejudice reminded her of her own high school experience. Davenport attended Lane Tech High School, a predominantly Latinx and white school where black students are the smallest minority at 8 percent. Similarly, Jones' black population is at 14 percent with a higher number of white students.
"I was able to relate to what [Anderson] is feeling and the experience of being the one [black student] in classrooms at such a young age and not having representation as far as educators in your building to look like you," Davenport said.
The lack of representation for black youth is exactly why Black Girls Break Bread was created, its founders said.
When environments do not feel representative, that can affect a student's success and comfort, said Cathleen Martin, a history teacher at Jones and the faculty advisor of the Natural Hair club. Martin is the first black history teacher and one of only five black teachers at the school. Although there are two black counselors and 12 other black faculty and administrators, in a school of 1,860 students, that can affect self-perception.
"It's important to have moments to get together and discern how similar your experiences to other students' experiences are and that you are not alone," Martin said of the event. "Someone else understands your perspectives [and] struggle with self-perception when you are one of few African-American students, particularly in selective enrollment schools."
She said this is not an issue unique to Jones but rather an issue for minority groups in general. As a freshman teacher, Martin said she sees her black students struggle to adapt to the new classroom environment and understand they deserve to be here. While she said it can take time for them to adjust, having teachers as role models is beneficial. Black Girls Break Bread founders believe intergenerational connection on these issues is key.
"Most of us have experienced the same thing," Martin said. "For me it is about helping students with their self-perception but it's also about doing it in an environment where you can't be explicit about it."
Anderson hopes the students who attended the program feel more empowered to use their voice and know they have worth and support. She would also like to see more effort from the school's administration to speak on the issue and host seminars for incoming students to teach them how to interact with different student groups without being offensive.
The founders of BGBB believe highlighting student leadership like Anderson's can spark that culture change in schools. The organization is working to bring its program to other high schools and is working with the district's Social Emotional Learning team to target students at low-performing schools.
For students from high-need communities that lack resources from the city, feeling valuable is critical to self-esteem and emotional growth, the founders said. But whether a student comes from one of these communities or an affluent neighborhood, the issues are the same: "Black women and girls need to be valued," co-founder Jessica Davenport-Williams said.
"There has to be a culture shift and in order for that to happen, we have to speak," she said. "We are vehicles to be able to preserve the mental wellbeing of our demographic and children."
Do stories like this matter to you? Subscribe to Block Club Chicago. Every dime we make funds reporting from Chicago's neighborhoods.