SOUTH LOOP — Work began this week on bike lane upgrades in the South Loop.
David Smith, the Chicago Dept. of Transportation's bicycle and pedestrian programs planner, unveiled the latest plan for the bike lane overhaul Tuesday during a community meeting at Grace Episcopal Church, 637 South Dearborn.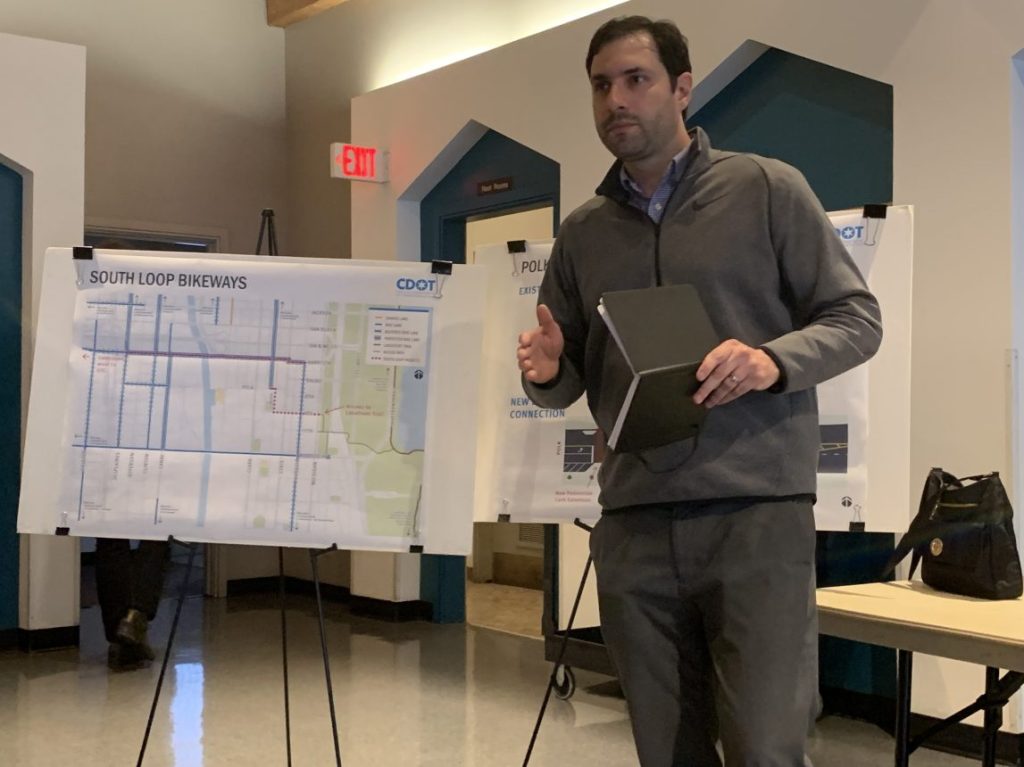 The plans deviate slightly from the original proposal made by CDOT in 2016, but were a compromise that got neighbors, Ald. Sophia King (4th) and cyclists on board.
"The number of people who are biking on Harrison Street has quadrupled over the last seven years," Smith told the crowd of 50 residents and business owners packed into the church's community room. "Biking is growing incredibly fast throughout the city, but particularly Downtown and near Downtown, which makes sense because you have a lot of destinations that are within a mile or two."
As it stands, the current layout on Polk Street between Plymouth and 9th Street has one concrete curb separation on Dearborn, but no protected bike lane. The revised plan will make several changes along Polk Street, which include a protected bike lane, a pedestrian curb extension, a concrete curb separation and a new pedestrian refuge island.
The new upgrades would allow for two-way bike traffic to flow between Dearborn and Plymouth, limiting the potential for collisions between cyclists and drivers.
On Harrison Street, the protected bike lanes will have concrete curbs added for extra safety while maintaining access to alleys, driveways, and streets. New wayfinding signage would also be added.
Work on Polk Street and Harrison Street upgrades started this week. Both should be completed by early June.
The bike lane upgrades are part of the Chicago Streets for Cycling Plan 2020, a 2011 initiative spearheaded by outgoing mayor Rahm Emanuel to implement and improve bicycling infrastructure in the city.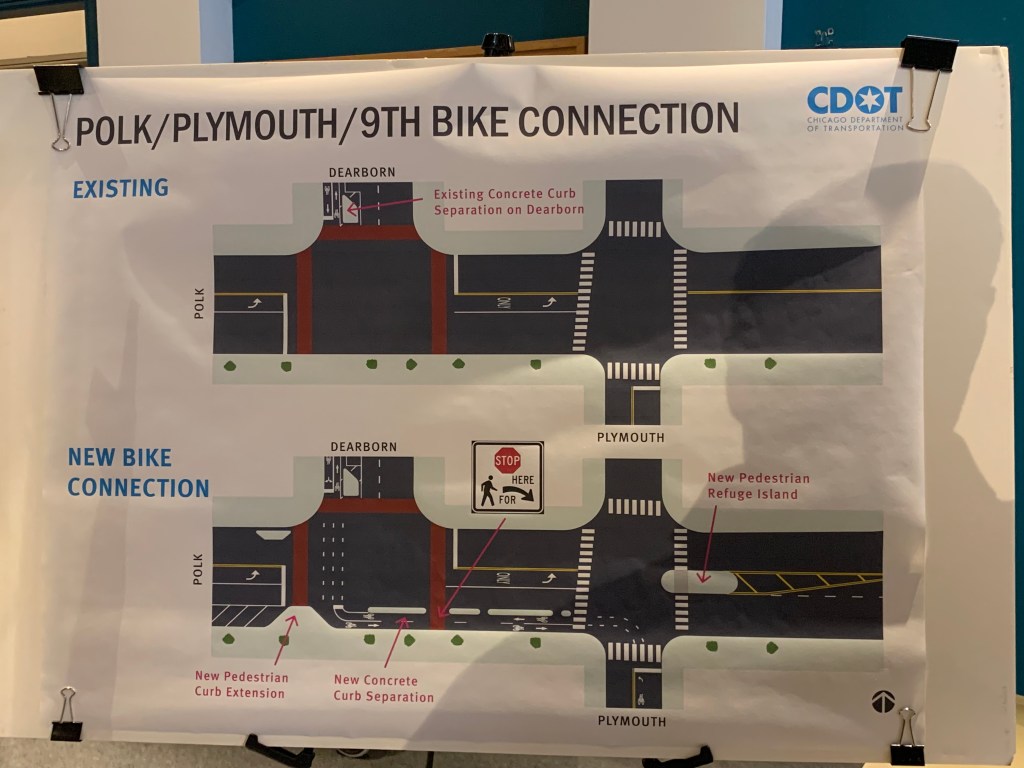 "We want the street to communicate to everybody where they should be, and how they can get around comfortably and safely," Smith said.
Traffic in front of the Greyhound Station on Harrison would also improve with the installation of a curb along the eastbound lane, Smith said.
While some residents were still not 100 percent thrilled with the plan—including Ald. King—everyone agreed that having some safety measures was better than having nothing at all.
"This is a pretty good proposal. It could be better, in my opinion, but let's see if it works. If not, we can go back to the drawing board," King told residents shortly before concluding the meeting.
Victor Powell, who owns Powell Photography on South Plymouth, told Block Club Chicago that he's seen his fair share of near-collisions over the last 20 years because of the lack of bike-friendly infrastructure.
"It's not perfect, but it's a start. Something is better than nothing," said Powell, who added that he occasionally bikes around the area. "Drivers and bikers have to respect each other. Some light enforcement of the law will minimize issues."
Josh Ellis, a South Loop resident and board member of Greater South Loop Association, also supported the plan, though he preferred the one laid out by CDOT two years ago.
"The options for clearly delineating appropriate pathways for cyclist versus driver was stronger then. I'm concerned we watered down the proposal," Ellis said. "If you want to make cycling and walking safe, you need clear delineation of appropriate space. The fact that there's no striping down Plymouth and 9th is a shortcoming."
The original proposal did call for new bike lanes on 9th from Dearborn to Michigan Avenue, but CDOT said ultimately the street wasn't wide enough for a dedicated bike lane.
"If we're serious about protecting cyclists, we need to figure out how they can go further south on Plymouth, and not have to go on State and Wabash for a longer distance," Ellis said. "Maybe they can go down to 18th Street, where they can connect to another pathway. There are other options to keep working on in the future, but I'm glad we're moving forward with something."