CHICAGO — Máximo, the Field Museum's enormous Titanosaur, has finally got his hands (claws?) on a cellphone — and he promises not to leave you on read.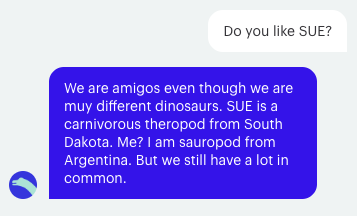 Máximo, who greets the museum's visitors at its entryway, can now answer questions sent to him via text or online messaging, according to a Field Museum news release. The AI-driven service will allow anyone to send Máximo a question and get a response.
Máximo will tell participants about what life was like back when he roamed the Earth during the Cretaceous Period and how he came to the Field Museum. The plant-loving dino will also answer simpler questions, like what he eats and what's his favorite color.
As more people send in questions, Máximo will be able to respond to more, according to the Field.
"Máximo is a friend who will always text you back," said Andrea Ledesma, the Field's Web and Digital project specialist, in the news release. "He comes across as easygoing and welcoming, plus he has a good sense of humor. We're hoping that this new experience will facilitate fun, curiosity-driven conversations as a way for people to interact with one of the world's biggest dinosaurs."
Those who wish to contact Máximo can text 70221 or send him a message online.