LOGAN SQUARE — At long last, Monroe Elementary's "rotting" mobile classroom is finally coming down.
Chicago Public Schools is expected to tear down the more-than-30-year-old structure and build a new playground in its place sometime this summer, according to school principal Bryan Quinlan. The old playground will be replaced by a new turf field and running track.
The entire project will cost CPS about $1.2 million in capital funds, according to district spokeswoman Emily Bolton.
It's a big win for school leaders who fought for years to get the mobile classroom removed. Not only is the classroom unsafe and filthy, leaders have said, it's also unnecessary. It was originally built to address overcrowding at the school, 3651 W. Schubert Ave., but the school is no longer overcrowded.
Quinlan said the school community is thrilled to see the project move forward.
The students are especially excited. "The screams could be heard from a block away I'm sure," Quinlan said.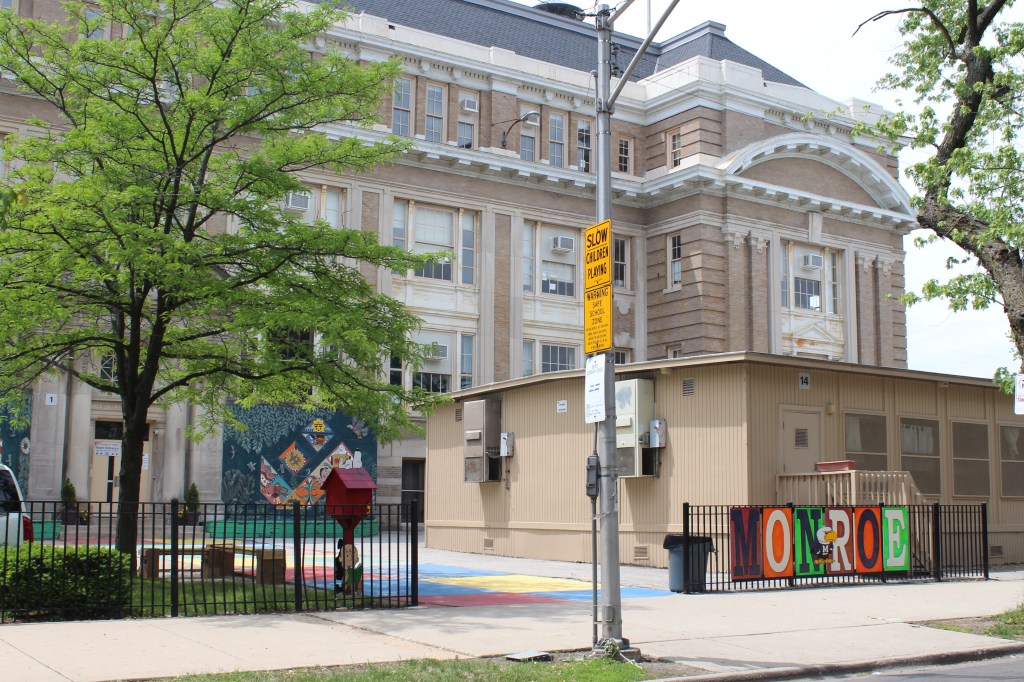 Students, parents, teachers and administrators all helped design the new amenities. It was truly a team effort, according to Quinlan.
Monroe middle schoolers will get another chance to put their mark on the project at the Schools That Can design day challenge, slated for May 17. At the conference, students will work in teams of six led by industry professionals to design murals, opening day festivities and more. The winning team's work will be incorporated in the final plans.
Mobile classrooms started becoming a popular solution to overcrowding in the CPS system in the 1960s, according to a report by the Great Cities Institute. Over the years, the classrooms have drawn criticism. One Northwest Side alderman once described them as a "band-aid" and "not a permanent solution."
Monroe's mobile classroom has fallen into disrepair since it arrived on the school campus more than 30 years ago. It suffers from a rat infestation, poor plumbing and non-functioning smoke alarms, among other issues, according to school leaders.

"The custodians who clean them say there's a very, very bad smell coming up from the plumbing," Maria Gutierrez, president of the Local School Council, previously said.
"[There's] a lot of black soot. On the floor, when you mop, it's rotted out. It's rotting from the inside out."
Other leaders throughout the school's history have called for the classroom's removal, but Quinlan and his Local School Council were the first to get results.
"I think that [CPS leaders] believe in us and they're seeing results upon results. They're excited about the work and they want to work to continue forward," Quinlan said, adding, "What was kind of Logan Square's best kept secret is becoming more public knowledge."
As part of the project, the district is also making improvements to the school's drainage system and pre-K classrooms because the school will be the site of a new training program for pre-K teachers this year, the principal said.
"These [pre-K] classroom improvements as part of the capital project ensure all our [pre-K] classes will be able to enter/exit directly into the new green spaces during their gross motor time," Quinlan explained in an email.
RELATED LINKS: