WEST TOWN — Are you feeling both athletic and artsy this weekend?
Consider lacing up your sneakers and joining Runstreet Chicago, the local chapter of a national running group dedicated to intermittently admiring and discussing street art while running.
Dubbed "Art Runs," Runstreet organizes group runs across the country that incorporate neighborhood-based stops at murals and art installations.
This weekend's West Town-inspired run will take place 12-1:30 p.m. on Saturday and will start and end at Chicago Truborn, 1741 W. Chicago Ave.
Runners jog for a total of 3.5 miles (with several stops throughout) at a pace of 10 minutes-per-mile. Tom Leddy, an avid runner and local art expert, will lead an educational talk and discussion about each work of art at each of the run stops.
Tickets are $25 and can be purchased online.
Chicago runner Laura Rizzo began participating in Art Runs in 2017. Since then, she said she's been actively trying to grow Chicago's Runstreet chapter. Neighborhoods, she said, come alive "when on foot."
"Runstreet is a healthy, community focused way to arrive eye level at a beautiful work of public art and literally hear its story," she said.
Last fall, Rizzo participated in Shakeout Art Run in Logan Square with Galerie F as the host. On June 1, Pilsen Outpost will host the Daydream 5K Art Run and Festival in the Pilsen neighborhood.

Runstreet was founded by New York City runner Marnie Kunz, an avid runner who wanted to encourage runners "of all levels to explore the beauty around them and learn about local art and artists."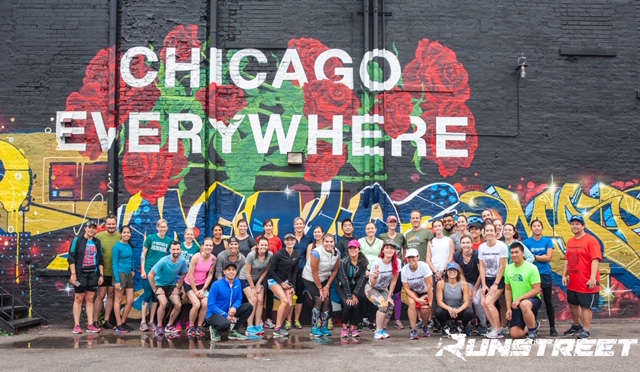 "When I moved to NYC in 2012, I found that running was the best way to learn the city and explore new neighborhoods, and I was amazed by all the incredible street art I saw in my runs through Brooklyn, Manhattan and Queens," Kunz wrote on Runstreet's website.
Kunz began documenting the street art she saw on her runs on her @runstreet Instagram. In 2015, the Brooklyn Running Co. hosted the first Runstreet Art Run through the Williamsburg neighborhood in Brooklyn.
Since then, Kunz has led more than 200 Art Runs in cities ranging from Miami to Chicago.
Saturday's West Town run will feature one of the neighborhood's most recent additions — a 40-foot botanical-inspired piece from internationally known Detroit-based muralist Louise "Ouizi" Jones.
Related: International Street Artist Ouizi Unveils 40-Foot Botanical Mural On West Town Building
The piece was commissioned by the West Town Public Art Program — a program that is overseen by the West Town Chamber of Commerce and funded by the West Town Special Service Area — and was unveiled last week.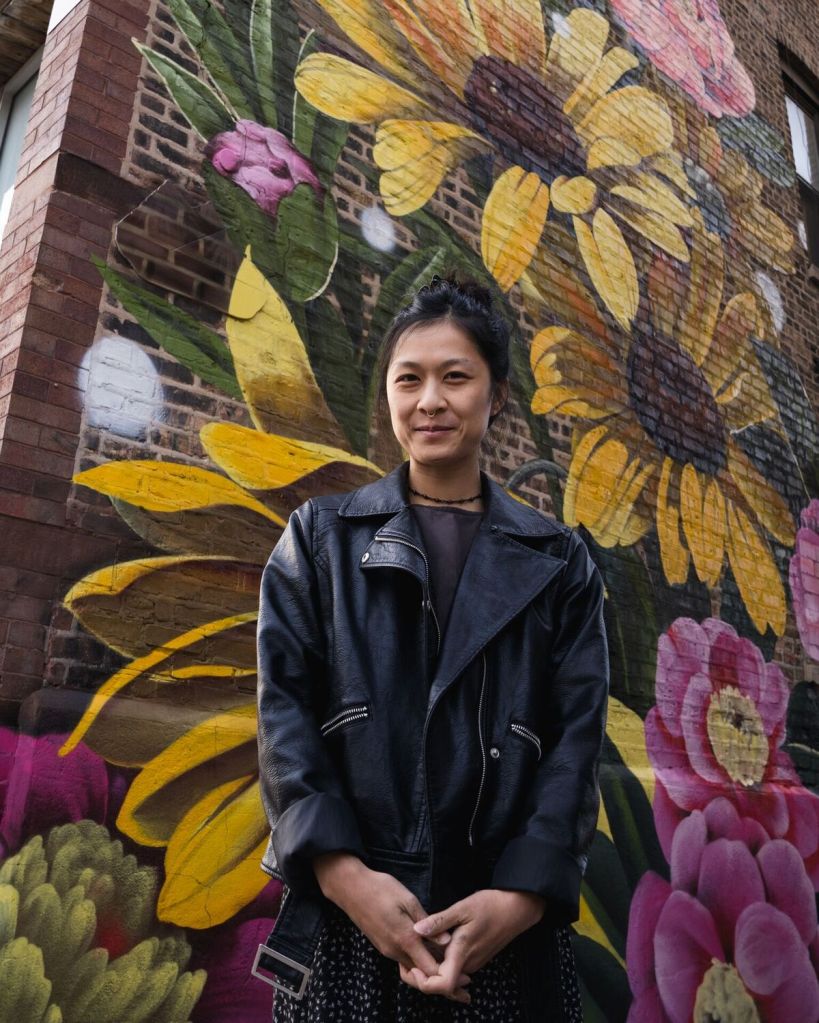 Sara Dulkin, the owner of Chicago Truborn, recently told Block Club Chicago that Jones' massive piece adds to what is already an "arts revival" in the West Town neighborhood.
Since 2015, the West Town Public Art Program has sponsored more than 30 murals and art installations.
"The public art and murals in West Town have changed the neighborhood in ways nobody could have predicted," Dulkin said.
During the unveiling, Jones — who is known across the world for her large-scale floral and botanical murals — told Block Club Chicago that street art adds significant value to neighborhoods across the country.
"People feel really proud of their neighborhood if they have a piece of art. It adds to the pride of the neighborhood," she said. "It also lights up a space. Like an alley that's normally kind of dank and dark, it gives it a little extra love."