WEST LOOP — For 57 years, Bob Schultz Jr.'s family worked to turn a floundering metal plating facility into a successful, sustainable business. But in a matter of four hours, a fire reduced the many years of arduous labor building American Nickel Works into rubble and ash. 
Now, the family has launched a crowdfunding campaign to help raise money in the wake of the fire.
On February 21 at 4:30 a.m., a fire broke out ravaging the two-story building at 1223 W. Lake St. Firefighters were forced to hoist a ladder over the elevated CTA Green and Pink line tracks to battle the blaze until the flames were extinguished just after 8 a.m.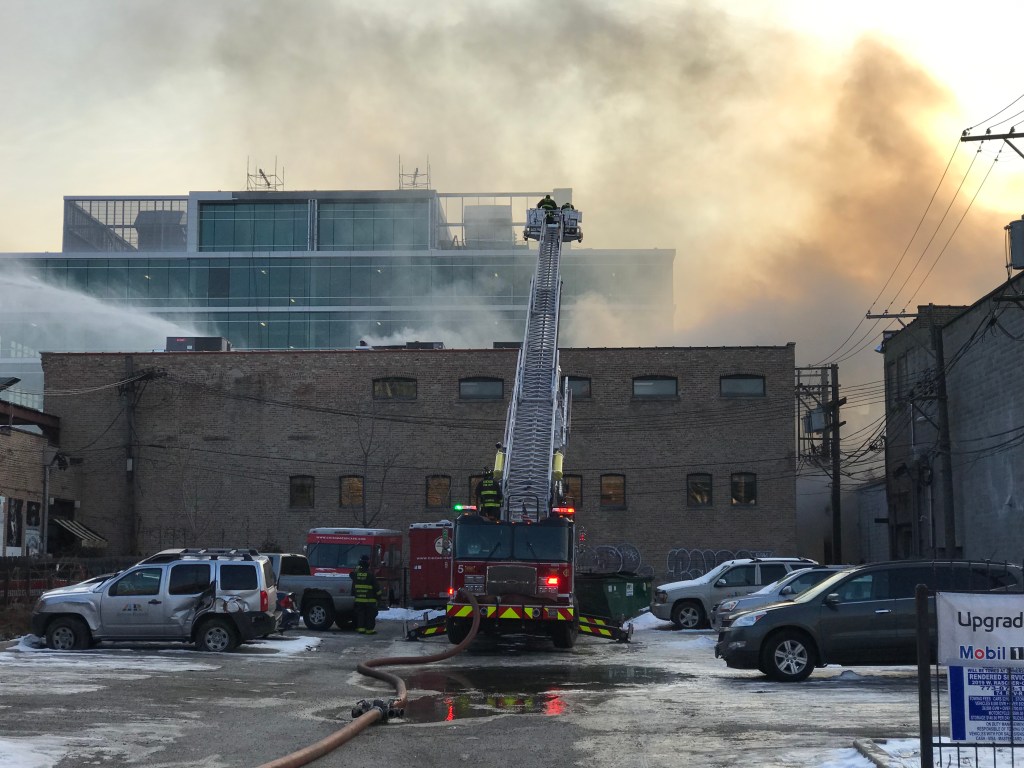 The cause of the fire has not been determined, according to previous news reports. The Chicago Fire Department could not be reached for comment on Friday.
Related: Fire Crews Hoisted Ladders Over CTA Tracks To Fight Extra-Alarm Fulton Market Blaze
During the fire, holding tanks with chemicals were damaged and water used to fight the fire caused the tanks to overflow and contaminate the property. In the aftermath, the Illinois Environmental Protection Agency tasked the family to cover the cost of an environmental cleanup," Schultz Jr. said.  
In total, the cost for the site cleanup is estimated between $1.5 million and $1.6 million, Schultz Jr. said.
In order to meet IEPA's clean-up timeline, Schultz' parents, Bob and Carol who own the business, took nearly $600,0000 from their savings and retirement to cover the start of the costly environmental cleanup as they still wait for their insurance company to step in, he said.
Another $300,000 is needed for the next phase of the cleanup but the insurance company — which Schultz Jr. declined to name — has been "dragging," he said.
"We were at a point where our hands were tied and we had to finance this out of our pockets. If we didn't do that, government agencies would have handed it over to a federal government and that's where costs really skyrocket," said Schultz Jr., who oversees day-to-day operation at the company.
As of Friday, the GoFundMe page had raised $4,800 toward their $300,000 goal. All the funds will go toward the required environmental cleanup.
Before the GoFundMe campaign was posted, Schultz's father hesitated to ask for help, his son said.
"They are embarrassed to ask money from people because they've always worked really hard to get things done themselves," Schultz Jr said. "There's a lot of emotions. Sadness, frustration, anger and embarrassment, you name it."
The family has been in the plating industry since 1947. In 1962, the Schultz family purchased American Nickel Works plating company. In 1971, Bob Schultz worked alongside his father 12-hour shifts, seven days a week to ensure the business was successful. In the '80s, American Nickel Works relocated from its North Avenue location to the corner of Racine and Lake in the West Loop.
During the move, the family saw the business grow with 30 employees at its peak working on metal and chrome finishing for local companies, Schultz Jr. said.
Schultz Jr. joined the company in 1995.
After years of learning the ropes, Schultz Jr. took over the family business and his mom and dad went into semi-retirement in 2017.
"It was nice to build something for ourselves and to be able to take care of a lot of our workers and their families…It was really the American dream, " Schultz Jr. said.
Now as the family navigates the aftermath of the fire and the subsequent environmental cleanup, Schultz said it has "taken a toll" on the family.
"It's been really rough, [my parents] planned their whole life for certain things and worked toward it. Then it all got yanked [away.]. Unfortunately, with there being an environmental impact, the state and governing agencies need to, rightfully so, see progress on this," Schultz Jr. said.
"It's really stressful. My parents are worried about…everything…We are forced to wear all these hats we don't know how to wear. I know how to run a manufacturing business but I don't know how to deal with environmental cleanups," he said.
With more deadlines approaching and no idea when the insurance company will step in, the Schultz family is looking for other ways to finance the cleanup — they're even considering selling their homes.
"If insurance doesn't come through, it's a game against the clock," he said. 
You can help support the Schultzes here.