AVONDALE — The air literally buzzed at Belmont Feed & Seed Wednesday as 2 million bees arrived from California for eager local beekeepers ready to start their hives.
The bees arrived in 250 separate screened wooden boxes, all stacked inside a rental truck, ready to be distributed to the store's customers who pre-ordered the very active packages.
It was 60 degrees, windy, and overcast: the perfect day for a bee delivery, according to Belmont Feed & Seed's owner Brian Andronic.
Andronic and his 4-year-old son, Nehemiah, arose at 3 a.m. Wednesday to get a rental truck, drive to Wisconsin and pick up the bees. It took nearly three days for a larger delivery truck full of 2,500 packages to make the drive from California to Wisconsin.
One of two bee supply stores in Chicago, Belmont Feed & Seed at 3036 W. Belmont Ave. picked up 250 bee packages for about 80 customers. Each box of bees cost $135.
Once back in Chicago, Andronic pulled the truck up next to the shop that his parents ran for years before him, and as customers arrived, the air thrummed with their excitement. People inspected the bees, bought their supplies, and carted everything off to their homes across the area.
Some customers were first time beekeepers; others had over ten years of experience. As people arrived to pick up their bees, many were speaking Polish or Spanish.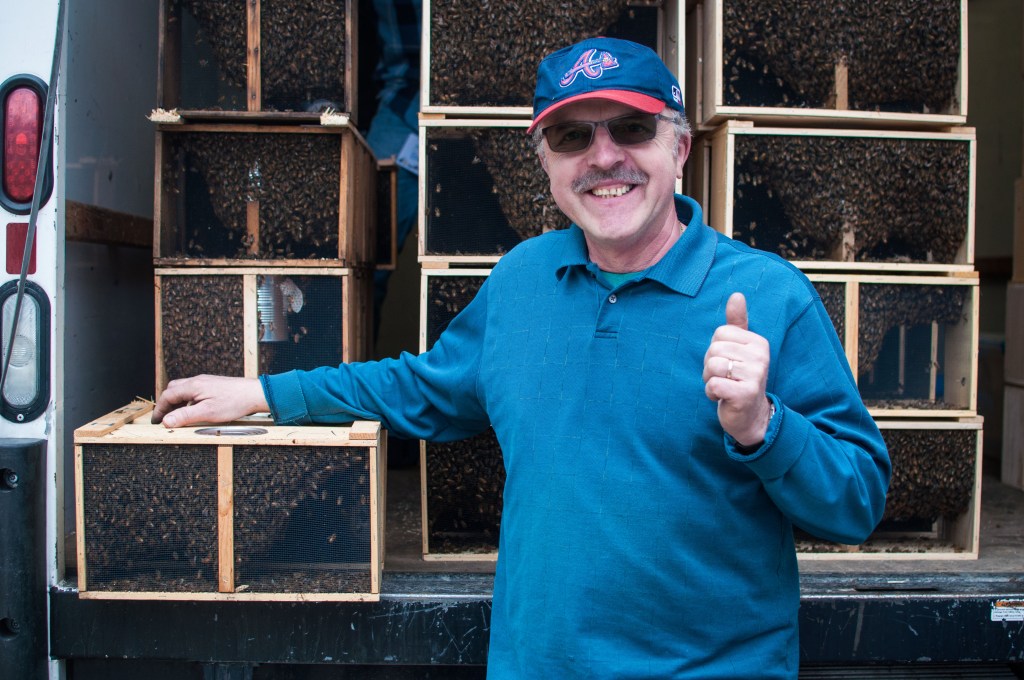 During their three-day journey, some of the bees already started building combs to fill with eggs and honey. Other bees tried to clean up the mess of dead bees and clutter inside their temporary homes.
And hundreds of bees had attached themselves to the outside of the bee packages. When Andronic opened up the truck, many of them flew around or clung to the package's mesh.
Andronic calls them hitchhikers.
During packaging before arriving in Chicago, workers funneled the bees into their boxes. "So, some were bound to get loose," Andronic said. "They just attach to the packages because of the smell. They smell the queen in there."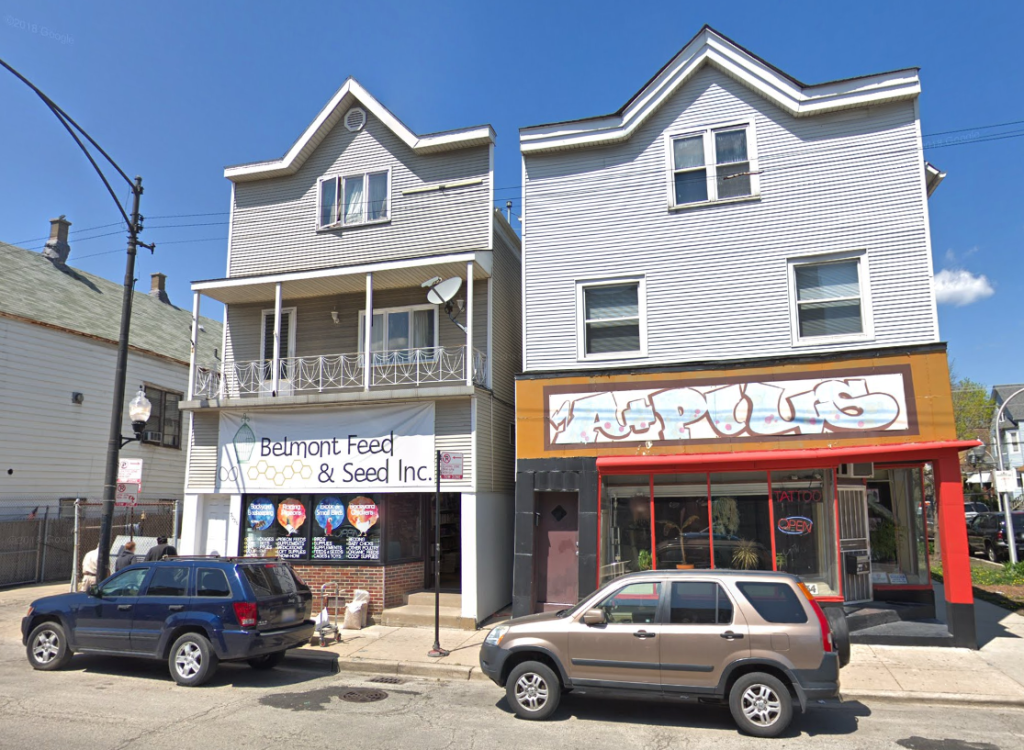 It's better that the weather was cool Wednesday. If it had been hot, Andronic said, the hitchhiking bees would have been flying around a lot more.
So Andronic took a vacuum to the problem. "I'm just vacuuming up the hitchhiking bees. We vacuum them up into this box so we can save as many of them as possible."
The bees stuck outside the packages didn't have access to the sugar water inside, but that didn't seem to matter. Turns out, bees can feed each other. If you look close enough at the bees outside the packages, they're picking through the mesh to get food from the bees inside.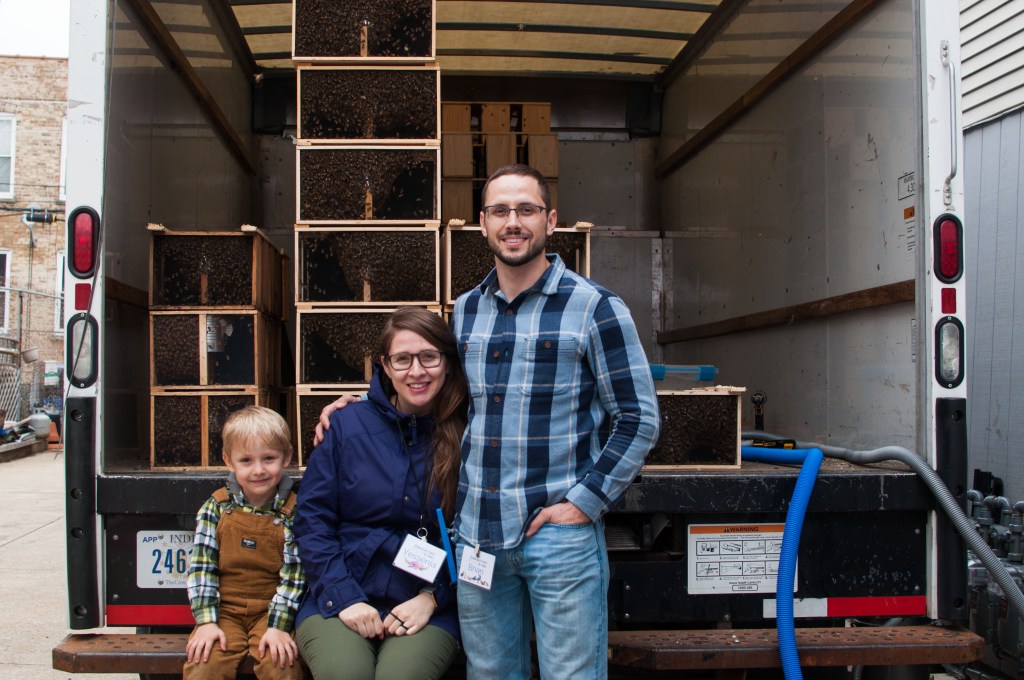 Each year on bee delivery day, Andronic and his parents — Lidia and Doru "Dan" Andronic — demonstrate how to install the bees into hives and answer customers' questions.
And each year, the popularity of beekeeping grows.
Over the past 30 years, the number of registered beehives in Cook County has more than quintupled. As of 2017, there were 446 active beekeepers registered in Cook County and more than 1,700 bee colonies, according to the Illinois Department of Agriculture.
For some of the customers, Wednesday was their maiden voyage with bees.
"First hive ever," said Joanna Goralczyk of suburban Plainfield as she held up her crate of bees confidently.
"I'm excited. Scared but excited."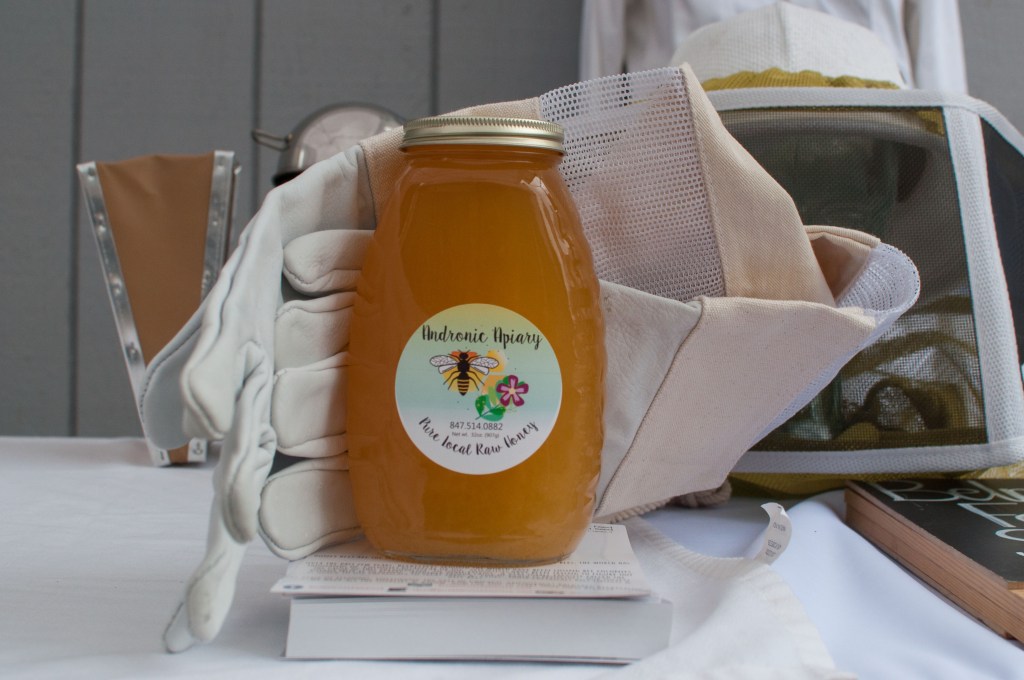 How to Install a Bee-Pack (courtesy of Belmont Feed & Seed)
Get your hive ready. You need a hive body and a super, which is the box that holds the thin, removable frames where the bees make honeycombs.
Remove all frames from super.
Fill feeder with mixture 1 part sugar and 1 part water. Recommended to add 1 tsp. of Fumagilin for first feeding.
If using entrance feeder, install now.
Mist bees inside box with sugar water.
Remove feed can slowly.
Brush bees gently into hive.
Slide out queen cage and brush off bees.
Remove cork at bottom of queen cage with drywall screw. Replace with marshmallow (this keeps queen from flying away during installation… bees will eat through marshmallow and release queen within 2-3 days)
Slide queen cage in between two frames (make sure screen side is open so worker bees can feed her).
Turn bee pack upside down and shake all bees into hive (only use smoke if necessary).
Place pollen patty on top of hive body frames.
Fill super with frames.
If using frame feeder or top feeder, install now.
 Install telescoping cover.
If some bees remain in package, place it in front of the hive.