EAST VILLAGE — He doesn't take office until May 20, but Ald.-elect Daniel La Spata (1st) spent Monday night at Wells Community Academy High School, where he asked his soon-to-be constituents to tell him what they thought he ought to know before moving into City Hall.
Instead of asking residents to line up one-by-one and spend two minutes at a microphone, La Spata created an unconventional "town hall" style event. He asked participants to pick one of four classrooms to spend an hour discussing one of four issues: housing, education, economic development or public safety.
"This is the kind of collaborative democratic government I want to see for our ward moving forward," La Spata said. "We want a level of input from you that can feel a little deeper … [and] more meaningful."
In February, La Spata, a community organizer from Logan Square, ousted incumbent Ald. Proco "Joe" Moreno, who was running for a third term.
La Spata will be sworn in on May 20, replacing Moreno.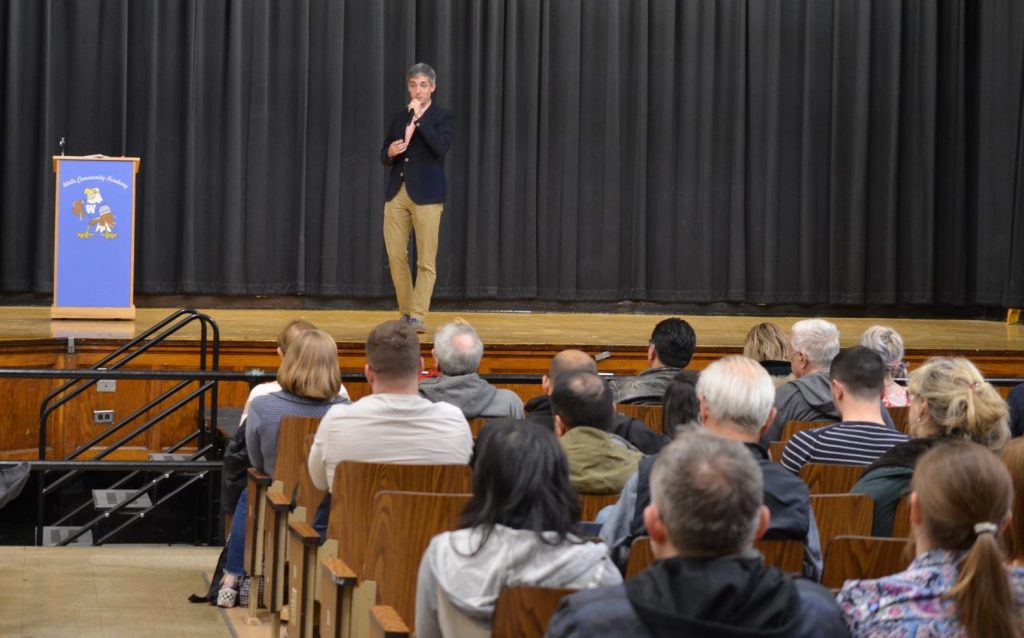 In a post-election sitdown with Block Club Chicago, La Spata described himself as deeply passionate about the issues facing the 1st Ward, housing and public safety chief among them.
The 38-year-old also pledged to take a fundamentally different approach to governing than his predecessor.
"How do we create cultural and community spaces that really bring our new and old neighbors together to break bread and share stories? I think that's going to be essential," he said.
The rapidly changing 1st Ward contains all or parts of East Humboldt Park, Logan Square, Noble Square, East Village, Ukrainian Village, Wicker Park and Bucktown.
Meeting the neighborhoods
In the month following the election, La Spata took turns visiting each neighborhood in the ward.
He met residents in bars when he stopped at the West Town Neighbors Association at The Rookery, 2109 W. Chicago Ave., the East Village Association at Happy Village, 1059 N. Wolcott Ave., and the Ukrainian Village Neighborhood Association at J&M Tap, 957 N. Leavitt St.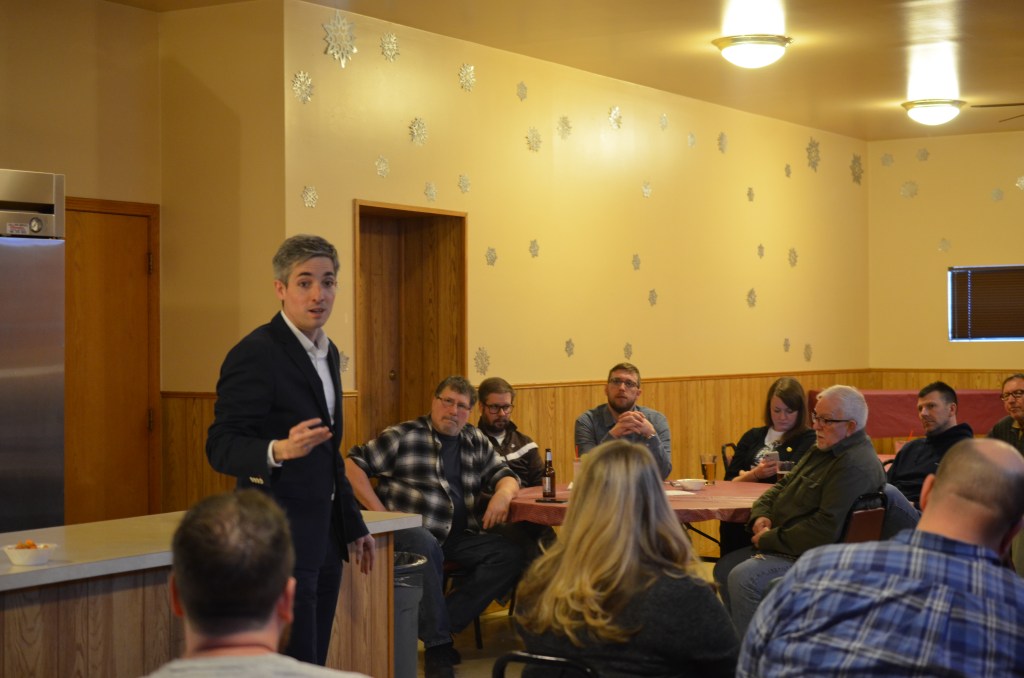 He biked from Logan Square to the Wicker Park Fieldhouse, 1425 N. Damen Ave., where he delivered a short speech to members of the Wicker Park Committee before sitting quietly through a long, contentious fight over The Crib, an overnight youth shelter that, at that time, was making its case for a move to the Wicker Park/Bucktown border.
At each of these meetings, La Spata thanked residents for their support and spoke emphatically about his desire to rid the ward of its old pay-to-play machine-style politics.
At each stop, he repeated the same story from the campaign trail about standing on voters' front porches, smart phone in hand, pulling up the ward map to prove that, yes, the voter did, in fact, live in the 1st Ward.
The first-term representative acknowledged the massive learning curve he expected to face once inside City Hall. While standing inside the ping pong room at Happy Village, he expressed to East Village residents what he needed from them.
"I feel like I only really learn how to lead by listening," he said. "Listening to your concerns is what's teaching me how to govern."

A new government?
On Monday night, nearly 100 1st Ward residents came out to Wells, 936 N. Ashland Ave., to meet the incoming leader.
After a brief gathering in the auditorium, residents broke out into the classroom discussion of their choosing. Facilitators — representatives from neighborhood associations within the ward — moderated the discussions and jotted down notes on large white pieces of paper.
In the public safety classroom, residents pitched ideas for combating gun violence in the ward. Offering more free and affordable summer camps for kids was a popular idea, etched into the paper.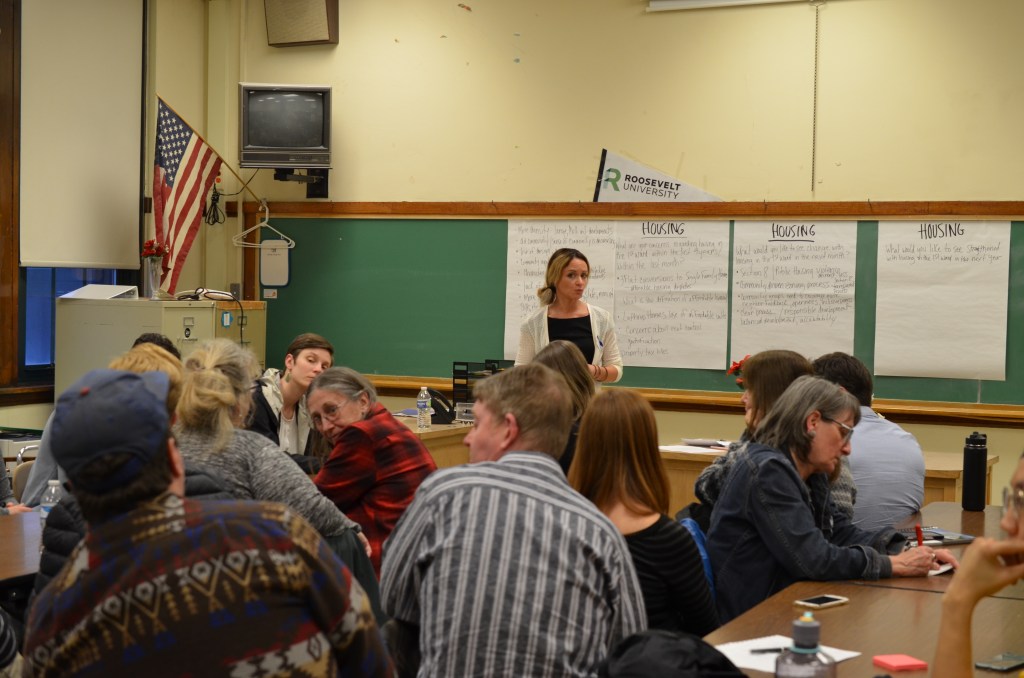 Teachers and social workers who attended the education discussion talked about increasing aldermanic tours of elementary schools, demanding more transparency from Chicago Public Schools leaders and ramping up community support for local schools.
The two issues of housing and economic development were discussed in separate classrooms, but the themes spurring the thoughts and ideas seemed to go hand-in-hand as very similar remarks about gentrification oozed out of each room.
Tensions ran high as frustrated residents and business owners bemoaned what they said was a sharp rise in residential and commercial taxes — pushing longtime residents as well as mom-and-pop businesses out of the neighborhoods within the ward.
In the economic development discussion, one resident argued developers knew they could bend the rules under Moreno, who would disobey community wishes and approve permits and zoning changes for massive luxury developments.
"This isn't serving the community that we know," the resident said. "They all got approved, anyway."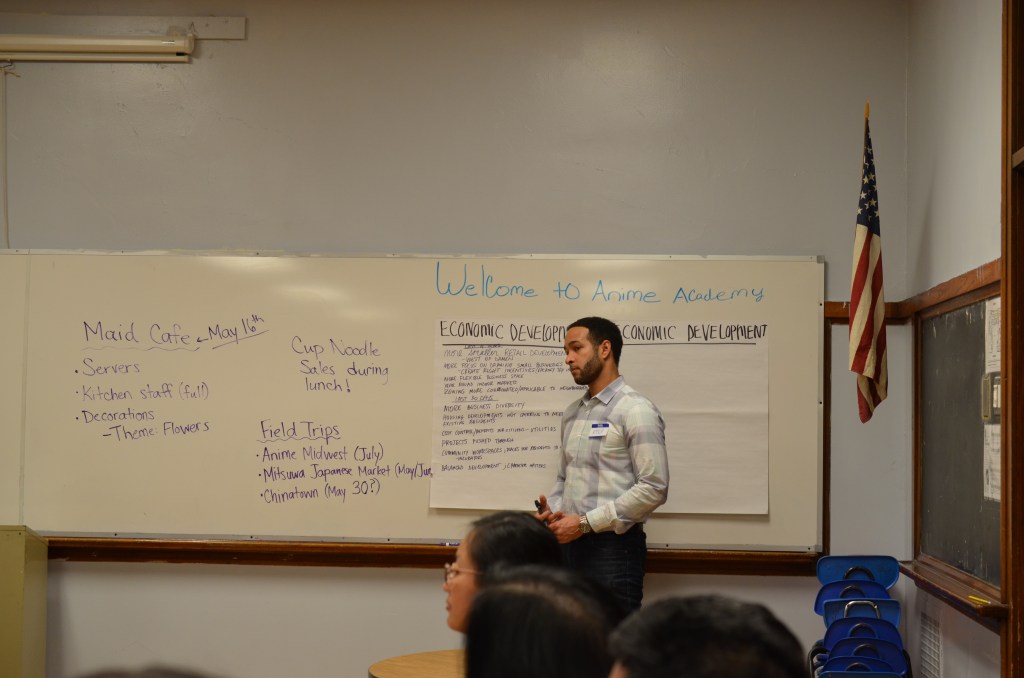 In the next classroom, the facilitator leading the discussion on housing asked a very concrete question of the group: What would you like to see happen in La Spata's first 30 days of office?
That question was immediately met with laughs, followed by one man's remark, "Where's my laundry list?"
In response, residents from Logan Square to Wicker Park offered up various ideas for La Spata's first month in office. Those included strengthening requirements for inclusionary zoning, adopting a ward-wide plan for green space and developing vacant lots in the ward's southwest end in East Humboldt Park.
One man chimed in and said he hoped his neighbors — and La Spata — would not turn their backs on development altogether.
"Then you risk not being able to get development," he said.
After the four discussions wrapped up, La Spata invited everyone back into the auditorium. He promised to bring back "ward night" and biannual convocations.
He also offered to host a budget hearing before heading into budget season.
"I hope, for you, this models the kind of government that I'm really hoping to bring," La Spata said. "That's the democracy that we sign up for as Americans. … I'm very glad, at this very local level, to create these spaces for you."
Moreno, who was first appointed to the seat in 2010, narrowly avoided a runoff against three challengers in 2015. 

Controversy was a thorn in Moreno's side as the alderman weathered one scandal after another in the weeks leading up to the Feb. 26 election:
During the campaign, La Spata — a community organizer with a master's degree in urban planning and public policy — pressed Moreno on these scandals in addition to questioning his relationship with developers in the gentrifying ward.
Many of the area's developers — and zoning lawyers and architectural firms — who sought and later got zoning approval to build in the 1st Ward gave money to Moreno's campaign, a Feb. 5 Block Club Chicago analysis found.
Moreno raised a total of $653,889 in campaign donations, more than eight times the $74,725 raised by his challenger.
During his final days of power, Moreno has pushed a flurry of development proposals that would add a collective 100 apartments and condominiums to the gentrifying North Side ward.