FULTON MARKET — With a slew of food halls set to take over the West Loop this summer, Fulton Galley's co-founder hopes the Pittsburgh-based company can stand out with great hospitality, high-caliber food and the "best Chicago happy hour."
In about eight weeks, Fulton Galley, 1115 W. Fulton Market St., is set to bring its food hall and restaurant incubator to life in the West Loop. Co-founder Ben Mantica hopes the food hall will become "the neighborhood spot."
"We want to be an approachable, comfortable place for people to spend two hours," Mantica told Block Club Chicago.
The five restaurants chosen from a pool of more than 50 applicants are Ron Aleman's Taco Mucho, Dennis Bernard "rotisserie-focused concept" Fairview, husband-and-wife Gerad Gobel and Alexis Rorabaugh's Italianette, Northeastern Thai spot Pink Salt by Palita Sriratana and Aaron Steingold's Steingold's Deli, Mantica said.
The food hall will act as a incubator for the five chefs to launch their restaurant idea at low costs before expanding to full-service restaurants, Mantica said.
This will be Mantica and co-founder Tyler Benson's fifth food hall. They opened similar food halls in Pittsburgh, Cleveland, and Detroit. Fulton Galley's nearly 13,000-square-feet food hall includes a bar and lounge area, a 25-seat private dining room and a larger 150-seat communal dining room.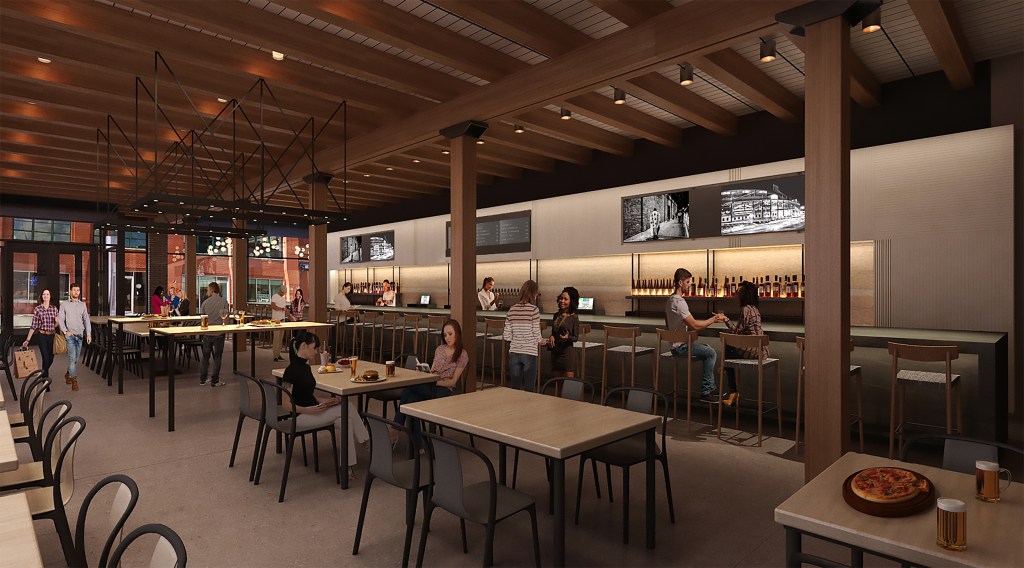 Related: Sprawling Time Out Market Bringing 18 Restaurants, 3 Bars To New Fulton Market Food Hall
Mantica and Benson will have competition — and a lot of it. Politan Row food hall is slated to open in May with a sprawling German beer hall and other foodie destinations, and Time Out Market's sprawling 18-eatery space will feature Brian Fisher of Michelin-winning Entente and Bill Kim of urbanbelly.
But Mantica isn't too concerned.
"We get lumped into the food hall conversation, but I think we do things much differently," Mantica said.
Floor managers check in on guests, meals are served on real plates and the environment encourages folks to stick around for awhile, Mantica said.
"We are almost like a full-service restaurant," he said. "We are putting out a product that you would not expect in a food hall … . We are providing a full service in a fast, casual setting."
With fewer vendors, Fulton Galley offers an intimate experience compared to other food halls with nearly 20 food vendors, Mantica said.
Typically food halls "churn and burn" during the hours of 11 a.m.-2 p.m., but Fulton Galley is looking for the after-work crowd — and their 5-7 p.m. Monday through Friday happy hour offers 50 percent off drinks at the bar.
Related: Fulton Market Food Hall And Restaurant Incubator Slated To Open In Spring
In addition to the "hospitality-focused experience," Fulton Galley will offer "a great night and bar scene" with live music, programming, events like craft beer releases and "the best happy hour in Chicago," Mantica said.
The "beer and cocktail-heavy" bar menu will offer at least 16 beers on tap, and they aim to foster great relationships with local breweries as they've done at their four other food hall locations, Mantica said.
"We think our place we'll be a different experience every time you come. On one day you can get tacos and a beer and sit at the bar, and the next day you can get some pasta and a bottle of wine and sit in the dining room and have a different experience. That's something we are excited about," he said.
Reflecting on the crowded West Loop food scene, Mantica said Fulton Galley fills a need by offering "a quality, affordable meal for about $16."

"There's a lot of places in Fulton that are fantastic but some out of reach," Mantica said. "There's a gap between super fancy [restaurants] and fast casual. I think we are in the middle of that and fill that need." 
Fulton Galley is expected to open in June.
Do stories like this matter to you? Subscribe to Block Club Chicago. Every dime we make funds reporting from Chicago's neighborhoods.