STREETERVILLE — Children dealing with serious conditions and long-term illnesses at seven area hospitals were brought some joy in the form of a superhero party to celebrate National Superhero Day Sunday.
The parties were put on by Holiday Heroes, a non-profit organization that hosts monthly holiday parties with changing themes for young children who are hospitalized due to a critical or chronic illness.
On Sunday, seven hospitals in Chicago and the outlying suburbs hosted a "Superhero" party. On Monday and Tuesday, four other hospitals will put one on.
At the events, hospitalized children were visited by volunteers from Holiday Heroes dressed in costumes. They did crafts, including decorating capes and masks to try to turn themselves into their own superhero.
At Ann & Robert H. Lurie Children's Hospital of Chicago in Streeterville, hospitalized children were visited by Batgirl and Supergirl. 
Ryan Hill, whose 5-year-old grandson Carter suffers from congenital hepatic fibrosis and recently underwent a procedure to install a shunt in his liver, said the event brought a much-needed smile to Carter.
Hill was at the party with Carter's grandmother — his wife Lorraine, and Carter's parents, Jenny and Zach, along with their 4-year-old daughter Ailey, all of whom live in Iowa City, Iowa.
"It's only the second time he's left his room. It's great for him to get out and run around," Ryan Hill said of his grandson. "This whole place is amazing."
For 7-year-old Ramon Gonzalez, who was busy making superhero bracelets out of felt, he summed up the event by saying "It's cool."
Gonzalez, who lives in Logan Square, was undergoing treatment for a blood clot in his right leg and said he misses his friends at Monroe Elementary. He was accompanied by his mother, Melissa Sanchez, who has been staying with him at the hospital during his stay, and his father, who has been going back and forth from work to the hospital for the last couple weeks.
Supergirl was played by volunteer Lindsay Proskey, a senior at the John Marshall School of Law and mother of a 7-year-old daughter. Proskey, who said the event was her second party with the group, said she recently began volunteering with Holiday Heroes since she was close to graduating and had some extra time. 
"I love doing kid stuff. It's fun, we have a lot of fun with the kids and they are all so sweet," Proskey said.
Batgirl, played by volunteer Karen Katz, a medical sales professional from Chicago, whose first event was Sunday, agreed with Proskey, saying "I really just want to bring joy and smiles to the kids and the families, they go through enough."
Indeed, events like Sunday's superhero party may do more than just bring a smile to hospitalized kids. According to Ellen Donovan, Family Life Center Coordinator at Lurie's, it can help speed their recovery.
"Being in a hospital is scary for kids," Donovan said, looking on at the ten children in attendance at the party. "Right now, they are not dealing with no one in a clinical setting, so that puts them at ease and helps them heal. We get to remind them that they are kids first."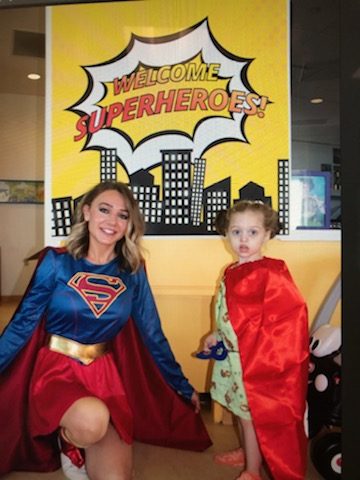 Nicole Ott arrived to Lurie's from New Jersey two weeks ago with her 2-year-old daughter Brianna for treatment of a rare liver condition called Abernethy malformation, said although her daughter was more into playing with baby dolls that were in the room than superheroes, the event was great for her to get out of her room and get her legs moving.
Brianna was in the spirit however, wearing a red cape over her hospital gown and eye mask at times as she played with dolls. 
Joel Settecase, father of 4-year-old Lukas Settecase, looked on as his son did crafts. For the Settecase family, which lives in Portage Park, Lukas' medical issues have been ongoing. He has battled Leukemia since he was ten months old and this time has been at Lurie's since February 14 to get treatment for heart failure.
Despite that, Joel Settecase said his son's spirits are "really high" and Sunday's event was a nice thing to break the monotony of a long ordeal.
He said he stays at the hospital on weekends with his son and his wife stays during the week, with the parent at home taking care of their three other children, whose ages range from 1 to 7 years old. As his father spoke to a reporter, Lukas, who said his favorite superhero is Flash, continued doing crafts, coloring a worksheet as if he was at school with friends, which seemed fulfill the purpose of the event.