LOGAN SQUARE — Roughly 500 residents packed into the Avondale-Logandale Elementary School auditorium Wednesday evening to discuss a controversial plan to build an 100-percent affordable housing complex next to the Logan Square Blue Line station.
The proposal, which calls for 100 units of affordable housing on the underutilized city-owned parking lot at 2602-2638 N. Emmett St., drew a largely favorable response at the emotionally charged meeting.
At the top of the meeting, residents were each given a green card and a red card and they were instructed to wave the green card if they agreed with a speaker's comment and the red card if they disagreed. During the public comment portion of the meeting, a majority of residents spoke in favor of the project, drawing a sea of green cards.
Of the roughly 500 residents who attended, 350 voted "yes," 112 voted "no," 35 voted "yes, with conditions" and five votes were indecipherable, according to a tally conducted by neighborhood groups at the end of the meeting.
The meeting started with a formal presentation by Ald. Carlos Ramirez-Rosa (35th), nonprofit developer Bickerdike's CEO Joy Aruguete, Pete Landon with Landon Bone Baker Architects and other project partners, who all touted the project as the product of a years-long planning process that started with a series of meetings and surveys in 2014 led by then-35th Ward Ald. Rey Colon and the Metropolitan Planning Council.
The proposal presented to neighbors Wednesday calls for a two-to-seven-story tiered complex with 100 units of affordable housing, 4,500 square feet of ground-floor commercial space — aimed at local small businesses and nonprofits — and 20 on-site parking spaces.
All of the apartments — a mix of 33 one-bedrooms, 49 two-bedrooms and 18 three-bedrooms — would be geared toward residents earning at or below 60 percent of the area median income. The cap is $35,580 per year for an individual and $50,760 per year for a family of four.
The project is expected to cost an estimated $31 million. To reach that figure, Bickerdike is aiming to secure low-income tax credits and Tax Increment Finance dollars, among other subsidies.
If Bickerdike wins city approval by September, the developer hopes to start construction in November and complete the project by December 2021.
After the presentation, dozens of residents took to the mic to share their personal connections to the neighborhood and to the project.
"I've had to move three times from rising rents," resident John Tryneski told the crowd. "I got married last year. We're hoping to start a family soon and I'm worried about being able to stay here.
"When I see a proposal that allows my fellow Logan Square residents to stay in the neighborhood, I am 100 percent in favor of it."
Tryneski, who has lived in Logan Square for nine years, said anyone complaining about the potential use of TIF dollars and the proposal's lack of parking — two concerns brought up at the meeting — is missing the point.
"If you're asking us to choose parking spaces over whether our neighbors can live in this community, I will choose our neighbors every time," Tryneski said to cheers and a sea of green cards.
Another resident of 10 years choked up as she addressed the crowd.
"My husband and I moved to Logan Square 10 years ago because we value living in a diverse community and we've watched our community change," the woman said, her voice quivering.
"We value the people of this community that have been here long before we moved here. In our window, we have one of those posters that I know so many people have that says, 'Hate has no home here,' and I believe in that and I will continue to stand by that, and I fully support this project."
In the weeks leading up to Wednesday's meeting, a few dozen neighbors who live near the proposed site formed a group in protest of the proposal, called Logan Square Neighbors for Responsible Development.
Those neighbors are calling on Ramirez-Rosa and Bickerdike to slow down and get more community feedback before moving ahead with the proposal. They said the proposal doesn't match what the community said it wanted to see built on the site in meetings and surveys in 2014. In addition to affordable housing, the community said it wanted to see open green space and an indoor market.
Only a handful of project opponents spoke during public comment. Each time an opponent took the mic, the crowd erupted in a chorus of jeers and boos.
"I 100 percent agree that we should have affordable housing on this lot, but there are other things that were voted on to be on that site that we are completely ignoring," resident Sarah Maxwell said. Maxwell is a founding member of Logan Square Neighbors for Responsible Development.
Maxwell was then interrupted by someone who shouted, "Real estate agent!" to which she replied, "That's correct — I'm a real estate agent so I understand the value of having open space that brings people together," a response that elicited boos.
Controversial landlord Mark Fishman, who some consider the face of gentrification in Logan Square, also took to the mic to express his dissatisfaction with the proposal.
Fishman's remarks began and ended with awkward exchanges between him and Ramirez-Rosa. The two have a long history of being at odds. Most recently, they were tangled up in a dispute over Ramirez-Rosa's ward office lease.
Other project opponents who spoke during public comment pointed to a lack of adequate parking as another concern. They also accused Ramirez-Rosa of "hand-picking" Bickerdike, a veteran affordable housing developer, for the project rather than opening up the process to the community.
Ramirez-Rosa defended the planning process, saying community groups, including the Logan Square Neighborhood Association and Logan Square Preservation, reviewed Bickerdike's proposal for two years.
For many residents at Wednesday's meeting, Bickerdike's proposal feels urgently necessary.
Rents in Logan Square have skyrocketed in recent years, forcing many longtime Latino residents out. A recent WBEZ analysis of census data released this December shows the white population has now surpassed the Latino population.
And just this week, the 2019 State of Rental Housing in Cook County report found affordable rental stock is dwindling fast in Logan Square and other Northwest Side neighborhoods.
Ed Corcoran, a resident who lives next to the site, said Logan Square will turn into an airport terminal if officials don't start building affordable housing.
"It's got nice restaurants and bars, but you're just passing through," Corcoran said to laughs. "Affordable housing, especially affordable housing near transit, is becoming rarer and rarer. The working class needs transit access, too. Transit cannot be a right only for those who can pay to live right next to it in an expensive building."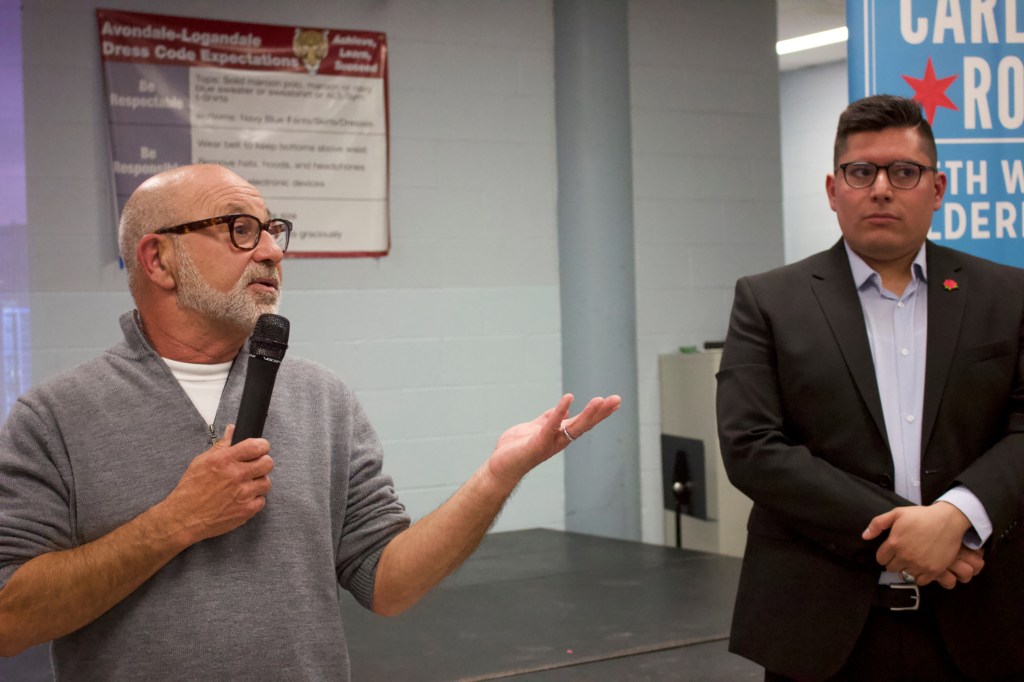 Longtime Logan Square resident Memo Mata implored "wealthier neighbors" to celebrate the diversity a project like this could help foster.
"To the wealthiest neighbors: Don't be afraid of diversity. Don't be afraid of us. Talk to us. Engage with us. We do a lot of things in the community," Mata said.
Not everyone used the green and red cards assuredly, however. After the meeting, some neighbors told Block Club they're unsure as to whether or not they'll ultimately support the project.
A Logan Square resident of 33 years, Marco G., who declined to provide his last name, said while he likes the idea of affordable housing, he has concerns.
"I'm a little bit on the fence like some of the people who talked," Marco said. "I get we have to change the zoning, but what is that going to do for the neighborhood later on? Sure, we're going to have apartments for low-income residents, but is that always going to happen? Or, once the zoning changes, is that like opening pandora's box?
"Everybody is so tired and they just want change, they just want to stay in their neighborhoods — me too. But you have to think about the consequences."
Leading up to the meeting, officials have repeatedly reminded residents that the proposal is still a long way from approval.
Ramirez-Rosa has said he will only back the zoning change if the broader community supports it. His office will continue to accept feedback for the next couple of weeks.