HYDE PARK — Chicago is a city long known for its entrepreneurial spirit. Thousands of people in search of success have been drawn here, bringing little else than the clothes on their backs and the dreams in their pockets, the Great Migration playing a pivotal role.
Black Chicago's "outsized role" in the making of business titans is highlighted in Stanley Nelson's new documentary, "Boss: The Black Experience in Business," airing this week on PBS. The documentary follows the trajectory of business icons, old and new, including publisher Robert Sengstacke Abbott, inventor Annie Malone and investor John Rogers.
For Nelson, whose 30-year resume includes "The Murder of Emmett Till" and "Freedom Riders," taking on the project was an easy decision.
"I was approached by WNET [New York's PBS station] because they were thinking about making a film on blacks in business and it sounded like a great idea," said Nelson. "They had been approached by Julieanna Richardson, who has an organization called The HistoryMakers. It was really her idea, and it came to me kind of developed, and I jumped at the chance to make the film."
Typically, securing financing for documentary projects is a problem. But the money for "Boss" had already been raised, allowing Nelson and his crew to complete the film in a year.
While the film takes a look at the lives of successful black entrepreneurs across the country, Nelson said the Chicago piece of the film looms large.
"If you look at Robert Abbott, he was really one of the driving forces of the Great Migration, specifically the migration to Chicago, so from his vantage point at the Chicago Defender, he pushed for people to come to Chicago in so many ways. He'd post job advertisements and train schedules from southern cities in the paper, he talked about how wonderful life in the city was," said Nelson. "He even had something called the Great Northern Drive, which was a day that black people would flee the south and come to Chicago, so he was really instrumental in that."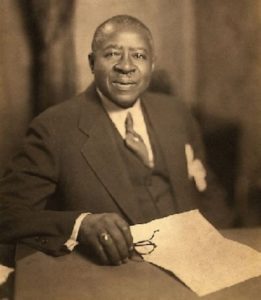 Abbott's call laid the foundation for the men and women who came after him, like Ebony publisher John H. Johnson.
"The Ebony building was like a huge beacon, an advertisement of what could be done, what African Americans could achieve," said Nelson.
The film also highlights beauty pioneer Madam C.J. Walker, who was a business partner of his grandfather, F.B. Ransom. His mother was also the last president of Walker's manufacturing company. Walker was the focus of one of his earliest documentaries, 1987's "Two Dollars and a Dream."
As the story goes, Walker was a protege of Annie Malone before striking out on her own, building a million-dollar empire before passing away a century ago at the age of 51.
"Haircare was one business African Americans could get into at the highest level of manufacturing. It allowed black women the chance to open beauty shops and do hair, which was in some ways much better employment than working as a maid or a cook, so those companies really offered opportunities to African American women," said Nelson.
While Nelson is proud of the final cut, making the film was a bit of a challenge.
"We wanted to have this mix of historical film, with African Americans in the time of enslavement, and after the Civil War, forming businesses like the Freedmen's Bank. But at the same time, we wanted to have profiles of people who were alive today, like John Rogers and others. We didn't want to have an hour of history, and then an hour of profiles, so the biggest challenge was mixing the two things."
Seamlessly blending the past with the present allowed Nelson to connect the paths blazed by Malone and Walker to that of Shea Moisture founder Richelieu Dennis, who managed to turn his grandmother's homemade skincare recipes into a billion-dollar company. Dennis eventually purchased Walker's company, and Essence Magazine.
"One of the hallmarks of African American entrepreneurs is doing well and doing good at the same time, and that was kind of an 'A-ha' moment that became the theme of the film," said Nelson. "For black business, throughout history, it's a double-edged sword. Everyone wants their business to do well, but there's also this need to good for their communities."
"African Americans have been in business from the very beginning. One of the great pieces in the film talks about African Americans in the time of enslavement, where they were often loaned out. If you were a furniture maker or a bricklayer, you would be loaned to another family and your master would be paid for it, but may split a little money with you. You could save to buy your own freedom, or the freedom of your relatives," said Nelson.
"Entrepreneurship for African Americans literally meant freedom."
"Boss: The Black Experience in Business" is airing on PBS this week and can be streamed here.