EAST VILLAGE — Have you noticed something different about the alley next to West Town Bakery?
You're looking at a 40-foot botanical mural designed by international street artist Louise "Ouizi" Jones.
The West Town Public Art Program commissioned Jones to paint a massive botanical mural at 1914 W. Chicago Ave.
The piece was officially unveiled Tuesday night during a ribbon cutting and after-party at nearby Roots Handmade Pizza.
Jones — who is known across the world for her large-scale floral street murals — said she believes murals and street art in general can add a significant value to communities across the country.
"People feel really proud of their neighborhood if they have a piece of art. It adds to the pride of the neighborhood," she said. "It also lights up a space. Like an alley that's normally kind of dank and dark, it gives it a little extra love."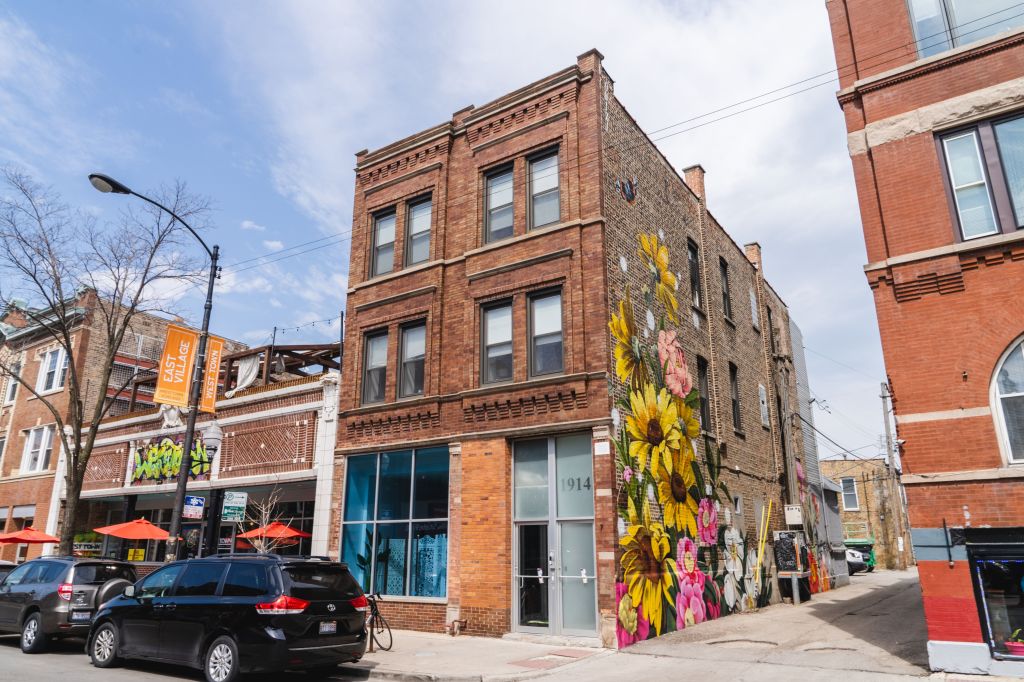 This week Jones is finishing up a second mural in Lakeview at 3637 N. Southport Ave. There, she's airbrushed the city's motto, "Urbs in Horto," or "City in a Garden."
"To put this much effort into your neighborhood, it makes people feel good," she said.
During Tuesday's unveiling, Andrea Cipolla and her daughter, Aubrey, noticed the mural as they were walking down Chicago Avenue.
They stopped to take photos together. Aubrey, 6, got out a pink pencil and pretended to draw over the mural.
Cipolla, who has lived in the neighborhood for 14 years, said the mural brings more happiness and light to West Town.
"Which we need," she said.
Since 2015, the West Town Public Art Program has sponsored the creation of more than 30 murals and art installations throughout the neighborhood.
The West Town Chamber of Commerce runs the art program, which receives funding from the West Town Special Service Area.
Sara Dulkin is the owner of Chicago Truborn, a gallery and shop dedicated to street art located at 1741 W. Chicago Ave. Dulkin said Jones' piece only adds to what is already an arts revival in the West Town neighborhood.
A few years ago, Dulkin said she had one of the few galleries on the block. Today, there are nearly a dozen galleries — including high-end groups that have relocated from as far as the West Loop and River North.
"The public art and murals in West Town have changed the neighborhood in ways nobody could have predicted," Dulkin said.
Jones, 31, a native of Los Angeles, currently lives in Detroit with her dog and husband. She's painted murals outside buildings in Manhattan and inside the Smithsonian in Washington, D.C. She always draws inspiration from her surroundings, she said.
In West Town, for example, the exposed brick that pierces through her canopy of camellias, daisies, apple blossoms and a peony is a nod to the neighborhood's architecture, she said.
Sometimes inspiration is spontaneous. During the course of her work in West Town, a Red Admiral butterfly happened to land on her lift. So, she added a butterfly to her piece.
Jones noted that sometimes she worries murals cause "side effects," like pushing along gentrification or alienating other artists.
"Murals are kind of a charged thing," she said. "Content alone is important. Flowers are positive, universal. Everyone can relate. Kids love it. Dogs love it. Bugs love it."