WEST TOWN — Jewelry made from chips of Chicago graffiti will be for sale this weekend during a pop-up to help women experiencing homelessness.
The company behind the sale, Rebel Nell, asked its followers for graffiti scraps and people throughout Chicago — but particularly in West Town — collected fallen street art and mailed it to the company's headquarters in Detroit. They've been collecting the graffiti bits for the past year, said CEO and co-founder Amy Peterson.
The women who work with Rebel Nell turned those paint chips into hundreds of earrings, necklaces, cuff links and winestoppers. The collection will be sold Friday and Saturday at Truborn, 1741 W. Chicago Ave.
A portion of the proceeds from the pop-up will go to Deborah's Place, a group that helps Chicago women experiencing homelessness.
"Each piece is completely one-of-a-kind, not only because of the cross-section of graffiti but because of the woman who made it," Peterson said.
The women who make the pieces are employed full-time by Rebel Nell and earn above minimum wage, Peterson said. They are typically refugees, women who have been formerly incarcerated or women who are living in shelters.
Rebel Nell also helps them connect with housing resources, legal aid and other services that can help the women "transition to a life of independence," Peterson said.
"What we really pride ourselves on is really doing deep dives for the women we employ," Peterson said.
At Rebel Nell's production facility, employees run the chips through a "special process" to reveal layers of paint under the newest graffiti, giving the pieces a "psychedelic look," Peterson said.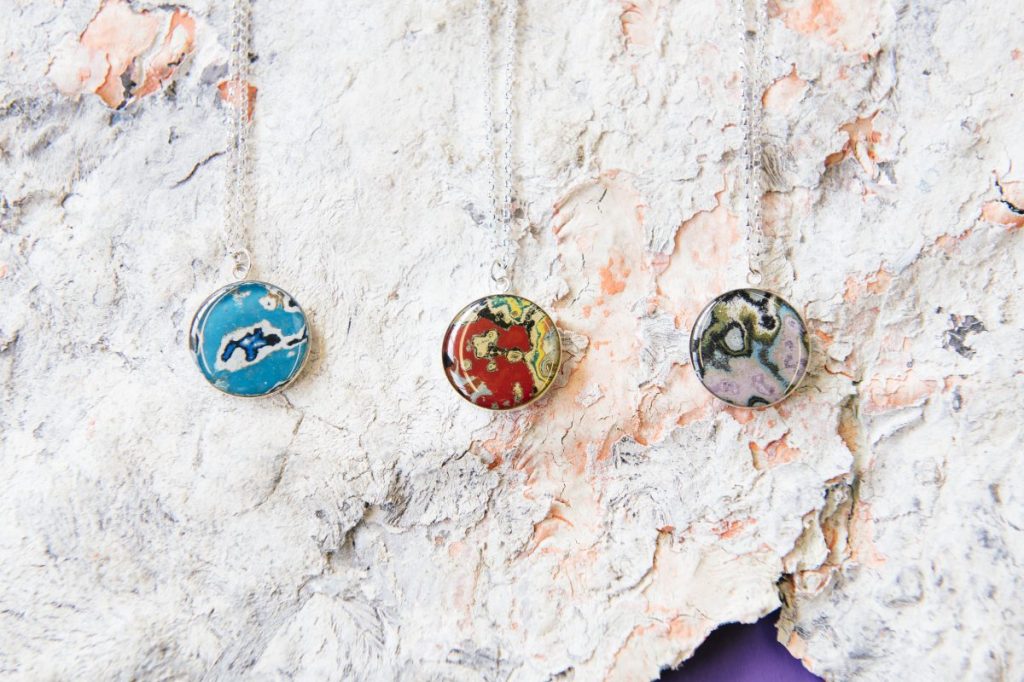 The employees then shape the chips and put them on a material like silver, glass or gold. A protective layer is applied, the pieces are heated and they're sold at prices from $20 to $285.
The company employs women in Detroit, but Peterson said she hopes Rebel Nell can one day open a permanent production facility in Chicago.
"Hopefully, hopefully, [we're] dreaming that some day Rebel Nell can open a second location in Chicago where we'll be able to employ women transitioning out of homelessness in Chicago," Peterson said. "Chicago seems just like the perfect fit for us."
The pop-up is open 12:30-7 p.m. Friday and Saturday at Truborn, 1741 W. Chicago Ave.