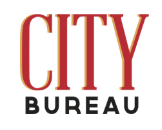 The following mini audio documentary was produced by City Bureau, a nonprofit civic journalism lab based in Woodlawn. Listen as City Bureau reporters follow performers and attendees through the Via Crucis re-enactment and procession down 18th Street in Pilsen. It was reported by Jenny Casas, Irene Romulo, Malik Alim and Juanpablo Ramirez.
PILSEN — Since Maria Garcia can remember, she's been attending Via Crucis — Pilsen's annual reenactment of the living stations of the cross.
The 38-year-old Catholic — a born and bred Pilsen resident —considers the annual procession one of the important cultural traditions at the "heart" of the neighborhood that makes "Pilsen Pilsen."
Three years ago, Garcia and her husband Carlos Vazquez even participated as actors in the procession.
For devout Catholics such as herself, it's one way to profess their faith publicly and bring more people together — and introduce non-Catholics to the religion.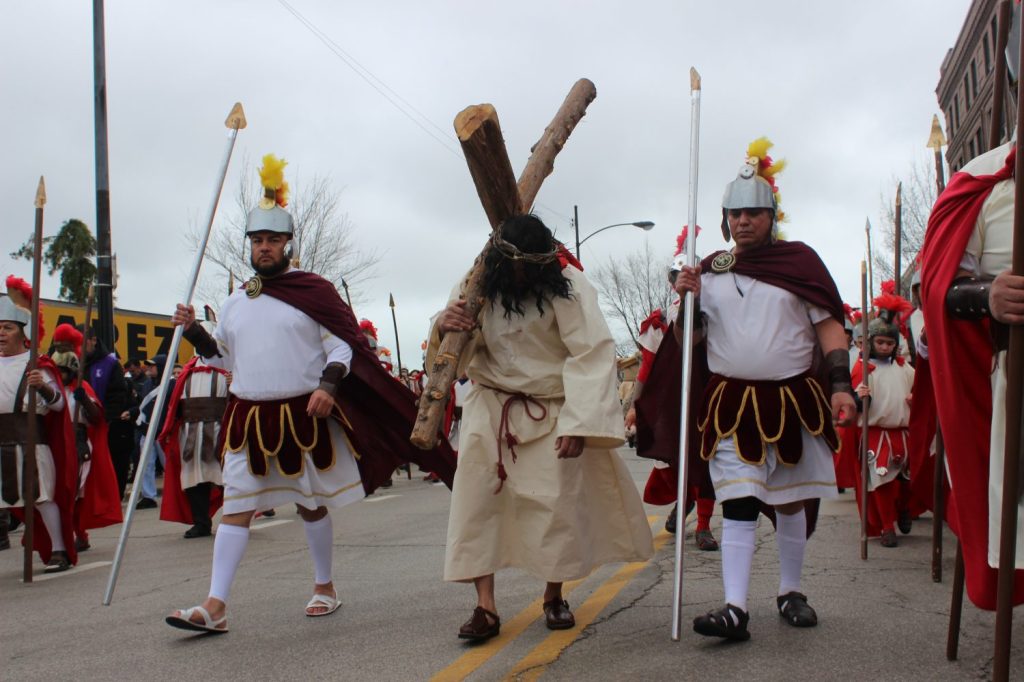 "This tradition is a good way for young families to get their kids involved in the Catholic faith and keep this tradition alive," she said.
On Good Friday, Garcia and Vazquez were among hundreds of Catholics of all ages who walked along 18th Street from Providence of God Catholic Church to Harrison Park before ending the procession at St. Adalbert Catholic Church.
Throughout the procession, more than 70 actors in costumes reenacted scenes from Jesus Christ's final days including the final supper and his crucifixion.
Now in its 42nd year, the tradition is still going strong, said Nellie Quintana, president of the Via Crucis organizing committee.
Quintana, who first attended Via Crucis at the age of 10 with her mother, has seen Pilsen's living stations of the cross procession grow year in and year out.
Since witnessing the procession as a spectator in 1989, Quintana has been actively involved in the annual event, both as an actor and now one of the 11 coordinators who oversee the event. The tradition is one she wants to ensure continues for years to come.
Quintana, 41, see's Via Crucis as a powerful moment to unite the community and observers who travel from other parts of the city and Midwest to witness the procession.
"When it's silent and we are processing, I know people are all praying at the same time. It brings people together," she said. "It gives me hope."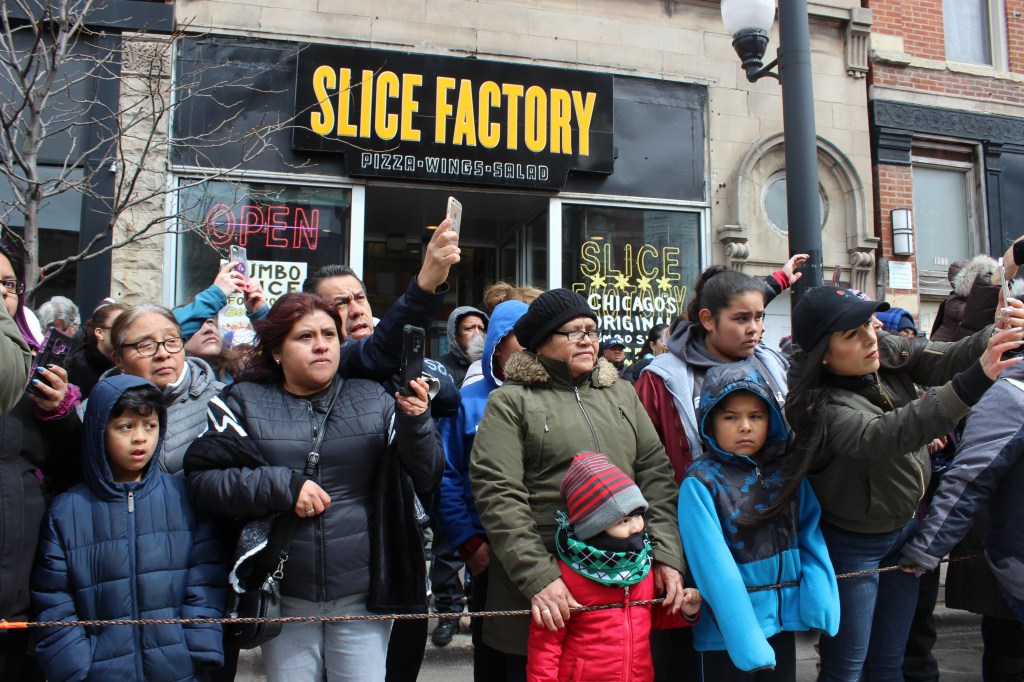 Along 18th Street, spectators bundled in winter coats lined the sidewalks, phones in hand to capture images of the dramatic reenactment.
Martina Mancilla, 51, and her family sat on lawn chairs with blankets near 18th Street and Blue Island Avenue. Like other residents, Mancilla, who has been coming to Via Crucis since she moved into the neighborhood in 1995, said the event is a defining "tradition" for the majority Mexican community that makes up the Pilsen neighborhood.
"It's also great to see different generations coming out" to see the procession, she said.
Her daughter Alexis Jimenez, 31, drove in from Northwest Indiana with her 5-year-old twin daughters, Annabelle and Abigail, just to watch.
"It's great that the City of Chicago allows this to happen," Jimenez said. "This is very important for the Catholic Church and the Hispanic community as a whole to have this representation of Jesus's last day on earth. …It's a great way to close out Holy Week."
"This does not happen everywhere. In some places you can't live your faith out loud," she said. "It's a great way to bring people together. It's beautiful."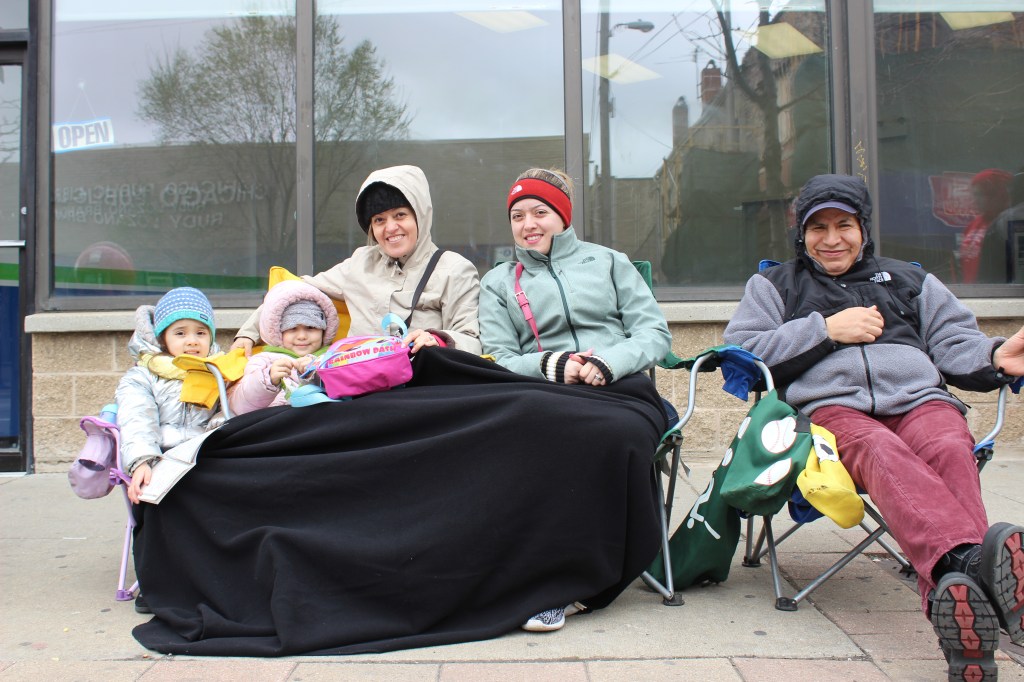 Pilsen resident Maria Cardenas, 73,  said she's been coming to the annual event for 30 years. Before that, Cardenas was attending similar procession in her home state of  Michoacán,  Mexico.
"This tradition needs to always happen. Forever. We need to remember the death of Jesus Christ for ourselves," Cardenas said. "This is like a healing moment for us. And it's also a reminder to live a better life."
Do stories like this matter to you? Subscribe to Block Club Chicago. Every dime we make funds reporting from Chicago's neighborhoods.