EAST VILLAGE — After several months of back-and-forth between longtime owner Cherlyn Pilch, Chicago-based Out to Lunch Hospitality and residents of the East Village neighborhood, Happy Village has officially changed hands and will re-open Saturday under new ownership.
Out to Lunch bought the building from Pilch on April 3 for $1.5 million, company partner Andrew Miller said.
An additional $1.5 million, he said, is budgeted for renovations that will bring the 1870s-era building "up to city code" and transform the bar into a restaurant.
Miller closed Happy Village this week for a few minor pieces of upkeep; he's added ice wells behind the bar, for example. Standing inside the bar this week, Miller said he's aware of the deep love people have for Happy Village as a dive bar — its $2 Hamm's, its dark wooden paneling, its no-frills ping pong room.
That's why he's holding off on major renovations until after the 2019 summer season.
"We're going to run it as-is for the next six months. … Give people one last summer to come by, hang out and say goodbye," Miller said. "We're cognizant of the connection people have with this place."
Returning Happy Village to its roots
Known for its serene back patio and indoor rec room, Happy Village at 1059 N. Wolcott Ave. was founded by Pilch's parents in 1964 and celebrated its 50th anniversary in 2014.
That was nearly 100 years after the building was first constructed in the 1870s as a "tied house" — a saloon that only carried one specific brewery's beer — for Chicago-based Peter Hand Brewery.
Nestled in within the heart of the quiet, tree-lined East Village neighborhood, the bar began as an all-purpose establishment, Miller said: Polish sausage for lunch, dinner parties in the banquet hall and 7 a.m. whiskey shots for factory workers coming off the graveyard shift.
Happy Village was an important meeting place for the neighborhood during an era when the East Village and Ukrainian Village were populated by Eastern European immigrant families, Miller said.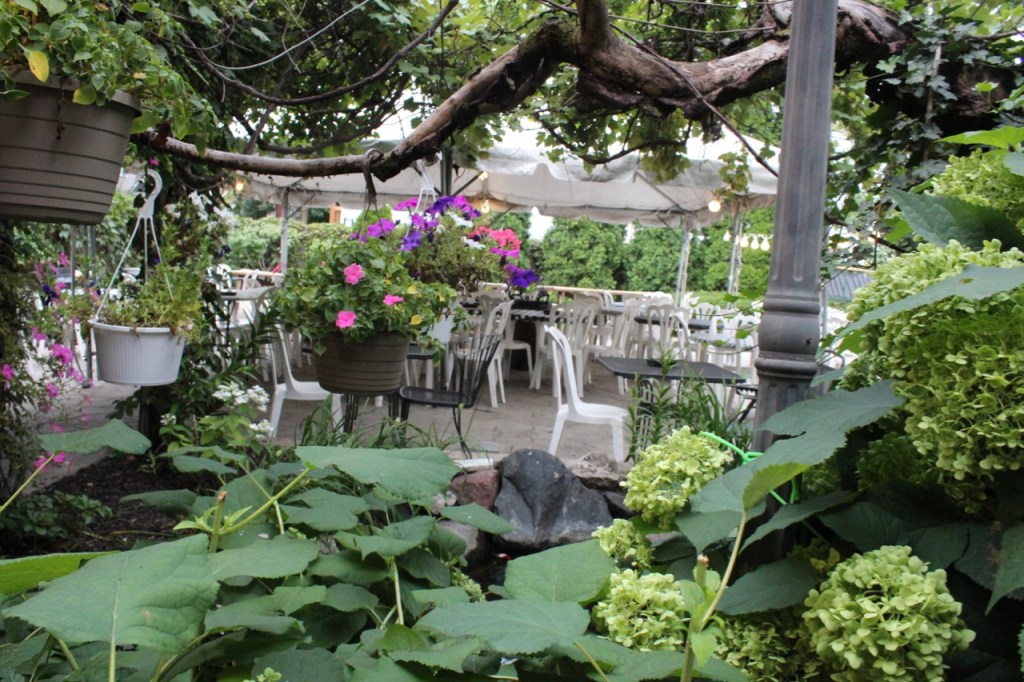 Through the years, the neighborhood changed — and so did Happy Village. At one point, the Pilch family stopped serving restaurant-style food and instead introduced a walk-up hot dog stand. Eventually they stopped food service altogether.
For the past 15 years or so, Miller said, Happy Village has existed as it is today — a low-key, cash-only watering hole with cheap beer and plastic patio chairs, a quintessential "dive" bar. The banquet hall was converted into the ping-pong room.
Under his leadership, the bar will maintain its current spirit, Miller said.
"It was built as a tavern," Miller said. "For us to have the opportunity to buy an old tavern and turn it back into a tavern is incredible."
Yes, Out to Lunch will expand the beverage menu to include $5 Aperol spritzes on Saturdays and Sundays, bottles of wine and classic cocktails. But the bartenders — three of whom are returning staff, Miller said — will continue to sell cheap beer and shots.
Related: Happy Village Sale And Rehab Draws Passionate But Divided Reaction From Bar's Fans
Miller described Happy Village's bartenders as "living encyclopedias": people who know the neighbors and the neighborhood better than anyone else.
And after the new owners of nearby dive Gold Star Bar fired their employees via text message, Miller told Eater Chicago, "I didn't want that to be written about me."
"You don't mess with that," he told Block Club. "They know the place. They know the neighborhood."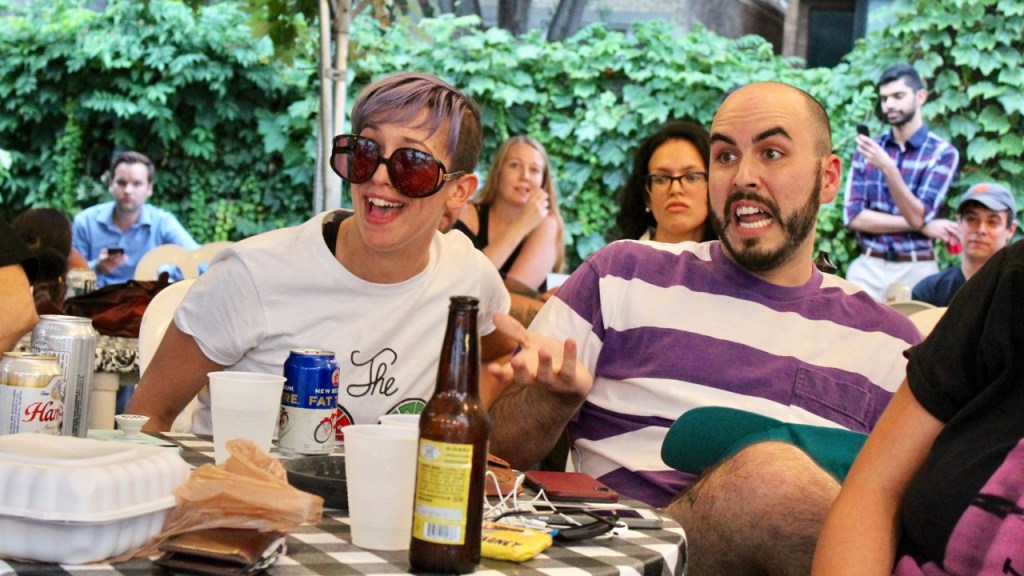 The Out to Lunch staff, Miller added, "goes to dive bars," and they are aware of what's at stake here. As the summer goes on, he plans to collect photographs from the Pilch family and anyone else who visited Happy Village through the years and frame the photos for the walls.
Because the building is so historic, Out to Lunch's proposed renovations will be overseen by the city's Landmarks Commission.
"I love dive bars," he said. "The difference is when you're trying to buy a building, and the building costs $1.5 million. … You can't buy this building for $1.5 million and sell $2 Hamm's and $2 shots."
A long road to change
It was three years ago, Miller said, when he first began talking with Pilch about buying the bar.
Miller said Pilch liked his vision of returning the space to its family original concept: a kid-friendly restaurant that could serve all the needs of the neighborhood.
His ideas included restoring a kitchen and reducing the size of the back patio by adding a plant-filled glass solarium — all in the aim, Miller said, of attracting more of the neighborhood to the restaurant, the couples "pushing babies in strollers" and "walking their dogs."
"We're trying to do it the right way," Miller said. "We're trying to see it from her eyes."
But actually buying the bar from Pilch proved to be a long, arduous task.
For starters, before a sale could be initiated, Pilch needed Ald. Brian Hopkins (2nd) to lift a liquor moratorium that had gone into effect after her bar was founded.
Related: Happy Village Sale And Renovation Gets Support Of Neighbors After Retiring Owner Makes Her Pitch
To do that, she needed the support of her neighbors — many of whom defiantly said during a heated August 2018 meeting that they liked Happy Village the way it was.
A longtime regular shouted out that an all seasons, glass-enclosed solarium structure planned for half of the back of the patio would be "stupid."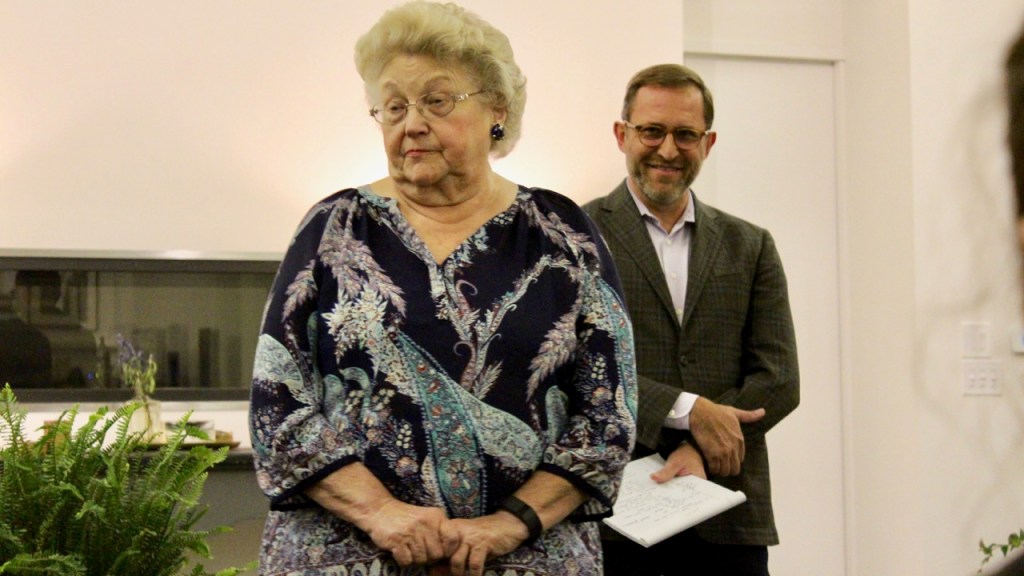 Last October, Pilch addressed a packed room of impassioned residents and bar regulars at The Mitz, 1019 N. Wolcott Ave., and delivered her plea for support:
"I am the one that kept that bar stable for 55 years this Nov. 15. I am asking for your support with these fine gentlemen and ladies, to achieve another step, a greater step, a more sophisticated step for Happy Village and the corner," Pilch said. "With all due respect, please give this new company and my lawyer the respect, and hear them out and please come with an open mind."
Neighbors ended up voting to support Pilch.
A 15-point plan of operation — a legally-binding document often used by neighbors to protect themselves from the actions of a new business — was presented to the East Village Association.
On April 3, Pilch finally sold her bar and two adjacent buildings at 1057-1059 N. Wolcott Ave. to Out To Lunch Hospitality.
'Keeping the spirit of the place alive'
In addition to offering a tavern and restaurant, Out to Lunch plans to rehabilitate the 1057 N. Wolcott Ave. building (currently Happy Village's recreation/ping pong room) and sell the lot.

Outside, the patio's koi pond will remain, but the plastic patio furniture will be replaced and the lighting will get an upgrade.
Miller removed the giant "wedding"-sized canopy and plans to put smaller umbrellas at each table, so people can decide whether or not they want shade. (Patrons can still order pizza from other restaurants to their patio tables.)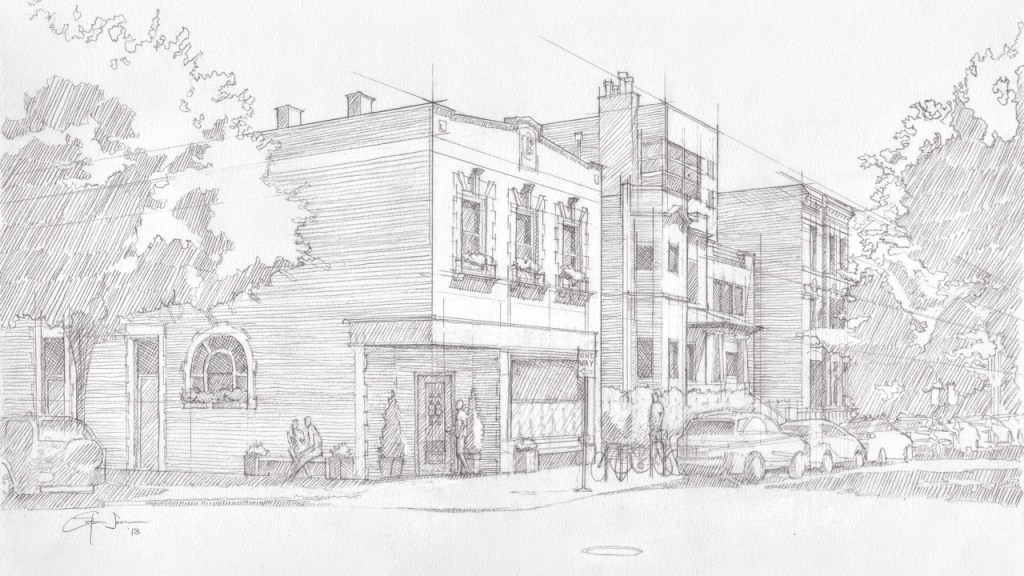 Behind the bar, Out to Lunch's beverage director, Miranda Breedlove, will introduce house-made juices and syrups, wine and classic cocktails. Customers will also have glasses to sip from, as opposed to plastic cups, Miller said.
The East Village Association will also continue to host monthly meetings at the bar, Miller said.
As for the major renovations set to begin after the summer season?
Inside, Miller plans to knock down two different drop ceilings to reveal what he believes could be the building's original 14-foot white embossed ceilings.
The upstairs will offer additional seating with an original bricked-in fire place. As patrons walk up the stairs, they'll be able to see framed photographs of the building through the centuries.
Miller also plans to strip back the dark wood paneling. Behind the wall across from the bar, he said, is an original arched window. Removing the paneling currently covering the area around the front door will reveal 130-year-old wrought iron castings, he added.
"A lot of these decisions are keeping the spirit of the place alive," Miller said.
Until then, Happy Village fans have a few months to get in one more round of ping pong.