EDGEWATER — In the back corner of the Zanzibar Cafe, you can usually find Steve Millard scribbling away on a stack of notecards.
"That's Steve's table," said Zanzibar owner Ken Gasch.
Since he was discharged from the Army in the 80s, Millard has experienced intermittent periods of homelessness. When he lost his job preparing food at a local shelter last year, he also lost his apartment.
At age 59, Millard was tired of working hourly jobs that didn't excite him. Instead, he decided to pursue his lifelong dream of becoming a writer.
But writing wasn't paying the bills and Millard had nowhere to work during the day. After hearing about his writing dreams, Gasch offered Millard free coffee and a place to write at the Zanzibar Cafe. In exchange, Millard runs errands and does odd-jobs for Gasch.
"Instead of making me feel guilt and shame, [Gasch] built me up," said Millard.
At first, Millard's writing was struggling to take off. He self-published three books on Amazon, and although he was told by a mentor the books had promise, they were lost in a sea of millions of other self-published books.
But Millard didn't care that his books weren't selling. For the first time in his life he was pursuing what made him happy, and for his self-worth that made all the difference.
"I've got three books published in my name," he said. "If I die today I'm happy. I'm an author."
So Millard kept coming back to the Zanzibar Cafe, spending his days writing and his nights at a local shelter.
"Steve is always good to have around," said Gasch. "He's always in a good mood and always has a corny joke to tell or a good story to share."
Gasch said that Millard's help around the cafe has been a godsend when things get busy.

"He has saved us so many times," he said. "If we run out of something, or if we get in the weeds he is quick to lend a helping hand."

At a nearby Mariano's — while running errands for the cafe —Millard met a woman who thought his work showed promise.
She helped Millard get enrolled in GeNarrations, a storytelling workshop for adults 55 and older. The six-week program is produced by The Goodman Theatre in conjunction with the Chicago Department of Family and Support Services.
For the first time, Millard said his life felt like it had real purpose. He thanked the Zanzibar Cafe for being there every step of the way.
"I don't really have a family anymore," he said. "The people [at the Zanzibar] are like a family to me."
Millard said he has made a lot of mistakes in his life. He struggled with drinking for many years and it caused him to lose family and friends along the way. But at the Zanzibar Cafe, Millard feels like he has a new lease on life.
"They aren't judging me by the things I've done," he said. "It edifies me instead of destroying me."
The Zanzibar Cafe is closing soon, May 27 will be its last day in business. But Gasch has already talked to the new owners and they have assured him that Millard will be allowed to continue his writing when the cafe reopens.
Millard will write for hours at a time. He said his writing process is intense and oftentimes he needs a break after a long session. When he recently had to kill a character in his story, Millard said he cried because the loss felt so real.
On his table in the corner of the cafe Millard has a small toy figurine of a wolf, next to a placard with a quote from the poet Ralph Waldo Emerson.
The placard reads: "The only person you are destined to become, is the person you decide to be."
Millard said he has always felt like a bit of a lone wolf and the placard is to remind himself that he has decided to be an author.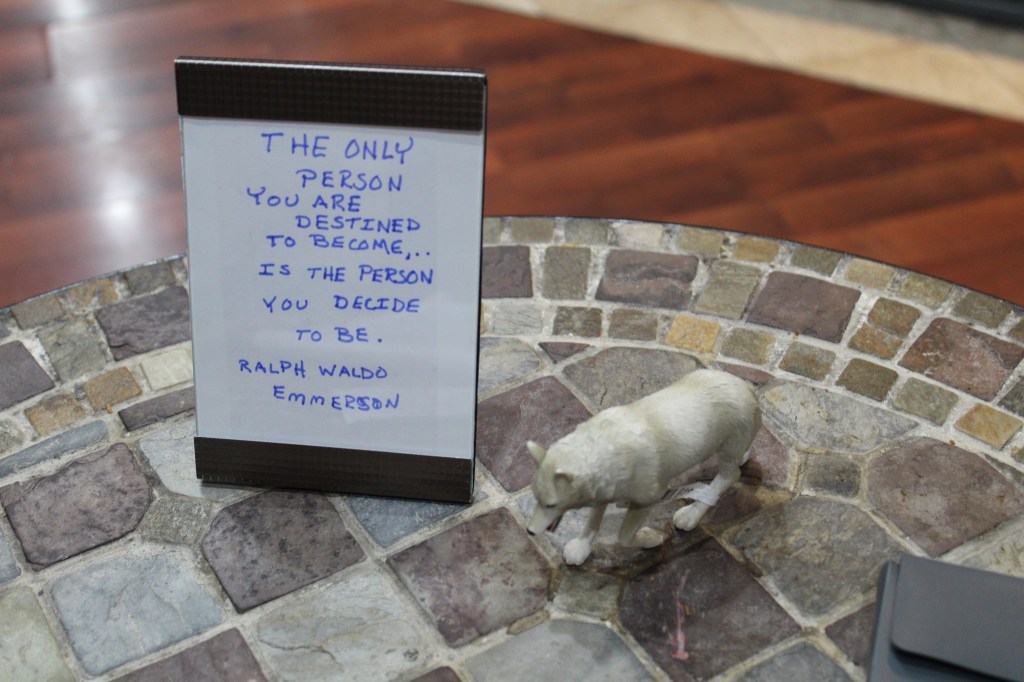 He tried other professions after being discharged from the Army. He worked in the oil fields of Oklahoma, the meatpacking industry in Nebraska and he washed dishes in Chicago. He always felt unfulfilled.
But Millard was always writing in his free-time, accumulating stacks of poetry that he would work on in private. Now Millard has fully dedicated himself to writing, and he says he is all in.
He is hoping to have his first full-length play finished in about a month. The story is about overcoming suicidal thoughts, something Millard has struggled with himself. But lately, things don't seem so bleak.
"Everything seems to be going up and up and up," he said. "Because I'm starting to believe in myself."
Do stories like this matter to you? Subscribe to Block Club Chicago. Every dime we make funds reporting from Chicago's neighborhoods.