PILSEN — A push to turn a 1.5 mile stretch of Pilsen into a historic landmark district has sparked concern among residents and property owners who say the process is being "fast-tracked" before they can evaluate how the decision would impact the neighborhood.
During a public meeting Tuesday on the matter, city officials laid plans for the proposed Pilsen Landmark designation to more than one hundred residents and property owners who filled the community room at Rudy Lozano Public Library, 1805 S. Loomis St.
As part of the proposal, the city aims to preserve approximately 850 Baroque-inspired buildings constructed between 1875 and 1910 along with murals painted in 1978 and onward. Officials said the designation would preserve two significant time periods in the neighborhood's history and would become one of the city's largest historic districts.
Approval of the historic designation would help preserve the multicultural, physical fabric of the Pilsen neighborhood by requiring building permits to be reviewed by the Landmarks Commission to ensure a proposed project doesn't diminish or destroy the historical or architectural integrity of a building's exterior facade — anything visible from the street, city officials said.
Since property owners would have more hoops to jump through if the district is created, they'd be eligible for some financial assistance, including permit fee waivers for basic improvements, property tax reductions, property tax freezes and tax credits for more substantial projects.
Gerardo Garcia, coordinating planner at the Department of Planning and Development, said the designation would reduce the number of demolitions, limit the scale of incoming retail and bring a more rigorous review process to all new construction.
Throughout the two-hour meeting, however, residents said one gathering was not enough to fully understand how a landmark designation would ultimately play out in a neighborhood that has already seen an exodus of Mexican families over the last 20 years.
Alderman-elect Byron Sigcho Lopez said it was the first time he was hearing about the proposal and was concerned about how the process was being "fast tracked." 
"I share a lot of concerns and skepticism about the process because like you all know, only big developers and big players have benefitted from initiatives from the city, especially when there is not a good process, or good discussions," Sigcho Lopez told the crowd of residents.
Sigcho Lopez said many residents were not present to weigh in on the proposal, which he found problematic. "I think it's very important that every resident and people with small businesses are notified…because if we accelerate the process and people aren't aware of what this entails, the day after tomorrow we'll be paying the consequences," he said.
While Sigcho Lopez said it could be "an honor" for the neighborhood to be considered a landmark, he said Tuesday's discussion was just focused on the buildings, rather than longtime residents in the neighborhood.  "We should also be talking about the people who live in these buildings," he said. 
He vowed to "revise the project" to ensure there was more community input.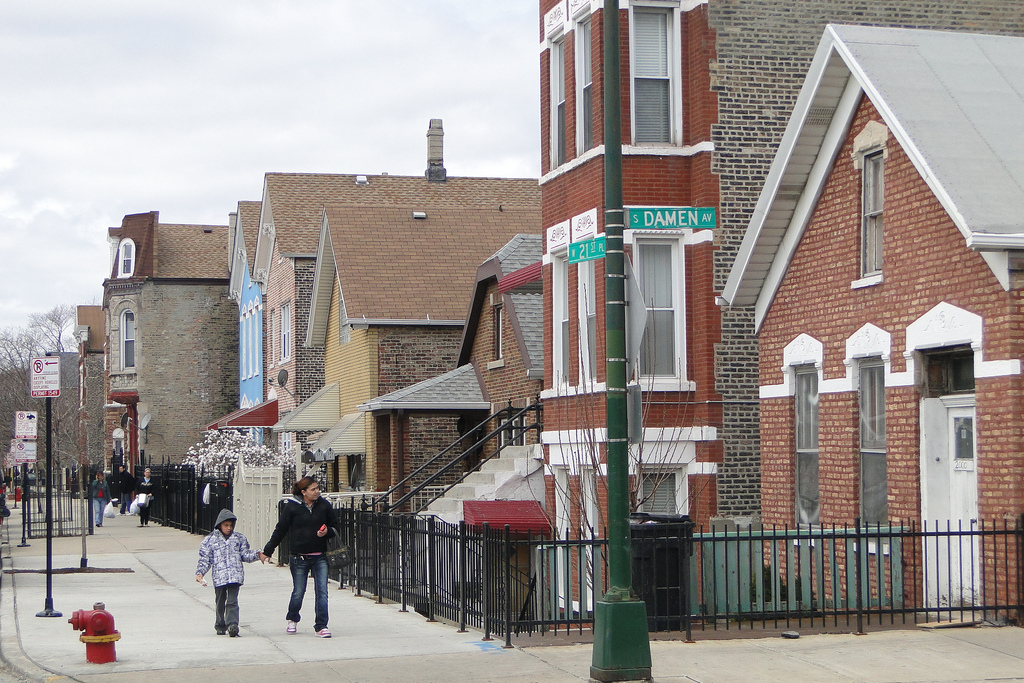 Why The Rush? It's The Law
The landmarking process was initially set to extend late into the summer, but was expedited after the city Landmarks Commission denied a request to raze three Pilsen buildings at 1730-34 W. 18th St. in March.
Since that permit was denied, city code requires the Landmark Commission hold public meetings and decide whether or not to turn the area into a landmark district within 90 days. Essentially, they can't deny a land owner permission to do what they want with their property and then drag out the process for years.
City Council has an additional 90 days to vote on the commission's recommendation, according to city code.
If no such recommendation is made within the timeframe, the demolition permit is then approved and the buildings are allowed to be demolished.
Next Wednesday, the Landmarks Commission is set to hear public comments starting at 9:30 a.m in City Hall in room 201-A, 121 N. LaSalle St., on the proposed designation before the commission makes an official recommendation in mid-May.
During Tuesday's meeting, residents interrupted city officials questioning who the intended beneficiary of such a designation would be. Other residents were wondering why this was the first time they had been made aware of the proposed landmark designation.
Vicky Lugo, a former resident of Pilsen whose mother owns property in neighborhood, said the entire process was being rushed without enough community input. 
"Over the years, other buildings have been demolished and the city hasn't done anything about it. Why now?" Lugo said. 
Rather than "shove" a neighborhood altering decision such as a landmark designation, Lugo said the Landmarks Commission should grant the demolition permits and allow residents more time to evaluate the proposal.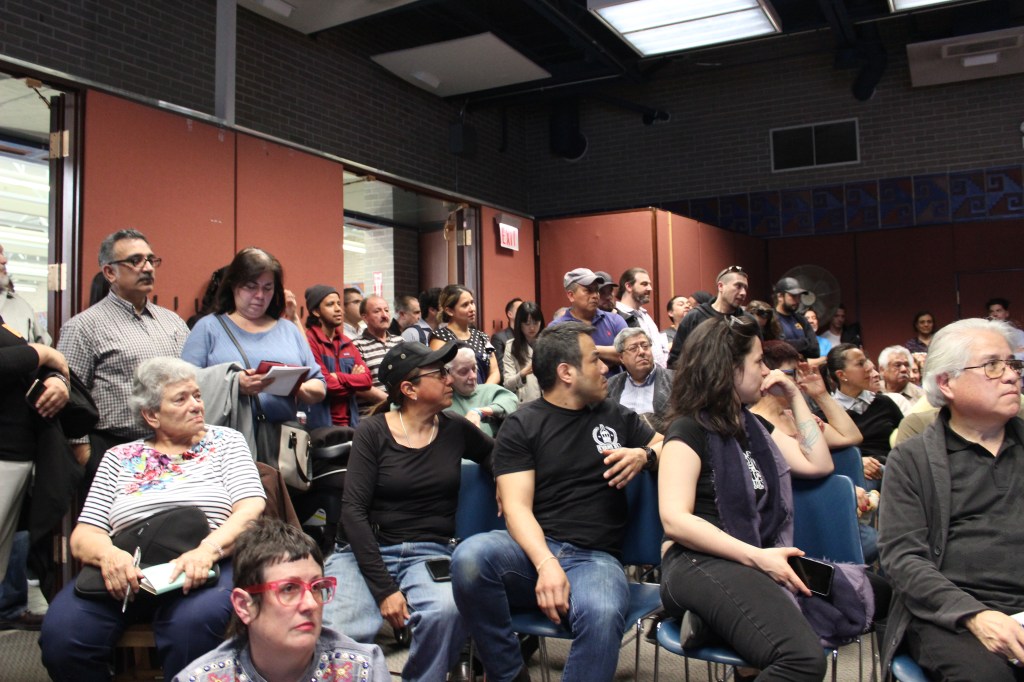 "There's just not enough time for residents to really know what this whole proposal is about," she said. "It might be a good idea. It might not. But we don't know everything it contains because this is a complex issue."
"We need more time to understand what this project entails. We need more information…In two hours residents aren't going to get all the information they need," she said. 
Lifelong Pilsen resident Leticia Guerrero echoed Lugo's frustration with the accelerated timeline for the designation consideration. "They are trying to shove this down our throats," Guerrero said. 
Guerrero said individual homeowners should be allowed to make a decision on whether their property becomes a historic landmark — including the individual who is looking to demolish the buildings that triggered the accelerated designation process.
For many low-income homeowners, their property is their only asset, Guerrero said, adding that the maintenance required for landmarked properties is likely too expensive for some homeowners to take on.
"You have residents here who have limited income. A lot of the improvements might not be up to par with the Historical Landmark status," Guerrero said.
But city officials said they are not requiring property owners to make any improvements to their homes. Any improvements would be up to homeowners discretion, nor would the city require homeowners to use specific material in renovations, as long as such improvements were comparable to material being replaced.
Arturo Garza, who was born and raised and now owns five properties in the neighborhood that sit in the proposed Pilsen Historic District, said he was opposed to the designation. Until the city provides more information on the economic impact the designation would have on Pilsen homeowners, he said he'll stay opposed.
Many Pilsen residents only own one property and for many, these properties are their "retirement," Garza said.
"This is their 401K. They don't have a pension. They don't have set benefits coming from the city of Chicago. This is all they have," he said. "If they can't sell their property for the highest and best use, it's going to chop a big chunk of their bottom line."
He sees the designation as one that would devalue many properties including his, which he argues is not a historic landmark.
Like Guerrero, Garza said residents should be able to make the decision on whether their property is placed on a historic designation, rather than having it decided for them.
'For The Greater Good'
Not all residents were opposed to the proposed designation. In fact, some want the proposed district to be even bigger. Many questioned why the landmark didn't extend to Halsted, or include other residential homes or historic buildings in the Pilsen neighborhood.
Born and raised Pilsen resident Blanca Torres, who has been working to save St. Adalbert Church since the Archdiocese announced its plans to sell the church in 2016, called for the designation to be extended to include the historic church at 1650 W. 17th St. and other portions of the neighborhood.
Torres said she understood the arguments residents raised about homeowners rights and their choice to be able to decide what happens to their property, but she said the neighborhood had to look at the "collective benefit" this would bring to Pilsen.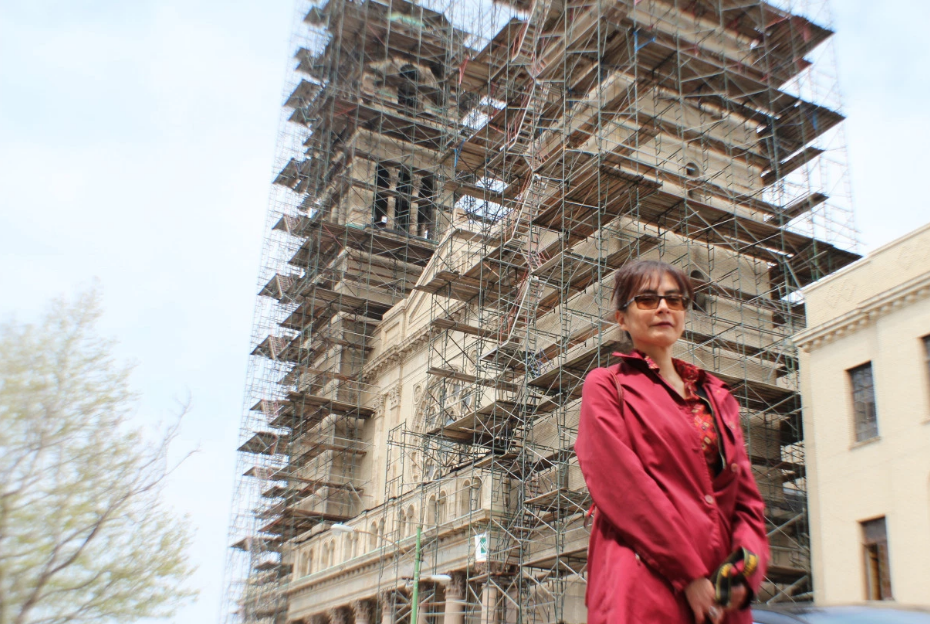 "We live in a community … where decisions on one property already affect another. We have to look at this collectively," Torres said.  "The historic designation would benefit more residents than it would harm."
Torres said preserving the buildings would "maintain the integrity of Pilsen" by preventing developers from coming in and knocking down the historic buildings.
"The buildings are part of our culture," Torres said. "That to me speaks of Pilsen. If that character is lost, it will just be like any other neighborhood with no distinct character."
At the same time, Torres said the framework wasn't perfect and could use improvements to address resident concerns.
Preservation Chicago Executive Director Ward Miller expressed support for the designation. Miller said the organization was in Pilsen four years earlier when a framework was suggested for a historic designation recommended by outgoing Ald. Danny Solis.
Miller said the landmark designation would be one way to "regulate insensitive development…We really feel this will preserve the look, the feel, the spirit of Pilsen."
"It encourages residents to remain, or if a building is sold, it encourages sensitive development and that's a reinvestment in a historic building," Miller said. 
"If we do nothing, buildings will be continuously be demolished and redeveloped and that will displace more people when you have a series of two flats that are demolished and redeveloped into six story condos."
A Long Time Coming
In 2006, the majority of the Pilsen neighborhood was designated a landmark in the National Registry of Historic Places. In that same year, a Quality of Life plan was recreated which requested the preservation of murals in the neighborhood. While these designations celebrate the architectural significance of the neighborhood, they don't actually protect buildings.
In 2017, the Department of Planning and Development recommended a local landmark district for Pilsen, which would offer concrete protections for the existing structures.
Last fall, city officials unveiled the Pilsen Landmark proposal — one component of a five-part strategy aimed at preserving the Mexican and Mexican American communities in Pilsen and Little Village. 
RELATED: City Vows To Keep Mexican Culture Alive In Pilsen, Little Village With New Affordable Housing Plan
In December, the city's Landmarks Commission approved a preliminary landmark recommendation that covers portions of 18th Street,  Blue Island Avenue as well as residential blocks bound by 18 Street, Ashland Avenue, 21st Street and Racine Avenue in Pilsen.
Among the buildings in the landmark district are: Nemecek Photo Studio/Flats at 1439 W. 18th Street, which is home to Jumping Bean; Schiltz Brewery-Tied House, 1870 S. Blue Island Ave.; Store and Flat, 1529 W. 18th Street; Thalia Hall, 1215-1225 W. 18th St.; Joseph Jungman Elementary School; St. Procopius Church, 1641 S. Allport St.
There are currently 59 Landmark Districts and nine extensions across Chicago, according to the Department of Planning and Development.
Read the report on the Preliminary Designation here.
Do stories like this matter to you? Subscribe to Block Club Chicago. Every dime we make funds reporting from Chicago's neighborhoods.