LINCOLN SQUARE —The Lincoln Square North Neighbors community group is back thanks to a push from a candidate who took on Ald. Pat O'Connor (40th) in this year's election.
Maggie O'Keefe didn't win — Andre Vasquez beat O'Connor in a runoff — but she emerged eager to find a way to serve the neighborhood.
Lincoln Square North Neighbors had been less active for some time, as its members had become busy with their kids, families and jobs.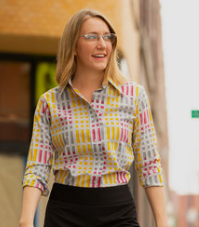 So O'Keefe decided to reach out to one of the group's leaders to ask if she could help relaunch it. Margaret O'Conor, who originally co-founded the neighborhood group, met with O'Keefe and was happy to help her make it more active again.
Outside of helping to plan a 40th Ward forum at Ebenezer Lutheran Church on Oct. 17, the neighborhood group had mainly used its Facebook page as a community resource.
"We championed CAPS meetings, keeping people informed about crime and things that were going on at neighborhood schools and businesses," O'Conor said.
O'Keefe said she wanted to help.
"When it came time for me to think how I wanted to continue to serve my community, I went over to Margaret's. She invited me over for coffee and French toast. Her eyes just lit up when I told her what I wanted to do," O'Keefe said.
Last Saturday, the relaunched group organized a spring cleanup at 2449 W. Ainslie St.
"What you don't want is to take your toys and go home, to say this is proprietary. So I was really happy when Maggie reached out," O'Conor said. "I think it's a great way to transition with new ward leadership. Why wouldn't the new alderman have open arms to an organization that has a little bit of skin and dirt on the road already."
The next step is hosting a pair of meetings this month to ask the community what they want to see the group tackle now that it's active again.
"We have some pillars that we want to establish around schools, economic and business development, safety and the environment," said O'Keefe.
"But also forming committees, like around infrastructure, to make sure that neighbors have a say in the two SSAs within our group's boundaries." (Property owners in a Special Service Area pay a local tax to fund local projects.)
The first meeting will be held at 7 p.m. April 23 at The Friendship Center, 2711 W. Lawrence Ave.
Ald.-elect Vasquez (40th) is expected to attend that meeting.
And at 1 p.m. April 28, a second meeting will be held at River Park, 5100 N. Francisco Ave.
O'Keefe invited U.S. Rep. Mike Quigley, a Chicago Democrat, to attend that one, which will also be livestreamed.
Guests are being asked to RSVP to the meetings using this link.
In addition to those two meetings, the group is helping promote an April 20 fundraiser at Rockwell's Neighborhood Grill, 4632 N. Rockwell St., to support Budlong Elementary School and Friends of Budlong Elementary School, 2701 W. Foster Ave.
"We want to make sure neighbors have a say and that we have a seat at the table with developers, chambers of commerce and the alderman to provide feedback into what it is to live in the area," O'Keefe said.
Looking forward, O'Conor sees the group's relaunch as a way for people who supported outgoing Ald. O'Connor to build bridges with Ald.-elect Vasquez and his supporters after the runoff election.
"I know that Maggie ran for office too, but this isn't about setting up camps against each other. The goal here is to approach this new administration in a really positive way," O'Conor said. "Andre is going to benefit from us and our experience. I've been in the neighborhood for 18 years, that's not nothing. So what's key to me is: How are we going to get those two groups working together? Because we're absolutely in it together."
The neighborhood group launched about eight years ago, before the city's wards were remapped. Initially, the majority of the neighborhood was in the 47th Ward.
Ald. Ameya Pawar has just been elected to his first term and his transition team put Ald. O'Connor in contact with a few other neighbors and business owners in the area who had an interest in forming a neighborhood group to better flush out community concerns in the area, she said.
The neighborhood group helped coordinate a town hall meeting for neighbors so Pawar and O'Connor could answer questions about the ward remapping.
And once the 40th Ward absorbed the neighborhood, O'Conor said her group worked with Ald. O'Connor to bring more resources to Jameson Elementary and Amundsen High School, helping to increase the high school's ranking in the process.
"I really think Andre [Vasquez] needs to do the same with Budlong Elementary School. It's a great school that's rich in culture and needs to be celebrated. So does Chappell Elementary. We need to make sure the kids have as much resources as the other neighborhood schools," O'Conor said.
The neighborhood group's boundaries are from Lawrence to Foster avenues and Western Avenue to the Chicago River. O'Conor says supporting the schools in the area are important even if they aren't within the neighborhood group's boundaries because they serve so many families in and around the area.
For additional information on the two events this month, visit their Facebook page.
Do stories like this matter to you? Subscribe to Block Club Chicago. Every dime we make funds reporting from Chicago's neighborhoods.