AVONDALE — A longtime resident of the neighborhood hopes to breathe new life into a building his family has owned for over 40 years.
Carlos Ceja's family bought the building at 2951 W. Belmont Ave. in 1978 and he currently lives there with his wife, Jennith Mascardo.
"I was like four when my parents bought it," Ceja said. One of his earliest childhood memories is the blizzard of 1979, when six feet of snow covered Belmont near Sacramento Avenue. "I remember climbing up on top of it and just walking back and forth down the block. That was pretty awesome."
Ceja and his siblings spent summers helping with the family business, assisting their father with furniture repair.
"My father ran a furniture repair business on the first floor for 25 years. To this day I can strip and paint furniture," he said, with a smile.
Ceja eventually joined the Navy and after an eight-year tour attended the University of Illinois where he earned a degree in kinesiology.
"My wife and I bought the building off of my parents in 2006," he said. "We had plans to keep the existing brick and renovate it."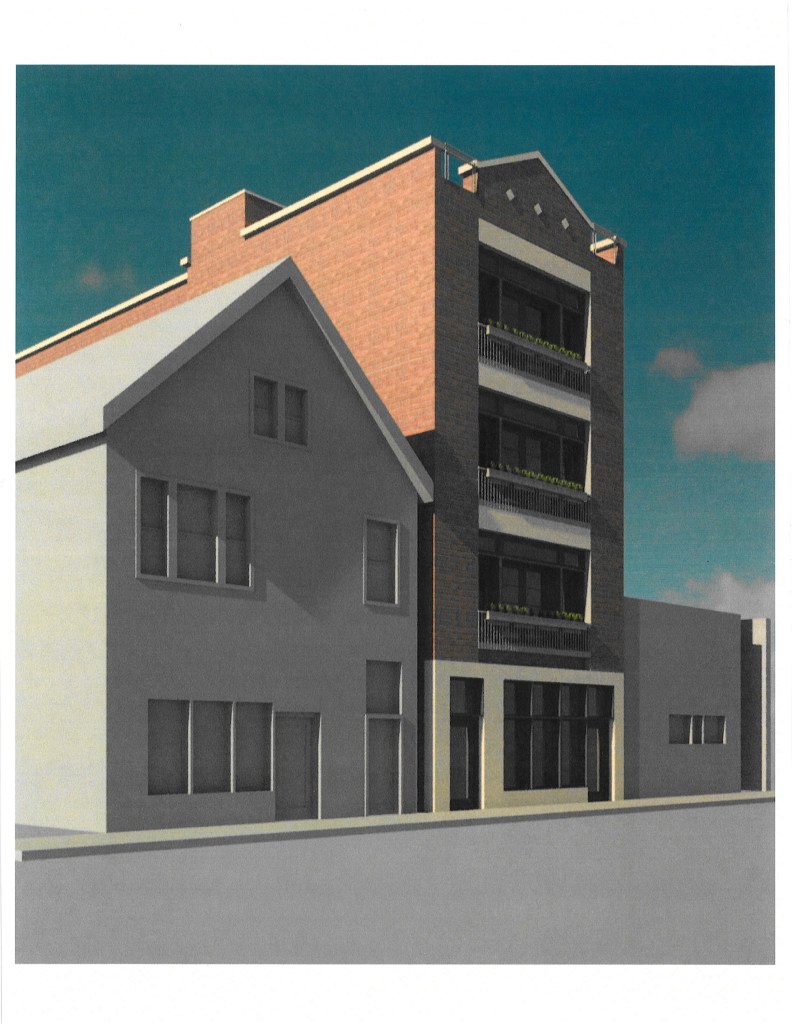 After buying his parents' former building, a two-flat with commercial space on the first floor, the couple saw the property was showing its age, Ceja said. The storefront has been vacant since 2007.
The couple considered renovating the building so they could add a second and third floor that would function as a single unit for them to live in.
"But unfortunately, the housing market collapsed," he said.
The housing crisis put their plans on hold as they looked at financing options.
"Since it's a commercial building, a lot of commercial lenders were like, 'OK, we'll lend you the money but it has to be like $1 million or more,' " he said. "If the building was worth $1 million I would have sold it a long time ago. But that's not the case."
After some time trying to figure out what to do with the building, the couple decided to seek a zoning change to let them tear it down and construct a three-flat building with 1,600 square feet of commercial space on the first floor.
"I want to try and keep the color of the brick the same for sentimental reasons, as well as the parapet at the top with the three diamonds," he said. "I want to try and keep it the same, as much as possible."
Once built, each residential unit in the new building would have two bedrooms, one office and two bathrooms. Regarding a construction timeline, Ceja said that would depend on the city approving his permits. If the project is approved, he estimated it would take from six months to a year to complete.
Ald. Deb Mell (33rd) hosted a public meeting at Beer Temple, 3173 N. Elston Ave., on Monday to present the current plans for the property to the public.
"I like that Carlos wanted to preserve the building, because that's what we prefer," Mell said. "But then he saw that it wasn't feasible."
Monday's meeting had about 20 people in attendance who voiced support for the project. One person was very happy that the couple plans to live in their property, because many of the area buildings have management companies that are often hard to get hold of.
One resident was concerned with how parking would be impacted. Designs Ceja had on hand showed that each residential unit would get one parking spot on the property.
Another concern was what would happen if it was hard to find a tenant for the first-floor commercial space.
"Obviously, Belmont's a commercial street and we'd like a lot of vibrancy and activity," Mell said. However, if the commercial space was having trouble attracting a tenant, her office would be open to allowing it to be converted to a residential space.
More information on the project can be found here.
Do stories like this matter to you? Subscribe to Block Club Chicago. Every dime we make funds reporting from Chicago's neighborhoods.