WICKER PARK — After 71 years at the corner of Milwaukee and Evergreen avenues, Hollywood Cleaners is closing its doors for good.
The shop's owners, Phil and Marie Luparello, will accept drop-offs up until April 30th. After that, the couple will clean and return clothes until May 31st, which will be their last day in business. 

During the next month and a half, Phil Luparello invited the community to come in and say goodbye. He'll be giving away all of the iconic Hollywood Cleaners artwork hanging in the lobby of the shop — for free.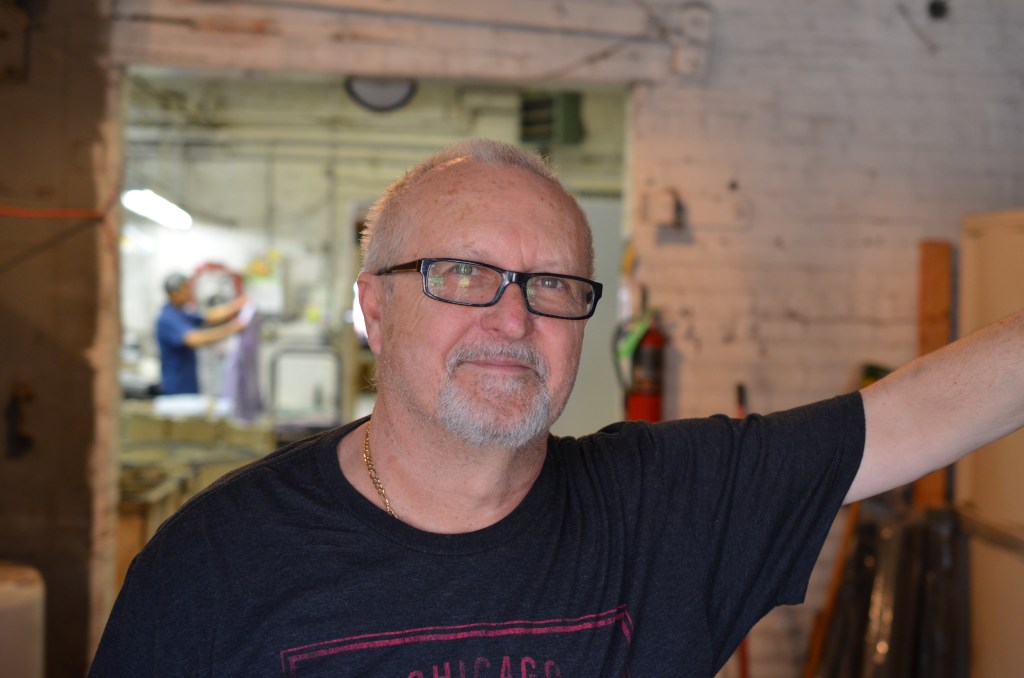 "I would like to thank all the Wicker Park people," he said. "I'm gonna miss you guys. And my dogs! I'm gonna miss my dogs. They used to come in and get my cookies."
The family plans to sell the building, which is protected from demolition, Luparello said. The fate of the brown Hollywood Cleaners sign above the shop isn't clear. The building's next owner wouldn't have to keep it.
The shop's owners bought the business from Marie's father, Nunzio "Bud" Raimondi, in 1981.

Like his son-in-law, Raimondi was an immigrant from the southern part of Italy. He started Hollywood Cleaners in 1947 with his wife, Marie Raimondi, who was also of Italian descent.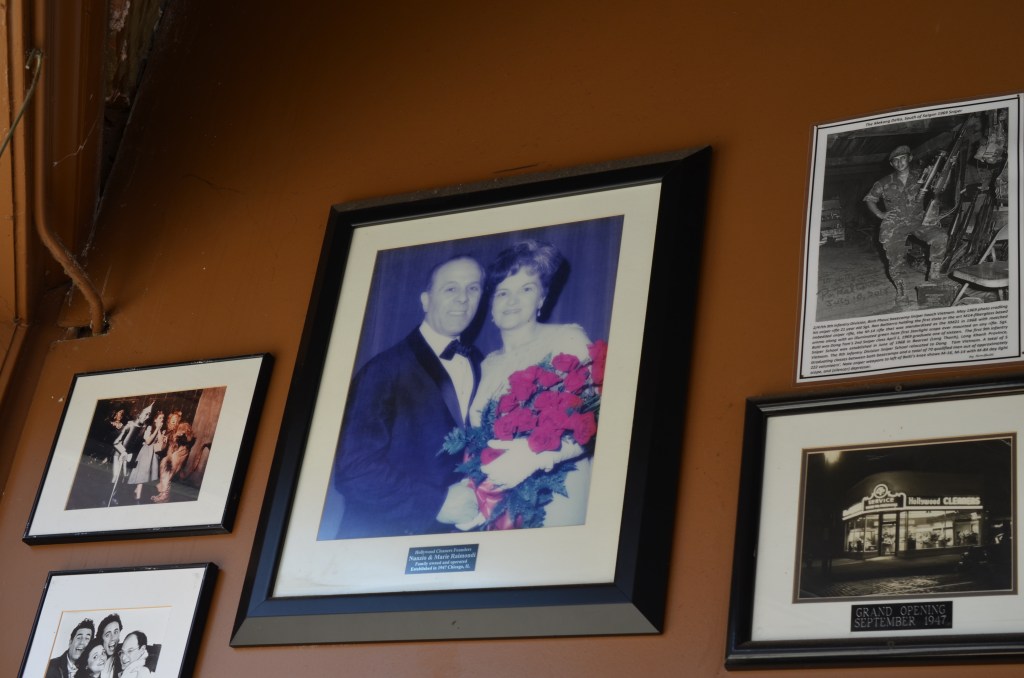 In 1975, a young Luparello abandoned his job as a butcher in Sicily and immigrated to Chicago. His first job was as a steel cutter for a factory at the corner of Hubbard and Noble Streets, he said.
There, he had a couple of Italian friends who introduced him to his soon-to-be-wife, Marie.
The two dated and fell in love, and on Oct. 4, 1980, they married. By that time, Luparello had quit the steel factory taken a job at Brach's Candy Factory on Cicero Avenue.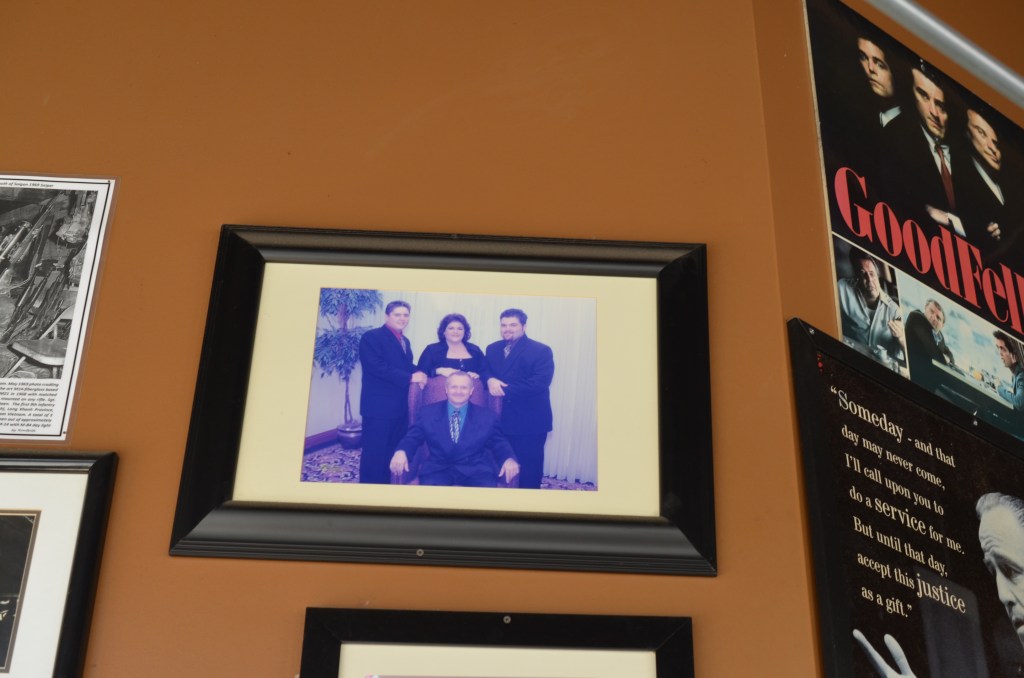 After he and Marie married, his father-in-law asked him to take over the family's dry cleaning business in Wicker Park.
Luparello knew absolutely nothing about the dry cleaning trade, but he learned quickly, he said. In 1981, he and his wife bought the business. In the early 1990s, they moved with their two young sons from Elmwood Park to the western suburbs. 

From then on, for 29 years, Luparello began a commute in which he left his house at 4:50 a.m. and drove a little over an hour to reach Hollywood Cleaners by 6 a.m.
Each morning he would have coffee at 6:15 a.m. with a few of the regular customers before officially opening up shop at 7 a.m.
Marie Luparello said she worked in her father's shop alongside her siblings. She stopped working there when she and her husband began having children, she said. Some years later, her son started working at Hollywood Cleaners.
"It definitely is a family business," she said. "We tried to stay there as long as we could."
At 64, Phil Luparello said he isn't ready to retire — he loves to work, he said — but the business of Hollywood Cleaners is just no longer sustainable.
Part of that has to do with the rising costs of running a business, he said.
Every six months, his wife pays property taxes to Cook County on their three Wicker Park properties at 1438, 1440 and 1442 N. Milwaukee Ave — a bi-annual cost that's all but guaranteed to increase, Phil Luparello said, based on the rising property values in Wicker Park.

There are rising federal costs, too — he paid $1,500 to the Environmental Protection Agency this year to renew his license to use cleaning solvent.
The overhead costs of running the shop and paying his employees (many of whom have worked there for decades) would be justified, he said — if he had the customers. It's a sad reality that people don't use dry cleaning services as regularly as they once did a few decades ago.
For example: Back in the 1980s, people dry-cleaned their T-shirts, Phil Luparello said.
Hollywood Cleaners still gets a lot of ties and Oxford button-downs, as well as "special occasion items," like First Communion gowns and saris. But the regular work clothes that once made up the bulk of the daily business — slacks, dresses, etc. — are no longer in vogue.
Six years ago, the Luparellos tried opening a second Hollywood Cleaners in suburban Bloomingdale. But they closed it at the end of March of this year because business was tough.
"The dry cleaning business is getting harder and harder, because it's not like it used to be," he said. "The people, they're not dressed up like they used to."
A few years ago, Luparello said he used four 55-gallons of solvent. This past year, he only needed two 55-gallons for the amount of clothing he had to clean.
"That's how we know our business stinks," he said.
On Tuesday afternoon, Phil Luparello's longtime friend, Mitch Portugal, stopped into the shop. They had plans to go to lunch, as they usually do on Tuesdays.
The two men met in the 1980s; Portugal's family owned Continental Furniture, which they established on Milwaukee Avenue, across the street from Hollywood Cleaners, in the 1950s.
The men are still friends, even though Portugal's family closed their Wicker Park business (and even though he's a White Sox fan, while Luparello supports the Cubs).
"It was a family business," Portugal said, of Hollywood Cleaners. "The customers always came first. That was always admirable."
There are a few regrets Luparello has about closing Hollywood Cleaners. His employees will need to find new work, including husband-and-wife employees Beatriz and Jacob Rodriguez, who have worked there 17 and 25 years, respectively.
A third, Victoria Corona, has pressed shirts at Hollywood Cleaners for 22 years.
Luparello said he will also miss Wicker Park, a neighborhood he watched change seemingly overnight from the 1970s to today.
"I still have a lot of regulars. A guy came in here yesterday and said, 'Congrats! Now where will I go?'" Luparello said. "I always take care of you. Take care of him. Take care of her. I don't know if they'll take care of you somewhere else."