HYDE PARK — Two weeks after state Rep. Curtis Tarver (D-25th) voted against lifting the state's rent control ban, protestors picketed outside of his Hyde Park office calling him out for flip-flopping on the issue in order to get elected.
Tarver, who did not respond to requests for comment and was not in his office at the time of the protest, told voters during a candidate forum last year that he was in favor of rent control, the Hyde Park Herald reported.
So, when he voted against Rep. Will Guzzardi's rent control bill during a Civil Judiciary committee meeting early this month, he got called out on Twitter.
He later admitted to the Herald that he did change his position after learning that rent control would not help his district, he said.
"My concern is providing an option that is a Band-aid for an issue that requires stitches," Tarver told the paper. "I don't want to support something that's ultimately not sustainable. It might be marginally helpful in the short-term but ultimately causes more damage than it does good."
During Wednesday's protest, attorney Frank Avellone said "some of the best- kept and maintained rental properties in the United States are under rent control" and criticized Tarver for not doing more to promote economic justice.
The Lift The Ban Coalition, which includes members of neighborhood groups fighting for affordable housing across the city, attempted to talk to Tarver before the vote — but were ultimately unsuccessful.
"[Lift the Ban Coalition] members have tried to talk to him," said Rod Wilson, executive director of the Lugenia Burns Hope Center. "They set up a meeting a week before the vote, then he rushed a meeting with a couple of our delegates who went down to see him in Springfield. We had many people make calls, but he just doesn't want to budge. That's unacceptable."
Wilson said that the purpose of the protest was to remind Tarver that he's in Springfield to represent the people who voted him in office, not the real estate lobby.
"We want to let other legislators know that this ain't just about Tarver. They're all on notice," he said. "It's like the old Harold [Washington] slogan, 'Take the turkey, but vote for Harold.' Take the money, but do what you need to do for your people."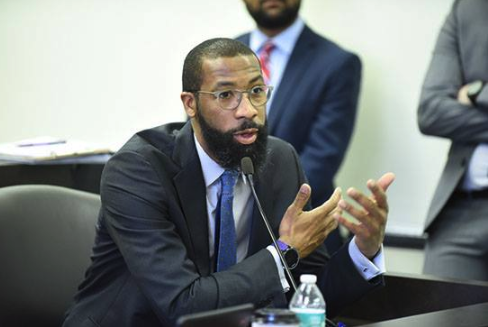 Wilson hopes that the protest will raise awareness of the issue, and motivate residents to act. Cities like Los Angeles, Oakland, and New York City are cautionary tales, he said.
"We know that real estate lobbyists are spending millions of dollars to stop rent control. They spent $80 million in California to stop Prop 10, so we understand what's going on," said Wilson.
Mayor-elect Lori Lightfoot has been criticized by the organization for dodging the issue of rent control, but she ultimately said she doesn't think lifting the ban would solve the affordable housing crisis facing the city. For now, Wilson said, he and other members of the housing coalition are focused on changing the minds of state legislators, adding that they'll "cross that road when they get to it."
"[Lightfoot] has been on the fence, but she came out against it after she received $8oo,000 from real estate groups, so now we understand why she's coming against it. But she'll have to learn the same lesson as Tarver," Wilson said.
"There's a housing crisis in both city and state. Landlords can double, triple, or quadruple your rent. There's no regulation to protect you from that. The average one bedroom goes for $1,700. If you make minimum wage, you may could afford $600 for rent and that's pushing it," Wilsons said. "In Illinois, 25 percent of residents spend over 50 percent of their paycheck on rent. If any type of emergency comes up, they have to decide to between handling that emergency and paying rent. That should not be the case."
Tarver told the Herald increasing the minimum wage and funding more affordable housing options throughout the state would be a better solution than rent control, which he said has caused the rental markets in places like San Francisco and New York to suffer.
A recent Stanford University study found both sides to be right in some ways: while rent control does benefit current tenants who are typically over the age of 40, over time it decreases the availability of housing as landlords sell their buildings to avoid dealing with the subsidies rent control laws require. Therefore, it leads to the reduction of affordable housing options in gentrifying cities.
"While rent control prevents displacement of incumbent
renters in the short run, the lost rental housing supply likely drove up market rents in the long run, ultimately undermining the goals of the law," the study's authors concluded.
Lightfoot has also said she'd focus on expanding affordable housing, but Wilson said that there's a distinction between rent control and affordable housing.
"We do need more affordable housing, but we can't build our way out of it. We would need 3 million units, and state legislators aren't going to give us money for more units," Wilson said. "And that still supports the [real estate] lobby because they get the tax credits to build, and the freedom to jack up rent again."
"We have to be more savvy than that," he continued. "When legislators say, 'it's a matter of affordable housing,' we have to know that, one, they received some money from the lobby. And two, Illinois can protect millions of renters without spending one dime by just passing statewide rent control. And if they don't want to decide, at least lift the ban and let the municipalities decide for themselves."
As for Guzzardi's bill, the Logan Square lawmaker told the Daily Line he would work with other democrats to figure out if there is another way to advance the bill before the session ends.

"The real estate lobby is very powerful," Guzzardi said. "It is going to take a long, hard slog to beat these guys."

Do stories like this matter to you? Subscribe to Block Club Chicago. Every dime we make funds reporting from Chicago's neighborhoods.