DOWNTOWN — Mayor Rahm Emanuel has called for a delay on a vote that would have granted about $1.6 billion in subsidies for the Lincoln Yards and The 78 developments.
Emanuel pushed for the delay because Mayor-elect Lori Lightfoot, who has expressed concerns about Lincoln Yards, requested it, he said in a statement. This weekend, Lightfoot issued a statement calling on Ald. Pat O'Connor, the Finance Committee chairman, to not hold a vote but to instead have a hearing.
"While I firmly believe in the value of these projects to the entire city, out of respect for her wishes and request, I will honor my commitment and delay the vote," Emanuel said in a statement. "I am hopeful that under the mayor-elect's leadership of the new City Council these critical projects will move forward and bring the kind of investment and job creation that has been a hallmark of the past eight years."
O'Connor said he would delay the vote and instead held a hearing where aldermen expressed concerns about and support for the developments. It's now expected the TIFs won't come to a vote until Wednesday.
Scott Waguespack (32nd) and Leslie Hairston (5th) hammered David Reifman, commissioner of Planning and Development, during the hearing, saying Lincoln Yards wasn't truly "blighted" and questioning what happened after the city sold the land to Sterling Bay.
"If this doesn't pass by Wednesday, Sterling Bay isn't going to go away …," said Ald. Harry Osterman (48th) during the hearing. "I don't see a downside to Chicagoans, taxpayers, to make sure we look at this through the new lens, the new administration."
But Ald. Brian Hopkins (2nd), whose ward the Lincoln Yards project is partially in but who is not part of the Finance Committee, said he still wants a vote — and he has the backing needed for the Lincoln Yards TIF to pass.
Dozens of Chicagoans also spoke during the hearing's public comment period with residents clashing with representatives from labor unions and construction companies.
Katie Tuten, the owner of the Hideout Inn, flipped through a folder that she said contained of "thousands and thousands" of signatures from residents who oppose the TIF. The owner of the 1871 bar said she's at City Hall because of a "lack of trust."
Echoing what Hairston and Waguespack said previously, Tuten said she still has lingering questions about the sale of the vacant land near the Hideout.
"What was in [the Sterling Bay] business plan?" Tuten said. "Did they just assume they were gonna get this TIF? … I think we can all win if we just delay this."
Lincoln Yards is a controversial $6 billion project that would turn 55 acres along the North Branch of the Chicago River into a new neighborhood with housing and retail.
The 78 would be a new neighborhood between the South Loop and Chinatown with 10,000 apartments and condos.
Supporters hope the projects will signal the final transformation of Chicago from an industrial behemoth to a city poised for growth in the 21st century, while critics contend the projects offer only "crumbs" to the rest of the city.
"From day one, I have raised concerns about these deals and the deeply flawed process that has led us to this moment," Lightfoot said. "For major development projects to drive equitable economic growth, they must be coupled with community input and a transparent, informed decision-making process."
Seven aldermen-elect also called for the subsidy to be rejected: Daniel LaSpata (1st), Jeanette Taylor (20th), Michael Rodriguez (22nd), Byron Sigcho-Lopez (25th), Andre Vasquez (40th), Matt Martin (47th) and Maria Hadden (49th).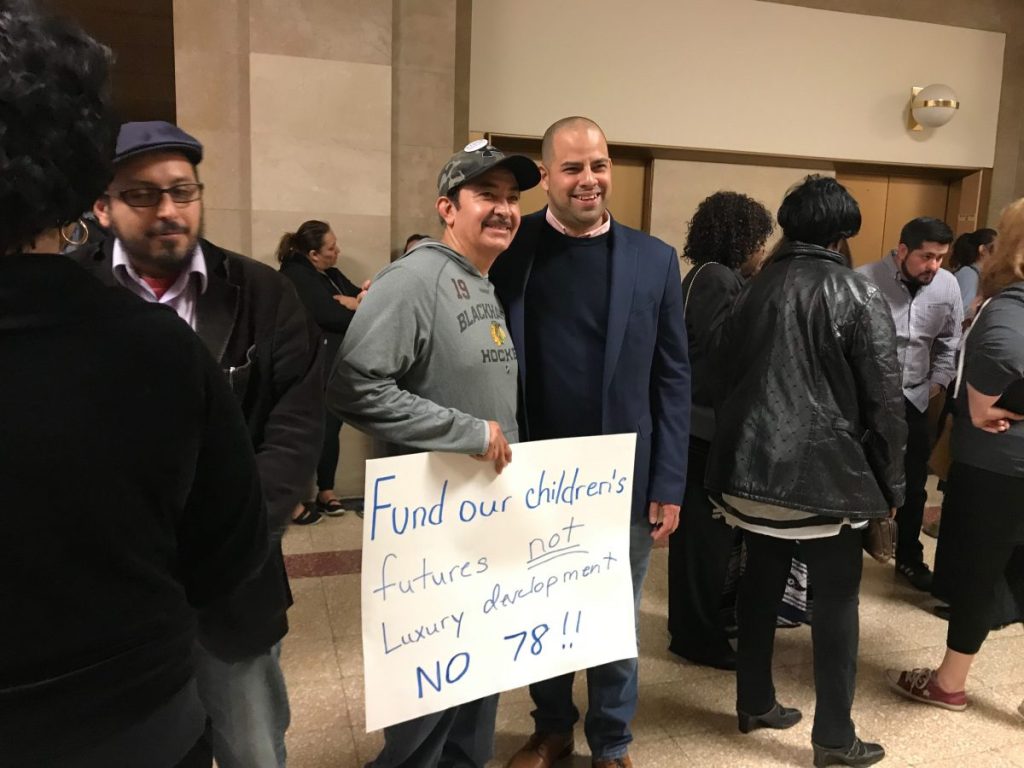 Ald. Michele Smith (43rd) said she was "very pleased" the outgoing mayor had heeded the call of incoming Mayor Lori Lightfoot to delay the votes. That said, Smith said the Finance Committee hearing would still be newsworthy, saying a 600-page redevelopment agreement with Sterling Bay — a document originally discovered by Inside Chicago Government — will be discussed.
"There are many aspects that need further review," she said. "Some of which will be brought up in the hearing."
Activist Manuel Beltran stood outside Council Chambers with a white poster that read, "Fund our children's futures not luxury development … No 78!!"
Beltran was raising his six children in Pilsen but can no longer afford to live there, he said. He campaigned on behalf of Sigcho-Lopez.
"We had to fight the big guy over there," Beltran said. "The machine, you know."
Not everyone was celebrating, though, including a group from the Chicago Laborers District Council, a union that represents 19,000 workers in the nine most northeast counties of Illinois.
One of the men, Mark Pavlis, said he supports public funding for massive light or heavy industrial projects like Lincoln Yards. And while construction is a source of short-term jobs, the project itself will create many sustainable jobs for the community, he said.
"I'm for longterm growth," Pavlis said. "But if you're struggling and sharing a one-bedroom apartment, I could see both sides. … My heart is with these people." 
This is a developing story. Check back for updates.