HYDE PARK — Two lifelong friends who bonded over a love of the arts will bring their annual SWAN (Support Women Artists Now) Day Chicago event to The Promontory Saturday night.
Each year, event curators Charne Graham and Rachel Gadson select a group of emerging black female artists in a specific medium. Saturday's event, its sixth year in Chicago, will celebrate dancers and choreographers working in different genres of art form, from jazz to dancehall.
It will be held at 5:30 p.m. Saturday at The Promontory, 5311 S. Lake Park Ave. West.
The international SWAN Day, now in its 12th year, is an event that recognizes the contribution of women artists around the world.
The idea of SWAN Day Chicago is to create access for those who are typically overlooked, said Gadson, a native Chicagoan who founded ILA Creative, a coworking space for artists living on the South Side.
"We wanted to create a space for our peers to be recognized," Gadson said. "I remember telling Charne that I'd wanted to be in an art show, because I'd never been in one. I'm an artist. I was trying to figure out ways to get my talent exposed, and there weren't many accessible ways to figure that out."
So the two decided to strike out on their own, relying on family, friends — and a lot of Googling, said Graham — to stage their inaugural event in 2014. It was a first-time attempt for the two friends, who admit that there was a lot of learning on the fly.
"We had no knowledge of how to put on an art show," said Graham, a Kenwood Academy alum. "So we were pretty much self-taught."
With help from family, friends and a crowdsourcing campaign the duo was able to host their first event at Ian Sherwin's old gallery in Humboldt Park. They expected 30 people; 300 showed up. One of the first participants was a little-known tattoo artist named Katrina Jackson, better known Kat from VH1's Black Ink Crew Chicago.
Since then, Graham and Gadson have been able to build on local support each year, acquiring sponsorship while sticking with the idea to focus on emerging artists in different mediums. They've highlighted women working in mixed media, graphic design, photography, and film.
The participants chosen are just as diverse, with black women from different ages, socioeconomic backgrounds, and orientations. Some are women with whom Graham and Gadson grew up; others are discovered via word of mouth.
Keeping the event on the South Side was also important for the women, though they've run into some difficulty finding event space there.
"There aren't a lot of galleries or art spaces on the South Side," said Graham. "But the artists we know are from here, their families are from here…we wanted to make sure that it was a space that everyone could get to."
Relying on their network has been a big help to the duo, who both say their love of art started years ago when they were students at Arthur Dixon Elementary in Chatham. To that end, Graham and Gadson donate the proceeds from each event to youth art programs in the city.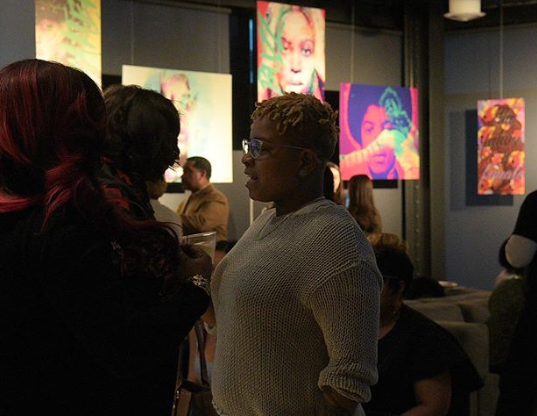 "It took us becoming adults to realize how fortunate we were to be at a school where our principal was an art collector, and African art was always on display," said Graham. "It's one of the largest art collections on the south side." (The school's art collection was the subject of a 2012 documentary.)
The friends said that they hope to keep expanding the event, including more mediums, drawing the support of bigger names, while remaining true to their original vision.
"I want to expand to different cities and give black women that access," Graham said.
"I want people to recognize SWAN Day Chicago when they hear the name," Gadson siad.
Tickets for Saturday's SWAN Day Chicago event are still available. Click here for more details.