HUMBOLDT PARK — The founders of dog rescue group One Tail At A Time thought taking over an empty building that once housed a problem liquor store would be something the neighborhood's alderman could brag about.
Instead, executive director Heather Owen said her nonprofit has jumped through hoops and met all of 26th Ward Ald. Roberto Maldonado's requests — only to be "strung along" and blown off by the alderman.
Nearly a year ago, One Tail At A Time moved to buy the building at 3579 W. Dickens Ave. at the corner of Dickens and Central Park avenues. The sale was under contract, but subject to a zoning change that required Maldonado's approval.
"We got a great deal and were really excited," Owen said. "We worked with a zoning attorney and did everything we were supposed to do. And in June, we asked the alderman to be put on the zoning schedule, so we've been waiting for an answer since June."
After a fall and winter of waiting, Owen found out Tuesday that Maldonado won't support the zoning change after all.
Now, her organization will likely lose the property — and neighbors will continue have a long-vacant building on their corner, she said.
Maldonado did not respond to multiple phone and email requests for comment.
One Tail At A Time has been operating since 2008 and opened an adoption center in Bucktown in 2015. Owen said the building on Dickens would be used as an isolation center for dogs that are sick or injured.
"It's for the animals that are coming from city shelters that are sick and injured and need a place to go where they aren't going to be exposed to other animals and where they can get on medication and get the care and decompression that they need before they go into our foster program," Owen said.
The Bucktown adoption center, located at 2144 N. Wood St., houses 10 kennels for dogs that are ready to be adopted. Approximately 150 dogs in total are in the organization's system, with most of them living with foster owners around the city for between two and six weeks until they are adopted.
When she approached Maldonado with her plans last year, she came armed with several hundred signatures from residents in support of the plan, but it wasn't enough for him, she said.
"He asked me to go back and get approval from the one adjacent neighbor and kept mentioning that there is a school nearby," Owen said. "So I went and talked to the neighbor and got his approval. He was actually quite excited because he was worried that another liquor store would go in and that had caused a lot of problems for him."
As for the school located across the street and a block south, Funston Elementary School, Owen said "the principal is actually a One Tail adopter, so we were able to get in touch with her. She wrote a letter of support and said she was really excited because she wanted to do some volunteer work with her students."
A copy of a letter written by Funston principal Julie Hallums was provided to Block Club Chicago. In the letter, Hallums urged Maldonado to approve the zoning request, writing that having One Tail A Time in the neighborhood would be "an amazing opportunity to build a partnership with our school and community….I think our students and parents would welcome the opportunity to volunteer at [One Tail At A Time]."
Owen said Maldonado seemed concerned that the facility would be in the middle of a residential neighborhood, so she offered to hold a town hall meeting to address concerns, but was told by the alderman not to.
"Our dogs are in foster homes all over the place in residential areas so we're already in residential areas," she said.
"From there, it was basically like he didn't want to hear from us," Owen said. "I wasn't allowed to talk to him directly. He kept passing us off, saying that he wasn't ready to make a decision, that he needed more time. Then in October, he told us that he wouldn't consider it until after the election."
Maldonado won re-election in February but Owen said she still hasn't been able to get a meeting with him. In her letter, she accused him of dragging them along to avoid bad press before the election.
"The way he spoke about it made it seem like if we were quiet and patient, that we would get the chance we deserved," Owen said.
She added that because of the long process, the organization signed a short-term lease to house its isolation center near Fullerton and Western Avenues a few months ago.
"In October, I realized that Maldonado was really stringing us along, so we made the decision to get a temporary space while we waited to see if he would actually approve us," Owen said.
There is still hope that the deal can happen — the real estate contract expires April 14 and there is a zoning meeting scheduled for April 9, although it is not known if her zoning request will come up then. Owen said "I don't anticipate that happening" and is beginning to look for other properties in other wards.
Most frustrating to her is what she described as a missed opportunity for the neighborhood. She said has gone public with her concerns to partially put pressure on Maldonado and because "I feel like we need to stand up for ourselves."
On the One Tail At A Time website, Owen wrote to supporters, saying they'd been "strung along" by Maldonado and urged them to contact the alderman urging him to reconsider. It also includes a link to a copy of a letter Owen wrote to Maldonado April 3, in which she wrote "because of your self-serving behavior we missed out on nine months of saving the lives of animals and assisting the humans that love them."
"We were really clear with Alderman Maldonado that we wanted to bring something to the community," Owen said. "We promised that we'd bring free services like pet food giveaways, vaccine clinics, flea and tick medication and other resources to the residents of the Ward that need it. He just ignored that."
Read the letter to Alderman Maldonado here: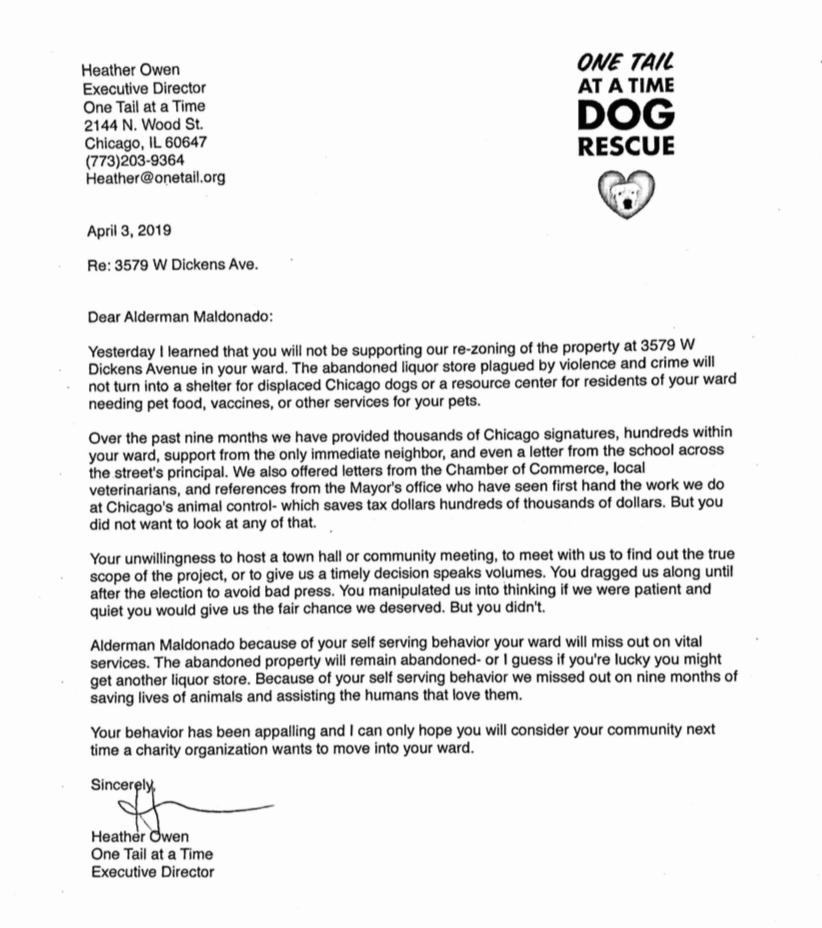 Do stories like this matter to you? Subscribe to Block Club Chicago. Every dime we make funds reporting from Chicago's neighborhoods.