WEST RIDGE — While completing final fittings of flowing abayas, sequined turbans and skinny jeans on a handful of models last month, Sara Albayati remembered when she got "the call" at a fashion show in Baghdad.

Albayati, an Iraqi fashion designer who graduated from the Fine Arts College at Baghdad University in 2011, was already well-known back home for combining glam-and-quirky designs with modern materials that paid homage to Iraq's rich cultural history.

"I answered my phone and the officer said my visa to the U.S. had finally came through, and I had two weeks to get everything ready to leave," she said.

Now, Albayati is among a group of Iraqi immigrants starting businesses in Chicago thanks to the Iraqi Mutual Aid Society (IMAS).
In the last year, the West Ridge-based group has helped more than 824 refugees, immigrants and asylum seekers as they transition to a new life in Chicago. The organization provides mental health services, educational support, domestic violence prevention, legal support and help for entrepreneurs.

The assistance from the Iraqi Mutual Aid Society was crucial for Albayati when she arrived in 2014, as she was starting from zero with no business or social networks in the city.
"I was nervous and scared that I had to wrap everything up at home, and start a huge new life where I didn't even know what was waiting for me and whether I'd be able to design again," Albayati said.

Last month, the Iraqi Mutual Aid Society honored some of the city's refugee and immigrant artists from the Middle East to shine light on their contributions to the city's vibrant art scene while raising money to fund their work.
"We want Chicagoans to understand the people we work with are amazing, talented and smart people who bring a lot to our city," Aid Society executive director Laura Youngberg said.
The organization was founded in 2009 by Iraqi refugees to help other Iraqi refugees adjust to life in Chicago. Since then, the group has served more than 1,770 refugee families from Iraq, Syria, Afghanistan and Jordan, and they hope to expand their services that help newcomers thrive.
"Our office doesn't say no: immigrants, refugees, anyone," client services manager Othman Al Ani said. "We even helped a Chinese man who came to our office and we used Google translate to help. So many organizations refuse to help people outside their community but we never say no to any person."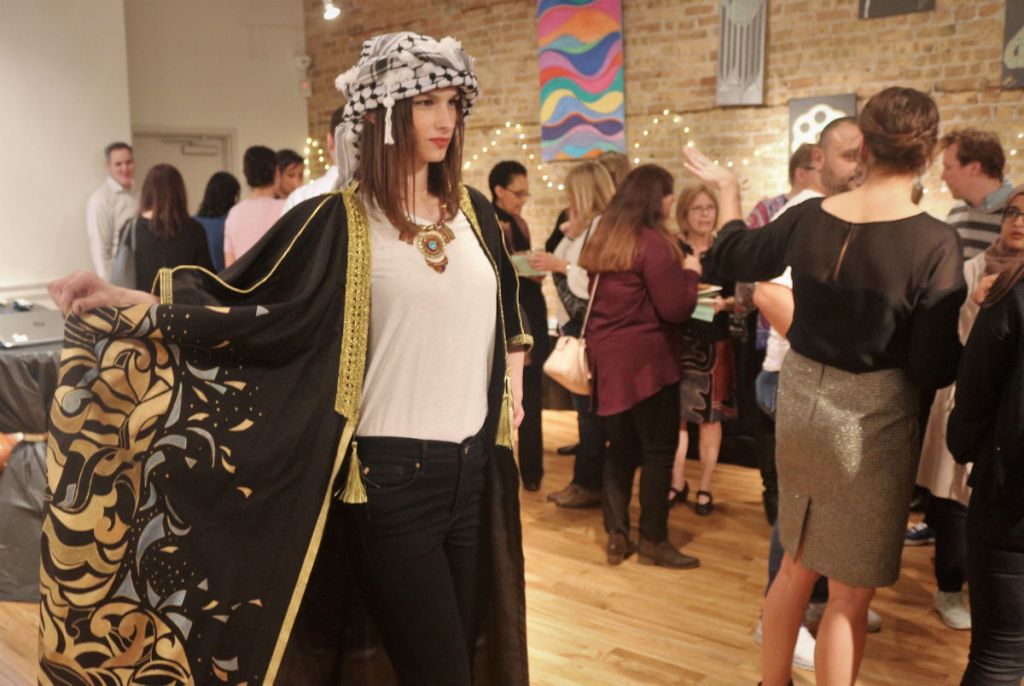 Entrepreneurship offers economic, emotional stability
The staff's shared life experience has helped refugees like Albayati heal.
"I saw Iraqi Mutual Aid Society staff had gone through the same things as me, and they were genuinely helping all these people. That encouraged me to open up and say, 'Hey I have a talent too from back home,'" Albayati recalled.

Staff went out of their way to answer her questions on how to start a business in Chicago, and even shared strategy on how to scrape together the money to design her first dress.
"They helped me figure out how to buy materials and look for other fashion agencies and facilities," she said. Since arriving in the U.S., Albayati has designed more than 15 items including dresses, purses, hats and accessories that she has featured in three fashion shows.
She has been able to sell some of her creations online, but hopes to open her own shop eventually.
Encouraging entrepreneurship is one way that people can heal after conflict and displacement, Youngberg said.
"Small businesses strengthen the roots of the Middle Eastern community in Chicago, in a way that allows room for creativity and flexibility that people need while they set up a new life," Youngberg said. "We are seeing more bakeries and stores run by Iraqi immigrants on Devon in the heart of the community we serve."
More than a third of Chicago's entrepreneurs are immigrants, according to a New American Economy report. Immigrants own more than 39,000 businesses in Chicago and make up 36.4 percent of the city's entrepreneurs, according to the report, which focuses on the economic impact immigrants had on Chicago in 2016. Those businesses created $659.2 million in income in 2016, the report states.

"Pursuing a business is a way to build confidence, work through trauma and invest in heritage and culture. Simply, it is a way to build roots," community engagement manager Ekram Hanna said.
Hanna, like most of the organization's staff, knows firsthand the ups-and-downs of starting a new life in U.S. Fueling the confidence of newcomers in Chicago is part of the journey of helping people heal.
"Trauma affects your ability to make longterm plans and setting goals, and you need [self confidence] to start your own business," Youngberg said. "Mental wellness, empowerment and entrepreneurship [all go] hand-in-hand. It's a way that people know they can thrive."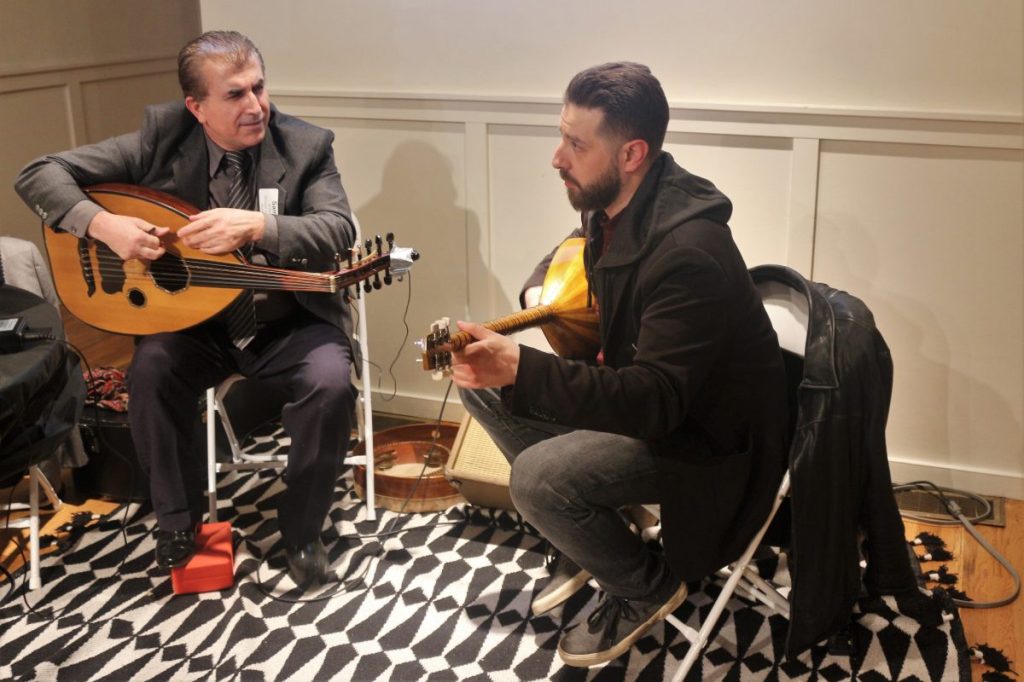 'You can do it. Don't stop. Don't quit'
Iraqi Mutual Aid Society moved its offices this month to a building at 6420 N. California Ave. just off of Devon street in West Ridge, a neighborhood where more than 40 languages are spoken. The area boasts 300 restaurants and 25 bakeries, sweet shops and tea houses, according to the West Ridge Chamber of Commerce.
From Iraqi bakeries to Afghani butchers, Indian and Pakistani grocery stores, refugee- and immigrant-owned businesses are at the heart of West Ridge's commercial strip, said Edin Seferovic, West Ridge Chamber of Commerce executive director, whose parents immigrated to the U.S. from Montenegro.

The busy commercial corridor is a comfort to many who went through a lot to come to America.

"Think about being in a new land on Day One and you have nowhere to go, and you walk down this street and you walk in a store and find something familiar to you. There is this one store that carries a canned item, or a vegetable or fruit, and suddenly this store becomes home to you, and the storekeeper family," Seferovic said.
Meelak Yousif started her own catering business from her home five years ago. Today she offers an extensive menu of Assyrian and Iraqi foods such as dolma and biryani that she learned to cook growing up in Baghdad. The entrepreneur hopes to open an Iraqi restaurant in the future.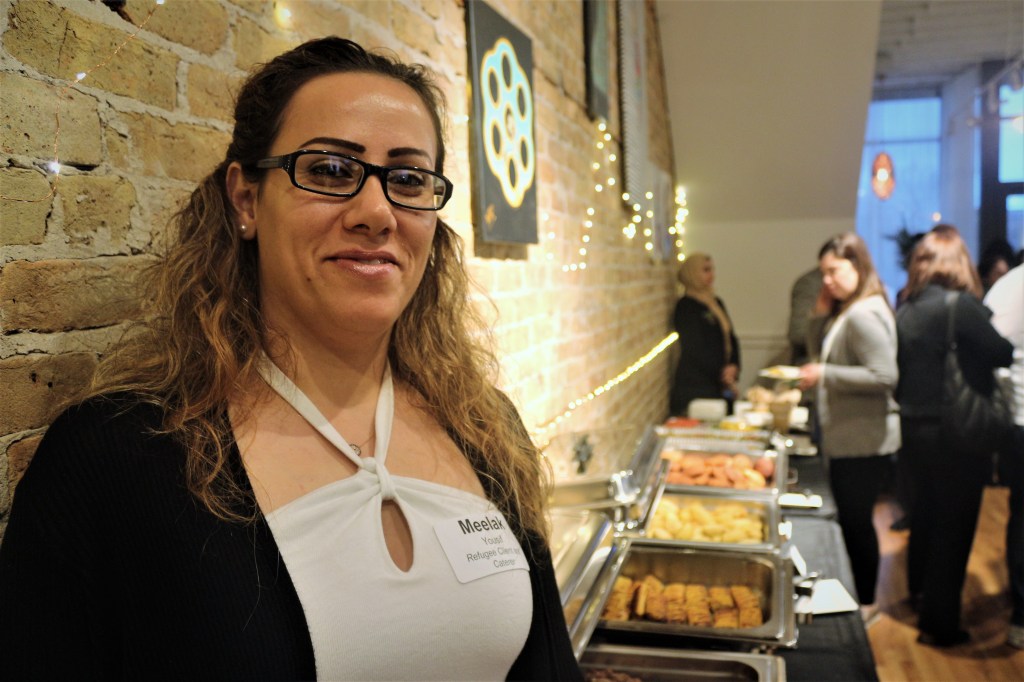 Yousif moved to Chicago nine years ago with her husband and daughter, who was born in Turkey, after the family sought safety there. Iraqi Mutual Aid Society was a lifeline as they got to know their new city and home.
"We don't have close family here, so when you see someone from your country you feel so happy: They speak your language, their culture is your culture," Yousif said.
She bonded with staff and other recent immigrants on field trips to local museums, making Chicago feel more like home. Eventually she signed up for English classes at Truman College.

"It was so hard, and I was on the verge of quitting but IMAS staff said, 'You can do it. Don't stop. Don't quit,' and that little encouragement helped me complete my ESL classes." Today, Yousif works as a teacher assistant for YMCA when she's not running her catering business. "Really without IMAS, I would be sitting at home, not able to speak English, not able to work. IMAS is a support network that helped me rebuild my life for free. It's amazing."

Marwan Kamel played the buzuq, a traditional long-necked fretted lute, with Samir Al Omar, an oud musician from Syria at a recent event for IMAS. Kamel, whose father is from Damascus, said the organization is helping people put down roots through art and commerce.

"It's important to create space for people to do their thing, and empower them through expressing themselves. That's about more than just money. It's about the platform for people to speak for themselves," Kamel said.
Youngberg said that is their goal.
"Our clients leave our offices everyday knowing life here will get better," she said. "Tomorrow will be better."
Do stories like this matter to you? Subscribe to Block Club Chicago. Every dime we make funds reporting from Chicago's neighborhoods.