IRVING PARK — Just as it did in 2015, Ald. Deb Mell's re-election effort will come down to the very last vote.
By 10:38 p.m. Tuesday, all of the 33rd Ward's 28 precincts had reported — but with only a razor-thin margin of votes separating Mell and challenger Rossana Rodriguez, watchers of the nail-biting race will have to wait a bit longer.
The night's final tally gave Rodriguez a slight advantage over Mell with 50.2 percent, compared to Mell's 49.7 percent, according to unofficial results from the Chicago Board of Elections, placing the candidates within 64 votes of one another. Mell narrowly won the 2015 election by 17 votes.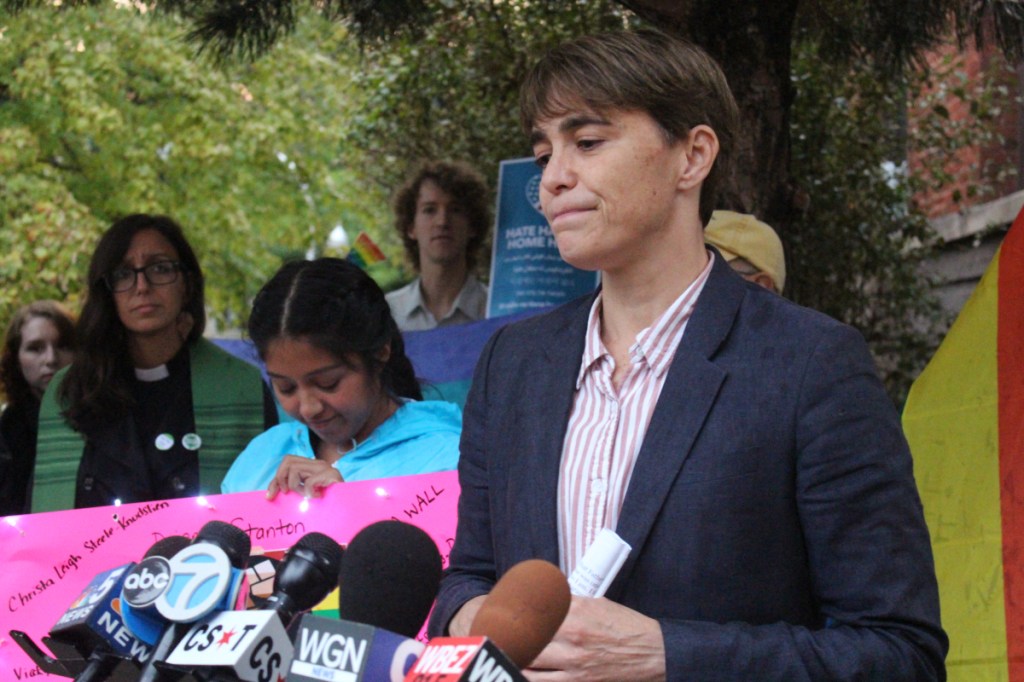 Rodriguez, a community activist, forced Mell into the runoff in the February general election. The race was tight, with each candidate securing about 41 percent of the vote.
While the race was neck-and-neck throughout the night, Rodriguez enjoyed an early lead that lasted until about 9 p.m., when Mell inched ahead. Still, both campaign parties prepared for victory and kept a positive, optimistic attitude.
"All night we've felt great," Mell said from her watch party at Leader Bar in the Irving Park neighborhood. "In a year of anti-incumbency, with the last name 'Mell,' and all this with Ald. Burke and Ald. Solis going on, I think we're doing pretty good."
Mell, the daughter of political powerhouse and former longtime alderman Richard Mell, has presided over the diverse 33rd Ward since 2013. She was appointed to replace her father. Mell is also the sister-in-law of disgraced former Illinois Gov. Rod Blagojevich.
Mell called her critics' labeling of her as part of the political "Machine" an "easy out."
"I think it's an easy play and just a label to put on me when really we've run this ward in a very community-driven way. Everyone in my office has a say," Mell said.
If Mell wins, the incumbent alderwoman said she would regroup and was open to reaching out to Rodriguez and others who didn't support her campaign to try and bring the neighborhood together.
"We all have a sincere desire to improve the city and the 33rd Ward," she said.
Mell's supporters, however, may have a frostier reception to a new alderwoman should Mell lose.
When TVs at Leader Bar showed a feed from the Rodriguez party, Mell supporters shouted "No-ssana!" and "No socialism!"
Loraine T. Washington, a 33rd Ward resident of 15 years and Mell supporter, said she would feel "terrible" if Mell lost, especially after a nerve-wracking election.
"Deb Mell knows every inch of this ward — trust me," she said when asked what she felt made Mell stand apart from her opponent.
Down the street at Chief O'Neill's, Rodriguez supporter and volunteer Aaron Messner said he, too, would be "disappointed" if his candidate lost.
"I really think she's an alderwoman that would support the neighborhood more than Mell has," Messner said, pointing to Mell's acceptance of campaign donations from private developers and other entities who Messner said contributed to housing issues in the community.
"It's kind of like 'people power' versus 'money power,'" he said. "But if she's elected, I think she'll do a lot for the ward and the city and just be another progressive voice that we need on City Council."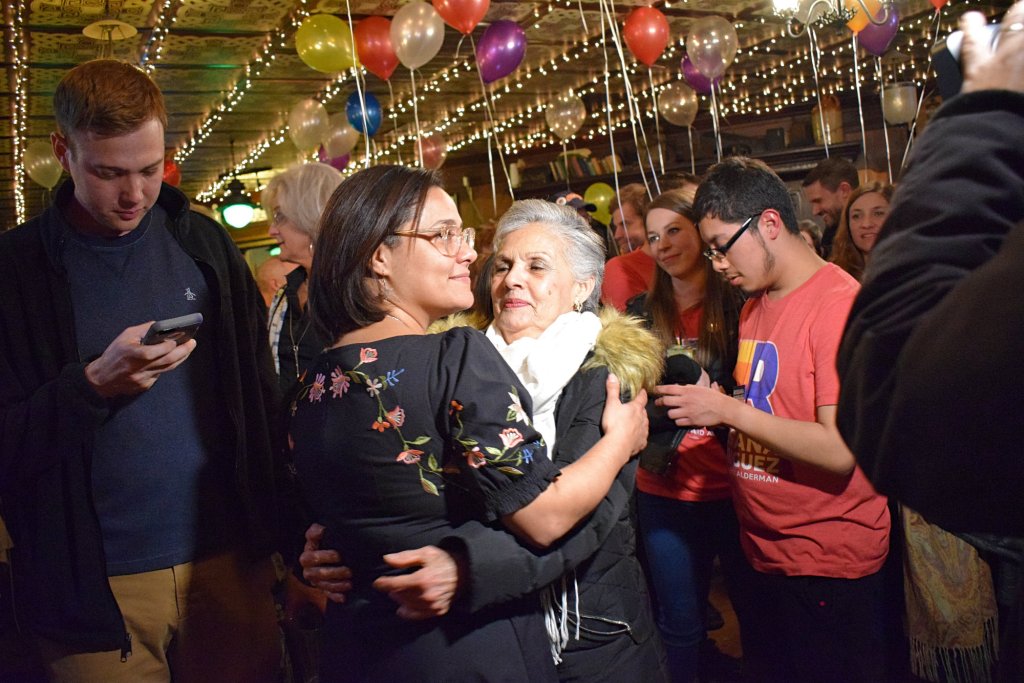 Rodriguez's mother, Eva Sanchez, greeted her daughter Tuesday night with an embrace and kiss on the cheek, wiping away tears.
"I'm very happy and very excited because I'm watching my daughter's dream come true of making positive change in the world, which she's been trying to do her whole life," Sanchez told Block Club Chicago through a translator.
Throughout the campaign, Mell and Rodriguez have said they want to build more affordable housing, improve public schools and protect immigrant communities and LGBTQ residents.
What sets them apart is their affiliations. Mell is tied to her family dynasty while Rodriguez, a Democratic Socialist, has aligned herself with several progressive groups and leaders.
Rodriguez has earned endorsements from groups like the National Nurses Union, Democratic Socialists of America and the Chicago Teachers Union.
Mell was endorsed by the Chicago Sun-Times, the LGBTQ Victory Fund, the Equality Illinois PAC and the Chicago AFL-CIO.
The 33rd Ward covers parts of Ravenswood Manor, Avondale, Albany Park and Irving Park.