UPTOWN — Like so many other Chicagoans, Jennifer Ho's journey to find home began across the globe.
As the daughter of Vietnamese refugees, she now aims to honor her parents' story with her Uptown-based clothing line, Lawrence & Argyle. Featuring phrases like "Child Of Immigrants" and "We Are All American," the shirt, sweater and pin line celebrates Chicago's diverse immigrant communities and donates a portion of profits to groups that help refugees.
"Being a child of immigrants and refugees is something that really permeates my everyday existence," Ho said. "I wanted to do something that really mattered to me on a personal level."
Ho's parents left Vietnam to escape communism and as refugees and originally settled in Florida. After moving to a few different states in the U.S., the family settled in San Diego, Calif.
"When they first came to the United States they were janitors and they eventually decided to open their own cleaning business," Ho said. "They had some employees, which were Vietnamese refugees as well. They cleaned office buildings all over San Diego."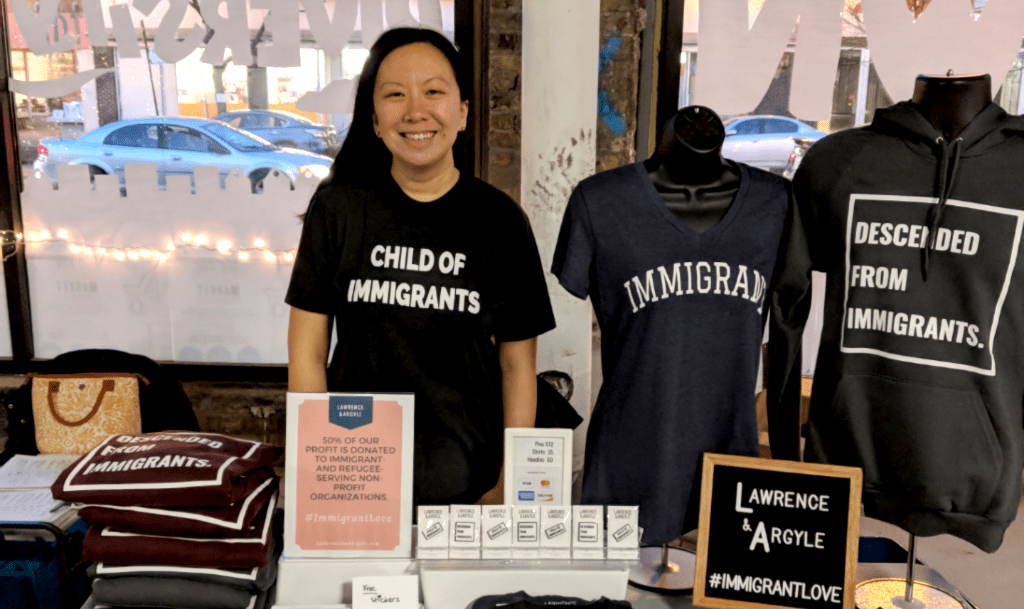 A few years ago, Ho decided leave San Diego and move to the Midwest, initially moving to Naperville. But she was eventually drawn to Chicago's Uptown neighborhood because of its history as an immigrant friendly community, and decided to move there.
"I've never felt at home anywhere until I moved into Uptown," she said. "It's known as a settling place for a lot of immigrant families and it's such a great part of the city."
Ho credits her parents with instilling an entrepreneurial spirit in her. While she works full-time at a nonprofit, she decided to launch the t-shirt line as a small side business last summer as a creative outlet.
The clothing line's name was inspired by Uptown, too — Ho landed Lawrence & Argyle, two streets that run parallel to each other in Uptown.
"I felt like those streets really embodied the spirit of the message I was trying to communicate with my clothes," she said.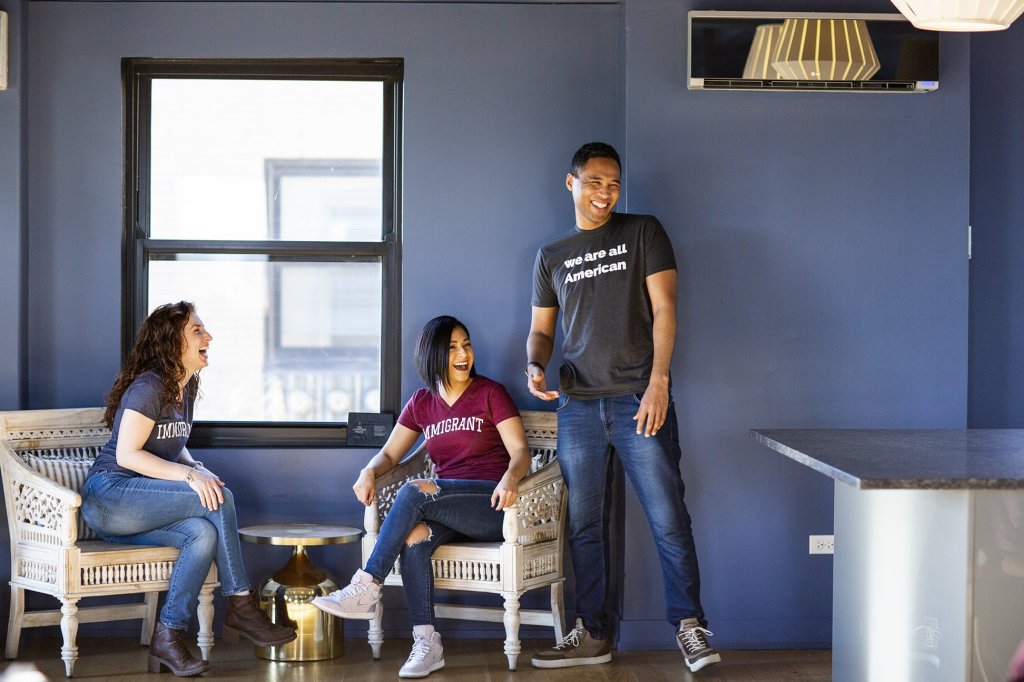 While President Donald Trump's administration has made immigration a hotly contested political issue, Ho said the clothing line's message is an important one, regardless of who is in the White House.
"I wanted really be able to appeal to anybody who stands in solidarity with immigrants," Ho said. "'Child Of Immigrants' is my most popular one and those shirts are currently sold out."
"I try not to get too political with my business because I think regardless of the political climate, the message still resonates and always will," she added.
Each quarter, Ho gives half of the clothing line's profits to a different nonprofit organization that helps immigrants and refugees who are new to America. Since launching the business last year, she's been able to raise about $2,000 for immigrant-focused nonprofits.
Through the end of the March, Ho is donating part of the profits to the Young Center for Immigrant Children's Rights, which provides lawyers to unaccompanied immigrant children.
Looking forward Ho, hopes to have her clothing in Chicago boutiques. But until then, she's happy to sell her apparel online and at pop-up markets across the city.
Check out Lawrence & Argyle's latest styles on its Instagram here.
Do stories like this matter to you? Subscribe to Block Club Chicago. Every dime we make funds reporting from Chicago's neighborhoods.