EAST VILLAGE — When John and Kate Leydon bought Gold Star Bar at the end of last year, they promised they would preserve the history and integrity of the Prohibition-era tavern.
Just a few months into their newly acquired ownership, however, staffers and longtime bar patrons have accused the Leydons of doing anything but.
In addition to removing an outdoor painted sign and redesigning the interior of the bar, the couple shocked Gold Star patrons on March 7 when they fired the bar's entire staff via text message.
Citing missing knives, candles and cash, the Leydons let go of four bartenders and two door men.
In a statement to Block Club Chicago, John and Kate Leydon said a "dramatic shift" was required to keep the bar profitable, and that meant letting the old staff go.
"We know our decision upset a lot of the regulars and we understand," they said. "We hope in time to staff will come back and continue to enjoy Gold Star from the other side of the bar. They are all good people."
Located at 1755 W. Division St., Gold Star is nestled between West Town and Wicker Park — two of Chicago's most rapidly changing neighborhoods. Both staff and regulars were bonded by the bar's creaky floors, crooning Led Zeppelin and cheap drinks.
One of the bartenders who was fired earlier this month agreed to be interviewed by Block Club — but only under the condition of anonymity. The hospitality industry in Chicago is small, he said, and speaking ill of a former employer could hinder his chances of getting a job.
He said he was still in a state of shock over losing his Gold Star family. He compared the Leydons' text message firing to a "text message break-up."
More than anything, he said, the bartender feared the Leydons would not stick to their promise and honor the the legacy of MaryAnn Reid, the woman who sold them the building last year.
"You don't come in with a wrecking ball and change everything," he said. "That move just showed a lack of character, a lack of integrity. It doesn't seem like they respect the customers or employees."
'An endangered species'
Anchored by a bar with two floors of apartments upstairs, Gold Star's history dates back to the Prohibition era, when a Polish woman named Vlasta Vucovic opened the bar in 1933 or 1934, Reid said.
The gold star embedded in cement in front of the bar was there when she bought the bar from Vucovic 29 years ago.
For several years, Reid's daughter, Susan Stursberg, helped to run the bar and was Gold Star's main bartender. Stursberg died after a battle with pancreatic cancer in December 2012 at age 45. At the time, hundreds of mourners filled the now-shuttered Club Foot to celebrate her life and impact on the neighborhood.
It was the Leydons' promise of preservation that convinced Reid to sell the building to the couple, she told Block Club last year.
"The legacy of preserving the bar is my top priority," she said.

Buying Gold Star didn't make the Leydons first-time bar owners; they also own a 72-year-old tavern, The G&L Fire Escape Tavern, at 2157 W. Grace St. in North Center.
Elsewhere on Division Street, the Leydons own Ruby Room, a spa and bed and breakfast at 1743 W. Division St., as well as a corner building at 1700 W. Division St.
"Neighborhood taverns used to be on every corner and they have unfortunately become an endangered species," John Leydon said last year.
New bar, new look
On Monday, the Leydons acknowledged several interior and exterior changes to the bar, from removing a painted sign to stripping back an interior plaster wall to reveal exposed brick.
But the couple told Block Club these changes did not take away from the bar's history.
While the outdoor painted sign was removed, the neon sign remains, the Leydons said.
Inside, bar's new owners updated equipment, taps, lighting and seating — and in that process, they stripped back a plaster wall to reveal exposed brick.
The Leydons also created a line of candles using the bar's recycled liquor bottles. They are bringing back Gold Star hats, t-shirts, tank tops and sweatshirts.
"We are enjoying the process of honoring the history while treating the space to a fresh new look," the Leydons said Monday.
But fired employees disagree. One by one, the couple's ideas have "scrubbed away" the personality and authenticity of the bar, one fired employee said.
For example: one evening, the music was abruptly changed from grunge rock to Cyndi Lauper and Peter Gabriel.
When the Leydons removed part of the wall, they also removed a key rack, which was used to hold room keys when the bar operated as a brothel (rooms were rented out by the hour).
"I do think they're trying to class up the place and change it into something that's much more polished and gentrified, and it's a shame," he said "The reason people came in to our bar was because it was authentic … People would come in and say, 'I didn't even think they had bars like this anymore.' I took that as a compliment."
'I was an honest bartender'
Several things felt "weird" about the mass-firing of the staff, the former employee said.
For starters, no one on the Gold Star staff had heard anything about missing cash. Bartenders count their drawers at the end of each shift, and would have noticed immediately had money been missing.
As for the knives, the former employee said that's a normal casualty of busy nights; when there's a line at the bar, it's not uncommon for fruit-cutting equipment to get misplaced or accidentally thrown away.
Finally, with regard to the missing candle, the former employee blamed the Leydons themselves. During a busy art show at Gold Star, the owners prominently placed the candle — a $40 wax-filled Malort bottle — on the bar.
All knowledgeable bar owners should know that drunk people steal things, the former employee said.
"To blame the bartenders because they put an expensive candle on the counter, it showed a lack of an understanding of what a bar is," he said. "I was an honest bartender. I was an honest employee there. I thought it was going to be fine."
Brian Page, 64, started working at the Gold Star Bar when his former place of employment, the Beachwood Inn, closed in 2014.
He, too, "thought it was going to be fine."
"Generally, when someone buys a bar, they bring a new staff," he said. "I felt a certain level of relief after he bought the place, and we were all still working there."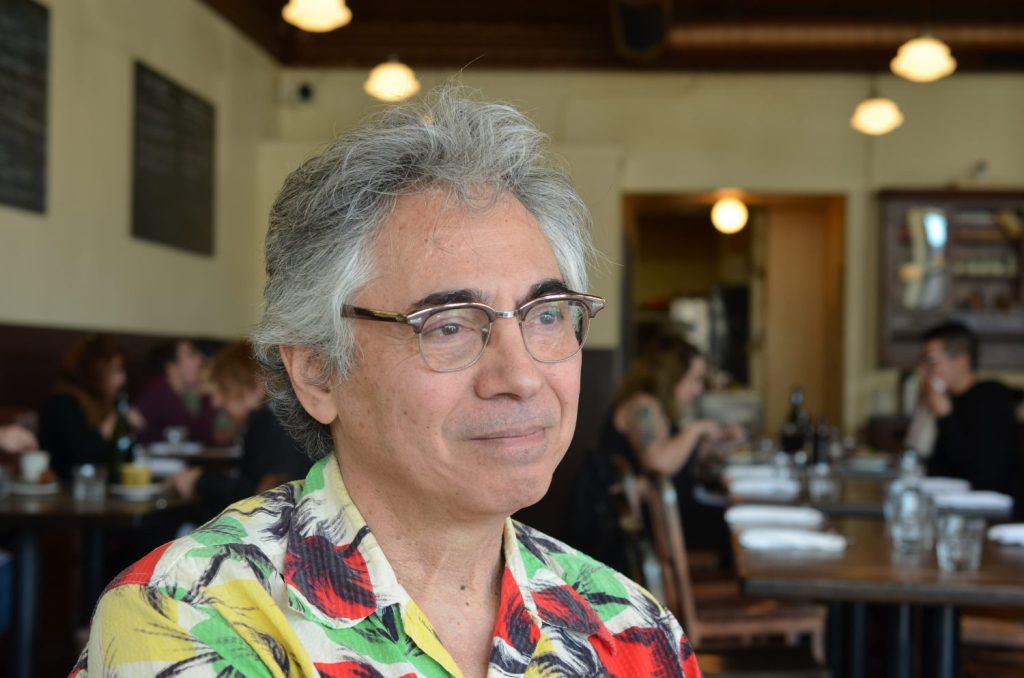 In late January, however, Page received a midnight text message from John Leydon, who wanted to know if Page knew anything about one of the regular female customers spilling a drink on Kate Leydon.
Page replied no, he had not heard or seen anything of the sort.
The next day, Leydon called Page and told him he was "unloyal." He fired Page on the spot.
Page said he felt bad for the bar's regulars, who represented every end of West Town's socio-economic ladder. On any given night, Page served a defense attorney who had clients on death row, a doctor, an astrophysicist, day traders or other bartenders.
"Too many neighborhood bars are being turned into more trendy-upscale things," he said. "To be honest, I keep wondering if they're gonna change the name of the place."
On Monday, the Leydons maintained their original promise to keep the spirit of the bar alive.
"Gold Star Bar is still Gold Star Bar," they said. "The space still contains the memories and energy of years past and will continue to bring good times for many years to come."
Do stories like this matter to you? Subscribe to Block Club Chicago. Every dime we make funds reporting from Chicago's neighborhoods.