PILSEN — Byron Sigcho Lopez and Alex Acevedo — the two candidates who made the April 2 runoff to replace disgraced Ald. Danny Solis in the 25th Ward — traded jabs on campaign donations and election fraud allegations at a crowded debate Wednesday night in Pilsen.
In front of a full audience at Benito Juarez High School, Sigcho Lopez and Acevedo also spelled out their plans for affordable housing, tax-increment financing (TIF) dollars and economic development in the ward.
But the corruption scandal that has rocked City Hall — following a Sun-Times report that Solis was investigated by the FBI for allegedly abusing his power — was at the forefront of Wednesday night's heated debate.
RELATED: After Danny Solis' Bombshell Federal Affidavit Is Unsealed, Disgraced Alderman Asks For Privacy

Sigcho Lopez, former executive director of Pilsen Alliance and a UIC educator, criticized Acevedo, a former pediatric nurse and community outreach manager at Oak Street Health, for accepting campaign cash from developers.
The only way to avoid mistakes of the past and to create more balanced development in the ward is to avoid taking campaign contributions from developers outright, Sigcho Lopez said, who has vowed to refuse campaign cash from developments. Acevedo previously said he would not accept contributions from developers; Sigcho Lopez said Acevedo has backtracked on that promise.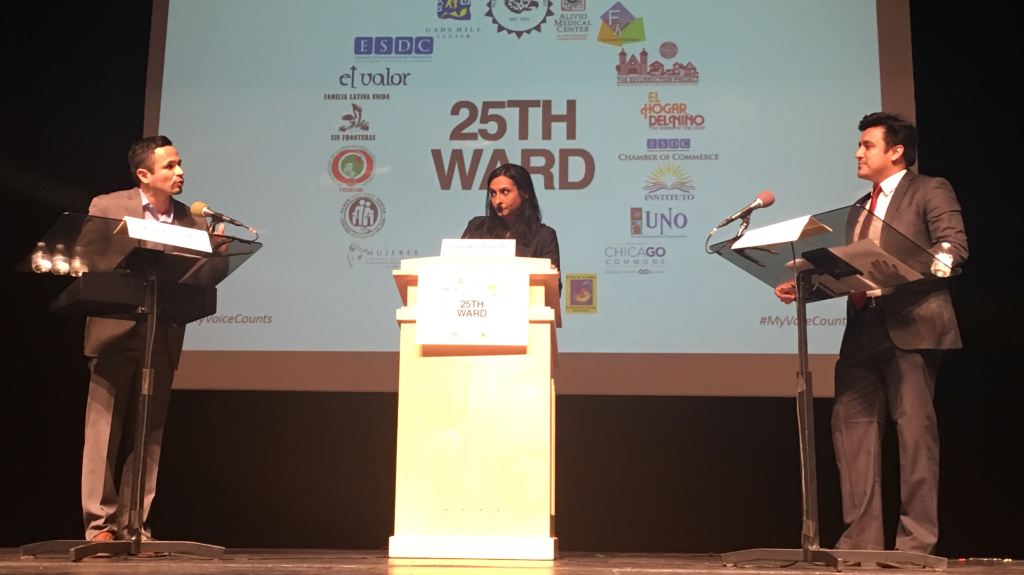 Acevedo argued that Sigcho Lopez's "only solution to everything is not taking money from developers."
But Sigcho Lopez dug in, calling Acevedo "defensive" on the topic because he accepted "16 donations from the same developers who donated to Ald. Solis."
''I think it's disingenuous to say we are going to advocate for small businesses but still take money from developers and PACs," Sigcho Lopez said.
But Acevedo said his campaign fund includes many contributions from minority-owned small businesses and entrepreneurs from the community.
"We don't have PACs giving $50,000, and we don't have wives giving $90,000," Acevedo shot back.
RELATED: Sigcho Lopez, Acevedo Head To Runoff In 25th Ward Race To Replace Danny Solis
The forum, hosted by a coalition of Pilsen groups was moderated by WGN's Lourdes Duarte, sparked more heated exchanges between the two candidates. Sigcho Lopez called on Acevedo to release tax returns, while Acevedo called for Sigcho Lopez to drop out of the race should an ongoing investigation on alleged vote buying in the 25th Ward race find "any illegal activity…was committed" in the February election.
Independence and transparency
When Duarte asked how each candidate would avoid being a rubber-stamp alderman in City Council, Acevedo called for ethics reform, campaign finance reform and a two-term limit for the mayor and all aldermen.
Acevedo, a 33-year-old Pilsen native, also said he would push for a full ban on campaign contributions from developers who receive TIF incentives.
"You should not be able to give [campaign contributions] to any mayor or any alderman if you receive TIF money, Acevedo said.
Sigcho Lopez called Acevedo's "patchwork" of reforms "unnecessary," and reiterated that the only way to remain independent was to outright refuse to accept money from developers and special interest groups.
When it comes to implementing a community-driven zoning process and bringing more affordable housing to the ward, only "one thing" stands in the way, Sigcho Lopez said.
"It's corruption. The same corruption, from the same politicians that have governed for years," he said. "In order for us to be at the table, we have to make one simple decision not take money from developers."
Affordable housing
On affordable housing, Acevedo said its important to provide funding for organizations like The Resurrection Project, who has worked to build new affordable units in Pilsen. If elected, he will also work to help renters become homeowners in an effort to build generational wealth in the ward.
If elected, Sigcho Lopez will require developers to set aside 30 percent of new units for affordable housing, more than Solis' unofficial 21 percent previously required. He also said the "broken property assessment tax system" needs to be rectified.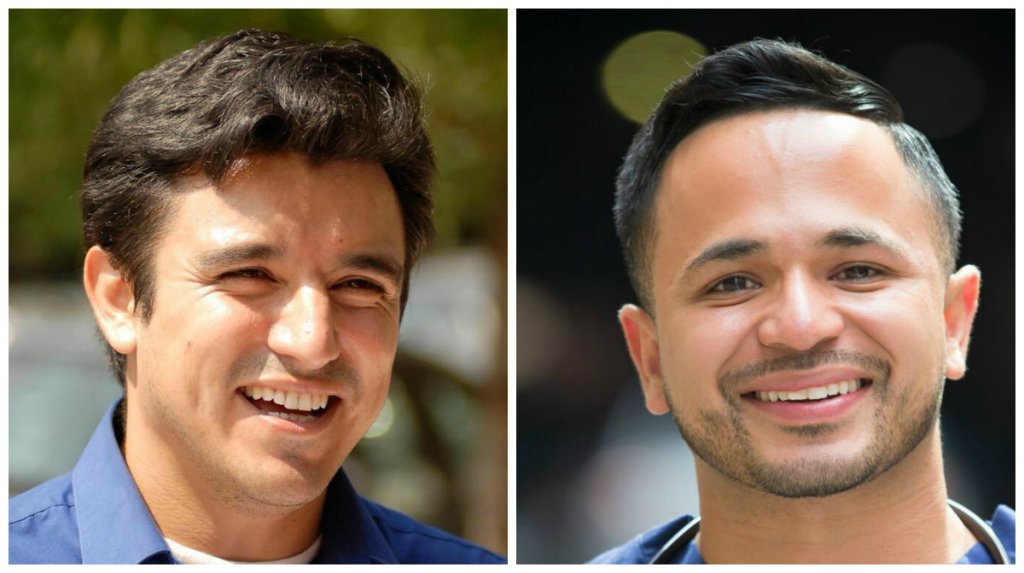 Services across the diverse ward
The 25th Ward includes parts of a diverse collective of neighborhoods, including Pilsen, Chinatown, the West Loop, University Village, Little Italy, Heart of Chicago and the South Loop.
A resident at the forum Wednesday night asked both candidates how they would plan to provide services to the entire ward — not just Pilsen.
Acevedo said each neighborhood faces a variety of "pressing issues" and in order to address them, he will open new offices with ward staff across the ward's neighborhoods.
"I want to make the alderman's office more accountable. Let's modernize it, and make it mobile" in order to bring services to residents, he said.
Sigcho Lopez acknowledged all of the neighborhoods in the ward have "needs that are different" but they face the same fundamental problems.
"Small businesses need support. Small businesses don't have Neighborhood Opportunity Funds," he said, referencing the city program that allows developers to build bigger and taller projects in an expanded downtown area to support commercial projects in blighted neighborhoods.
In the Feb. 26 election, Sigcho Lopez won 29 percent of the vote, while Acevedo received 22 percent of the vote in the five way-race, according to the Chicago Board of Elections.
The other candidates Hilario Dominguez came in third with about 21 percent of the vote, Aida Flores received about 19 percent and Troy Hernandez received about 8.5 percent.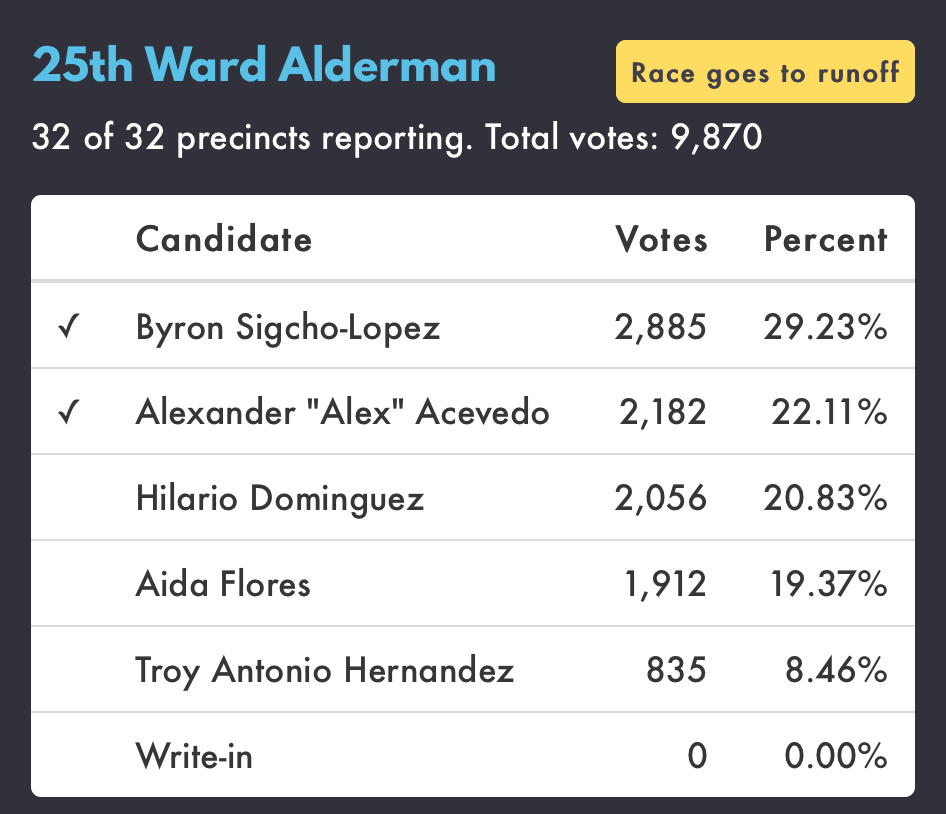 Both candidates previously ran for public office. In 2015, Sigcho Lopez ran against Solis and won 18.6 percent of the vote.
In 2014, Acevedo ran for his father's State Rep. Eddie Acevedo's 2nd Illinois House District seat, but lost the close primary race to Theresa Mah.
Another 25th Ward candidate forum is scheduled for 6 p.m. Monday, March 25 at Merit School of Music, 38 S. Peoria St., in the West Loop.
In November, Solis, then-chair of City Council's powerful Committee on Zoning, announced he wouldn't run for re-election  after 23 years in office.
In January, a bombshell Sun-Times report revealed Solis wore a wire, secretly recording Ald. Ed Burke (14th) for the feds. He's been missing from City Hall since.
Before cooperating with investigators, Solis was the target of a federal investigation for receiving sex acts at massage parlors, the erectile dysfunction drug Viagra and campaign contributions in exchange for ushering deals through City Council, the Sun-Times revealed.
Solis was appointed to the 25th Ward seat in 1996.
The runoff election is April 2.
Related 25th Ward coverage
State Officials Investigating Alleged Vote Buying In 25th Ward Race
State Rep Alleges Chinatown Votes Are Being Stolen To Help Candidate Trying To Replace Danny Solis

Would 25th Ward Candidates Support A New Near West Side High School? Aldermanic Hopefuls Weigh In
Candidate Vying For Ald. Solis' Seat Calls For His Resignation: 'You Don't Wear A Federal Wiretap Voluntarily'
After Veteran Solis Bows Out, 25th Ward's Next Alderman Will Be A Millennial
Do stories like this matter to you? Subscribe to Block Club Chicago. Every dime we make funds reporting from Chicago's neighborhoods.