WEST TOWN — Beehive Chicago, an antique and vintage store beloved by neighbors, shoppers and collectors, will close its doors at the end of this weekend following a massive storewide liquidation sale.
The entire store will be 50 percent off from 12-7 p.m. Thursday and Friday. Whatever's left over will be 75 percent off from 11 a.m.-7 p.m. Saturday and Sunday.
Despite achieving success in sales and making a name for itself among the city's competitive vintage market, Beehive's consignment model just wasn't financially sustainable, co-owner Robyn Witt said.
"It was always, from the beginning, an experiment," she said.
The brick-and-mortar shop opened at 2501 W. Chicago Ave. in 2016 with a bold funding strategy: a consignment model, in which a selected group of collectors paid owners to display and sell items in the store.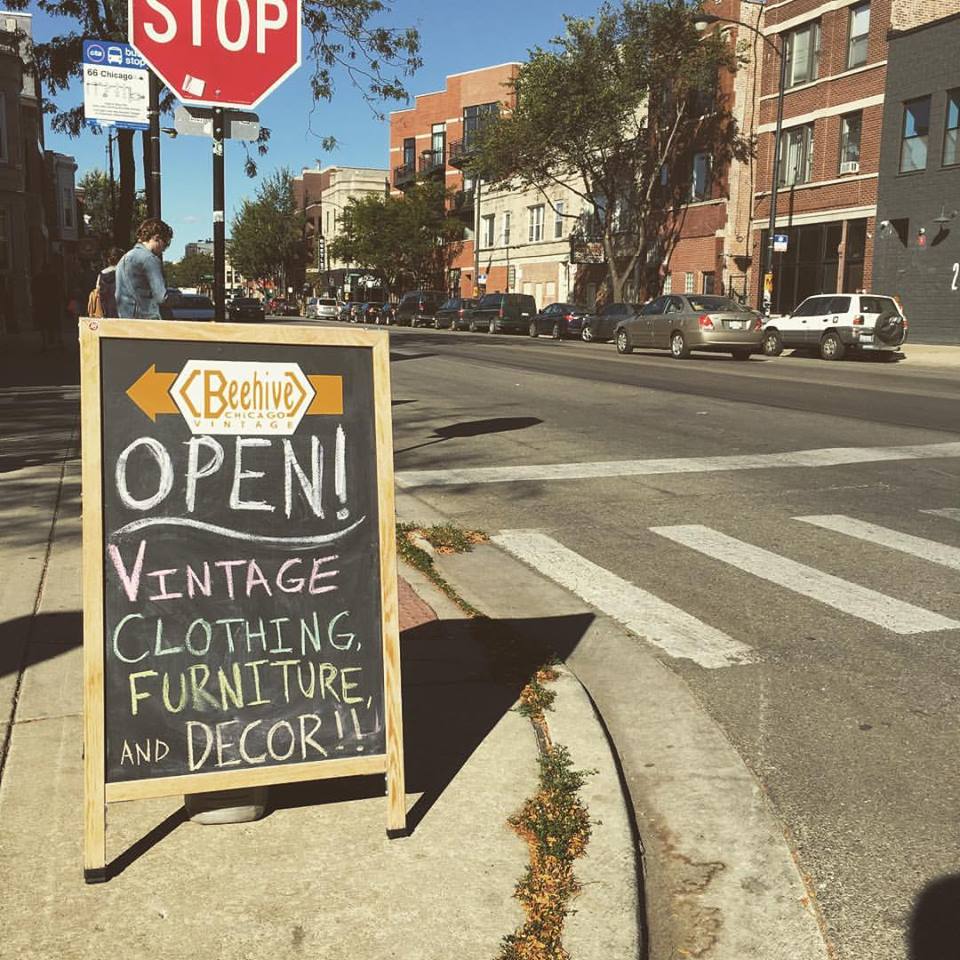 The idea was to get collectors and shoppers away from the "boothy" feel of traditional antique malls.
Beehive's three owners came from collecting backgrounds themselves.
Longtime collector Witt has participated in pop-up markets throughout Chicago for about a decade. Vegan-friendly clothing guru Laura Stran runs Polly Golightly Vintage. Courtney Breitenbucher specializes in home decor and "smalls" — items you can carry in your hands — through "Tweed Creative Vintage."
Before opening Beehive, the women ran a successful "collectors' workspace" in East Garfield Park.
They hoped Beehive would foster a better sense of community among the city's collectors, Witt said.
"You have to be a certain level of crazy to be in this business," she said. "It can also be pretty lonely. A lot of times you're alone with your horde in your house."
Under the consignment model, owners charged Beehive's 10 members a monthly fee, which covered about half of the store's rent.
The other half of rent was supposed to be covered by commissions, but Beehive's owners opted to give 80 percent of sales profits to collectors. In reality, they needed to give about 50 percent — and keep the other half — to manage expenses.
"This was the dream job," Witt said. "Maybe this isn't the incarnation of the 'dream.'"
Proceeds from this weekend's liquidation sale will help cover the owners' remaining expenses. Each dipped into their personal finances to keep the store afloat, Witt said.
They even cut their salaries, and that wasn't enough.
At the end of the day, Witt said she doesn't have any regrets about Beehive.
"I used to be a data spreadsheet nerd," she said. "Now, I think I'm born to do sales. I'm good at it. I like people — much more than I thought I did."
Witt said she isn't sure what comes next for the owners, but she's certain each of them will stay in vintage. She hopes that someday other collectors step up and give the idea behind Beehive another go.
"If you're going to support small businesses, you have to do it with your wallet," she said.
Her parting words to the West Town community?
Avoid Walmart, Wayfair and Amazon. Shop vintage in-store — or find local collectors online, through websites such as Instagram.
"If you're going to support small businesses, you have to do it with your wallet," she said.
What is "vintage"?
"Vintage" means something that is at least 20 years old.
Yes — that means soon, items created in 2000 will be considered "vintage." Yikes.
To view photos of items for sale, visit Beehive's estate sale website. Items include vintage clothing, purses, shoes, scarves, chairs, coffee tables, housewares, barware, ceramics, China, tablecloths, curtains, bed linens, lamps, mirrors, art, books, magazines, greeting cards, gift wrap, clothing racks, shelving units, a huge ceiling lampshade, gondola shelving, pegboard and hooks, free-standing shelving units and industrial shelving.