HUMBOLDT PARK — After more than a decade of calling the corner of North and Washtenaw avenues home, corner store LCM Dollar will soon close its doors.
Like other corner stores, the small shop at 2659 W. North Ave. sells an array of snacks, beauty products and household items. It's also a de facto community center.
Owner Churchwill Were keeps a chair next to the register so locals can sit down and chat. Over the years, Were has formed bonds with neighbors "that went beyond customer/client relationships."
"This was a micro community center, where there was always a table and a chair for anyone to sit and talk, whenever they wanted," Were wrote in a handwritten letter he affixed to the store's window.
"Intimate family secrets were shared. We celebrated both life and death; the birth and baptism of young ones, the passing away of our beloved teenagers robbed of tender lives through gun violence. We were at their wakes and burials, together as family. I will miss the neighborhoodness we created."
When LCM Dollar closes at the end of the month, it'll mark the end of the store's 20-year run. About 11 of those years were spent at the corner of North and Washtenaw avenues. Before that, LCM called a couple different Humboldt Park storefronts home.
Were said he wasn't ready to close the business. Both in the letter posted to the store's window and in an interview with Block Club, Were said he made the decision to move out after his landlord doubled his rent.
"He found somebody who was willing to pay [$1,900]," Were said of his landlord, Adam Kao.
But Kao told Block Club that's simply not true. Kao said Were has failed to pay proper rent for months. After months of trying to work with Were, and even lowering Were's monthly payment from $1,300 to $1,000, Kao said he finally reached a breaking point.
"I cannot wait anymore. I need the money," Kao said, adding that Were owes him more than $11,000 in back rent.
Kao said the new office tenant he lined up to take over the space will pay $1,500 per month — not the $1,900 per month Were is alleging.
Kao could not provide written documentation of the monthly rent Were was charged or the back rent owed. Kao said he and Were have always negotiated rent in person.
Asked about the alleged back rent, Were chalked it up to a dispute. The store owner said Kao actually owes him around $14,000 because most of his merchandise was destroyed several months back due to water damage after a construction project Kao sanctioned. Were wrote a letter to Kao, describing what happened.
Were could not, however, provide documentation that proves Kao wanted to double his rent. The store owner said that came out of conversations they had in person.
'Can you imagine a summer without the sun? It's …like a neighborhood without corner stores'
More broadly, Were blames the changing neighborhood for the shop's closure.
"Business has gone down because our core customers, especially the blacks and Hispanics … many of them have moved. Many of those families have moved further west because rents get cheaper as you go west," Were said.

On a recent afternoon, neighbor Susan Kloss stopped into the store to grab a roll of tin foil and a foil pan. Kloss is a regular customer at LCM Imports.
"I come here and have a cup of tea. I feel like I'm at home," Kloss said. "There are not many places where I can start talking and sit down like that."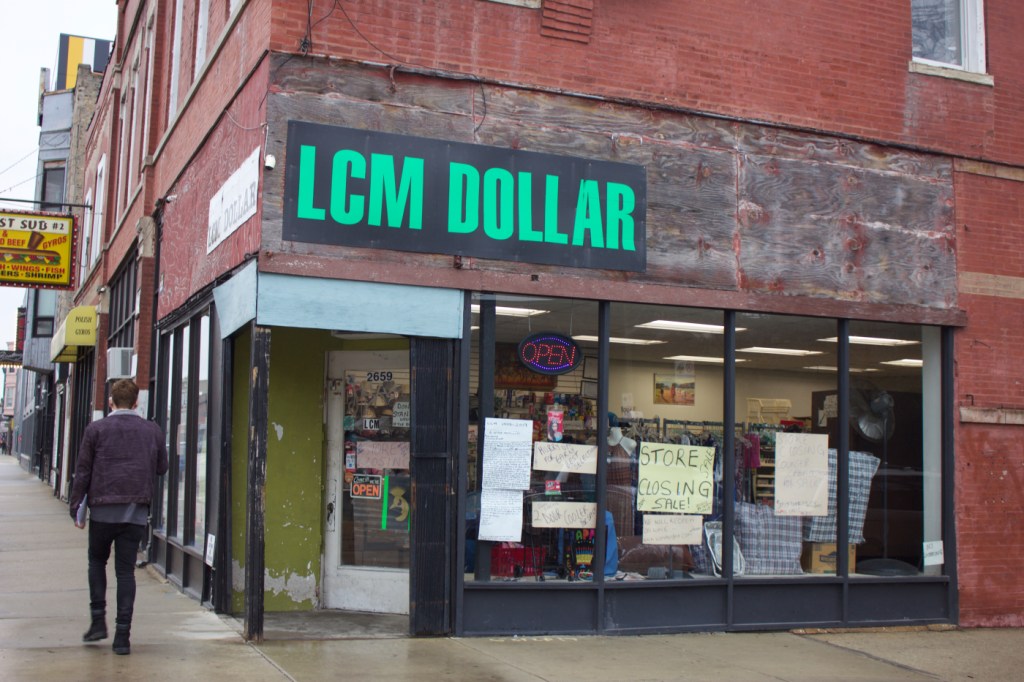 Kloss and her husband, Jason, own a home just a couple blocks from the corner store. She said they would've "definitely had to move out" of the gentrifying neighborhood if they didn't already own a home there.

"Everything's getting expensive. It's good for the economy, but sad for people like him to leave," Kloss said, referring to Were.
Were said he'll miss regular customers like Kloss when he packs up and moves out.
Getting to connect with people of all different ages and backgrounds was the most rewarding part of the job, Were said.
"[I've] been to their birthdays, funerals," he said of his customers.
"You might see gangbangers on the street. You might think they're bad boys, but get to know them on a person-to-person level. They're very, very nice kids. They're loving. All they want is some attention and some love because they don't have it in their family."
In the letter he posted to the store's window, Were said the loss of his store and others like it have a broader impact on the city as a whole.
"Can you imagine a summer without the sun? It's much more [sic] like a neighborhood without corner stores. A child need not to ride his or her bike four blocks to buy basic needs," Were wrote.
Were is originally from Kenya. When the store closes, the 53-year-old plans to travel to his home country to see family and then back to Chicago to finish up his master's degree in political science at Northeastern Illinois University. Eventually, though, Were plans to take up permanent residence in Kenya.
After closing up shop, Were plans to sell products online.
"There's a positive in everything," Were said of the closure. "I'll have time to rest and spend time with family."
Do stories like this matter to you? Subscribe to Block Club Chicago. Every dime we make funds reporting from Chicago's neighborhoods.