LOGAN SQUARE — Crews last week blocked off Milwaukee Avenue at California Avenue for a construction project, forcing drivers to take detours in both directions.
The intersection will be blocked off for another few weeks. City officials expect to wrap up construction sometime in April weather permitting.
The construction project is one of a few such projects to plague the area surrounding the California Blue Line station in recent weeks. Peoples Gas was in the area in February to install new gas mains. ComEd is currently in the area to improve service.
Because there are other projects and workers in the area, the intersection could remain blocked off for longer than expected, city spokeswoman Susan Hofer said.
"If one project has glitches, [it could] cause delays on another project," Hofer said.
The city blocked off the intersection to repair Milwaukee Avenue's old water main and sewer line. The project is part of a larger effort to upgrade the city's aging infrastructure, according to Hofer.
Not far from the intersection, another water main project is underway in the 2100 block of North Stave Street, 2700 block of West Francis Place and the 2700 block of West Julia Court.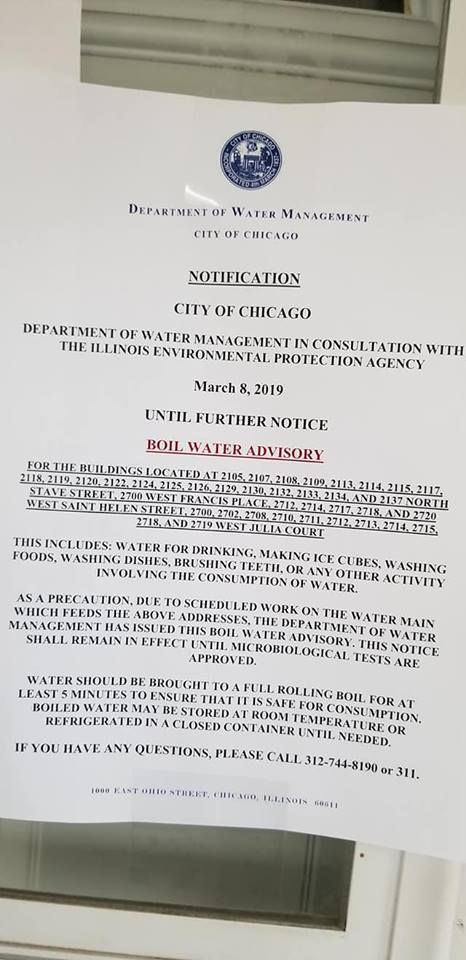 On March 8, the city issued a boil order because of the "possibility of unsafe water due to scheduled work on the main which feeds the above addresses," according to a letter issued to residents.
Megan Vidis, spokeswoman for the city's Water Department, said the next day the city rescinded the boil order, saying water samples passed their tests.
Vidis said the department is required to print notices and leave them at affected addresses. She said officials are also required to notify the alderman's office.
But Rio Prado-Illescas, who lives in the 2700 block of West Julia Court with his wife and three-year-old daughter, said he never got any notification that the boil order had been lifted, and he's been boiling his water since March 8.
"My family just wants to wash their hands, bathe, clean, etc. without having to boil the water," Prado-Illescas said. "It's affected almost everything we do."
Prado-Illescas said he called the city number on the original boil order notice more than 10 times but the number went straight to voicemail each time. He called the ordeal "very frustrating."
Do stories like this matter to you? Subscribe to Block Club Chicago. Every dime we make funds reporting from Chicago's neighborhoods.