RIVER NORTH — Donnie Wahlberg has fans all over the world — but none quite compare to Nina Santacrose.
Santacrose, who has Down syndrome, adores the actor and musician, and has long dreamed of meeting him.
"She just loves Donnie Wahlberg and the whole family and the [Wahlburgers] chain for years," said her dad, Mark. "This is her dream."
Chicago's only Wahlburgers at 2 E. Ontario St. is expected to open this spring, meaning Santacrose has just a few weeks left to get her message to Wahlberg and hopefully arrange a meeting at the opening.
"It will make Nina's life to meet Donnie Wahlberg," said her aunt, Paula Conrad, of Lincoln Park. "If he happens to be at the River North restaurant and is just gonna come and flip some burgers, I know somebody who will be waiting outside and would love — love — to meet him."
Santacrose, 22, of suburban Glenview, has been a Wahlberg fan for years. It started when she first watched "Blue Bloods," on which Wahlberg stars as Danny Reagan, a New York Police detective. "Blue Bloods" quickly became Santacrose's favorite show and Wahlberg's Reagan her favorite character.
"I really like him a lot," Santacrose said. Asked what she'd say to Wahlberg, she said, "I am dying to meet you … . And I'm your biggest fan."
Santacrose even indulges in "Wahlburgers," a reality TV show that follows the Wahlberg brothers and their burger business.
But it's not enough just to watch the shows. When Santacrose turned 21, her family took her on a trip to New York and she insisted on going to police headquarters before anywhere else in tribute to Wahlberg's character. She met real New York Police officers there and took photos.
"Central Park? No. Going to Broadway for a show? No," Conrad said. "We had to go to NYPD headquarters."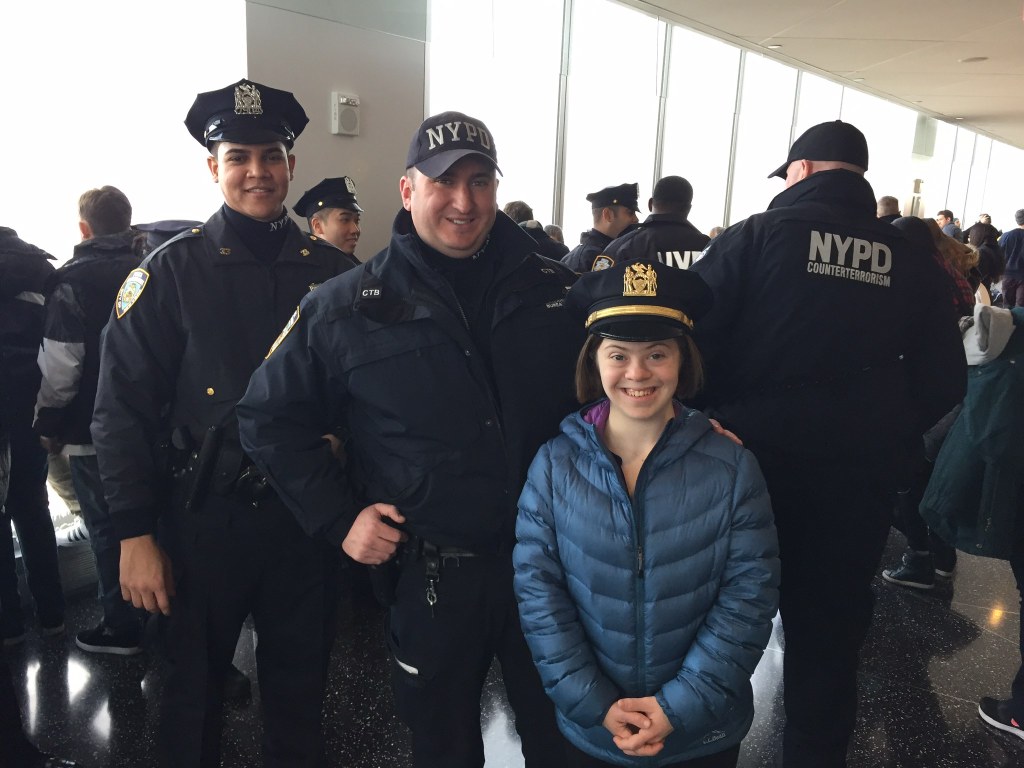 A 2018 birthday trip for Santacrose to Boston (the hometown of Wahlberg) focused on her idol, too, with the family heading to a Wahlburger.
"Her brother and sister live there. I'm sure she wanted to see them, but I think paramount to her was going to Wahlburgers to get a burger there," Conrad said.
Santacrose got to meet chef Paul Wahlberg, Donnie's brother, during the Boston vacation and was "thrilled," Conrad said.
But too bad for Paul: Almost immediately afterward Santacrose went back to talking about Donnie Wahlberg.
"He couldn't be nicer," Santacrose said. "Not as cute as Donnie."
And when Wahlburgers sent Santacrose a shirt signed by Wahlberg, she was "super excited" … and quickly noted the shirt meant she was "one step closer to meeting Donnie," Conrad said.
"I was literally in tears," Santacrose said. "I got so emotional."
Video of Santacrose getting her signed shirt:
Santacrose's love for Wahlberg stems from a few things, like the fact that he lives in St. Charles, making him a fellow Illinoisian. But Santacrose also doesn't think he's hard on the eyes, which is why he stands above his arguably more famous brother, Mark Wahlberg.
"I don't mean to be superficial and no offense to the brothers — I think she thinks he's the most handsome," Conrad said. "Apologies to Mark and Paul [Wahlberg], etc. I think it boils down to that."
Nina agreed, saying Donnie Wahlberg is "lots cuter."
Santacrose has already been to the unfinished Wahlburgers in River North, where employees gifted her the first-ever Chicago Wahlburgers T-shirt and a hat to reward her fandom, Conrad said. They let Santacrose tour the spot and said she was the first person to come in.
"I absolutely loved everything about it," Santacrose said. "I love the burgers."
And so Santacrose's family is hoping they can make her dreams come true by arranging a meetup between her and Wahlberg when the restaurant opens. Santacrose plans to take the day off from her job at a suburban Fresh Market.
Wahlberg might want to leave his wife at home, though.
"She likes Jenny … but I think she's pretty sure if Donnie meets her he's gonna fall head over heels," Conrad joked. "Jenny McCarthy can probably fight — she's a South Sider — but Nina can take her, I think."
Do stories like this matter to you? Subscribe to Block Club Chicago. Every dime we make funds reporting from Chicago's neighborhoods.