ROGERS PARK — At the northeast corner of Lakewood and Devon sits a vacant storefront covered in question marks.
The windows at 1258 W. Devon Ave. were papered up nearly five years ago to tease a possible restaurant opening. But the opening never happened and the space has deteriorated, much to the chagrin of neighbors.

"Since they put up those paper question marks five years ago they haven't done a damn thing," said longtime Rogers Park resident Van DeLisle. "It looks like hell."

DeLisle said he attended a community meeting detailing plans for the space nearly five years ago. At the meeting were property owners Marcus and Robert Sulejman, brothers who own several properties and restaurants in Chicago, along with Ald. Joe Moore (49th).

In order to operate a restaurant, the Sulejmans were asking for community support to bypass a precinct law that prevented alcohol from being sold. That never happened, and despite years of trying to garner community support, the project never got off the ground.

Instead, the storefront has fallen into disrepair, with boarded up windows creating an eyesore for neighbors.

But Robert Sulejman promises the space will be cleaned up soon.

"We are not going to go forward with the restaurant," he said. "The damn thing took too long."

Within the next month, Sulejman said they aim to completely rehab the space. Without a liquor license, he said the plan is to convert all of the first floor to suit a commercial office or retail use.
"We'd love to get a coffee shop in there," he said.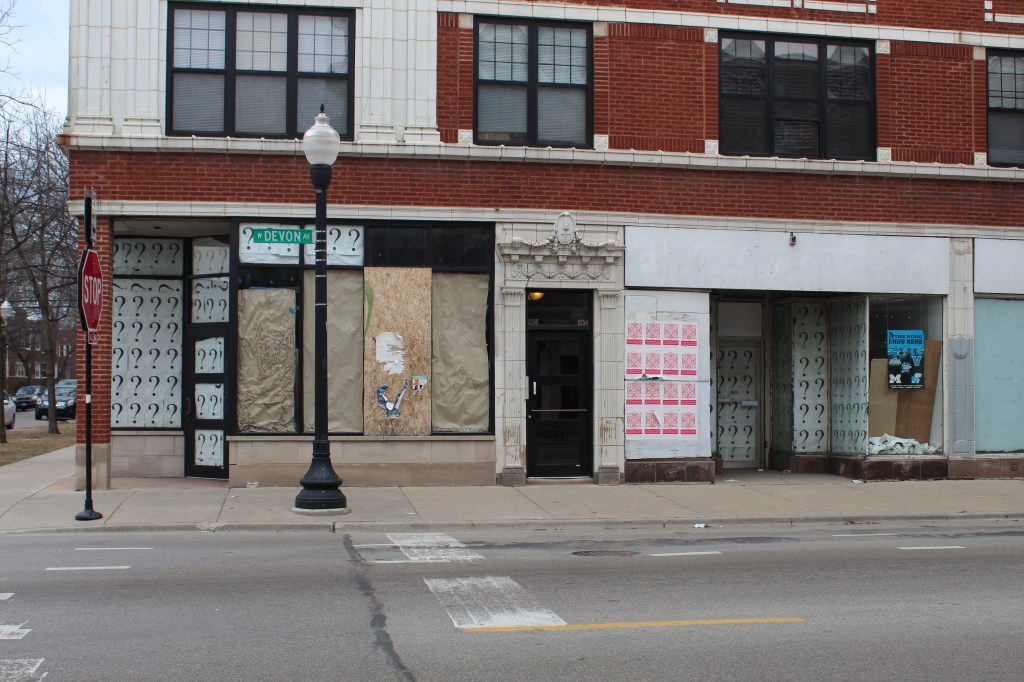 But neighbors are tired of waiting. Many eagerly shared their frustration over the undeveloped corner.

"I'm sick of walking by it for years," said Rogers Park resident Judith Cooper. "The rest of our neighborhood is very respectable, and this makes us look like a dump."
"I would love to see them do anything with this space," resident Joanne Nguyen said. "The question marks were amusing at first, but these days it just collects trash."

Sulejman said he understands neighbors' frustrations. The space, he said, will be well maintained now that there is a plan in place. He said the apartment buildings above the storefronts have been kept in "immaculate shape" and residents can expect the same attention to the commercial spaces below.

"I don't like my properties like that," he said. "The only reason it was like that was because we were waiting on the neighborhood."
That's no excuse, said DeLisle, and he said the last time he was approached by the brothers to sign a petition he called the building a "s— hole."

"Most of the block takes care of the place and picks up," he said. "We take great pride in our neighborhood and this [building owner] doesn't. Clean it up now."
Residents will be watching the Sulejman brothers closely during the coming weeks, as they hope this vacant property will receive a greater level of attention — and become less of a question mark.
Do stories like this matter to you? Subscribe to Block Club Chicago. Every dime we make funds reporting from Chicago's neighborhoods.