LINCOLN SQUARE — The candidates squaring off for alderman in the high-stakes 40th Ward race debated Chicago's housing affordability and budget — and their own pasts — during a crowded Monday night forum at Amundsen High School.

In front of a crowd of 450 neighbors, longtime Ald. Pat O'Connor (40th) and challenger Andre Vasquez spent most of the debate focused on their policy positions, but when the moderator asked them about the website O'Connor's camp launched last week, thetruthaboutandre.com, both men started trading barbs.
The new website catalogues Vasquez's lyrics and forum posts from 2001-2010 that O'Connor's camp describes as "bigoted and derogatory comments about women, trans people and gay people."

The lyrics featured on the website include: "Holdin' mics with a slight buzz. Beatin' bitches like Ike does" and "Grab you by the clavicle and drag your ass across the ground. Leave you bound and gagged in a bar surrounded by f-gs. Looking like a clown that found a gown and dressed in drag."

Vasquez was profiled in the Chicago Reader about his rapper past and publicly apologized for the lyrics, noting that he said them years ago.
"I'm very sorry about the homophobic, misogynistic and offensive things I said. There's no excuse for it," Vasquez told Block Club last week.

RELATED: Ald. Pat O'Connor Slams Challenger Andre Vasquez Over Misogynistic, Homophobic Rap Lyrics

Addressing the audience on Monday, O'Connor said calling "undocumented people in this city lazy border jumpers" and calling the city's LGBTQ community "homos and f-ggots, trannies" was not limited to Vasquez's songs but also extended to his online presence.
At the forum, Vasquez again apologized for the "horribly offensive" things he said.
"Years ago, when I was a battle rapper, I said things that were horribly offensive, misogynistic and homophobic," Vasquez said. "Because I felt inadequate in my own skin I thought denigrating others would be something that would make myself feel big. But those words hurt people and there aren't any excuses for it."

On Monday, a number of homes and businesses around Amundsen received fliers paid for by O'Connor's campaign that further criticized Vasquez's rapper past.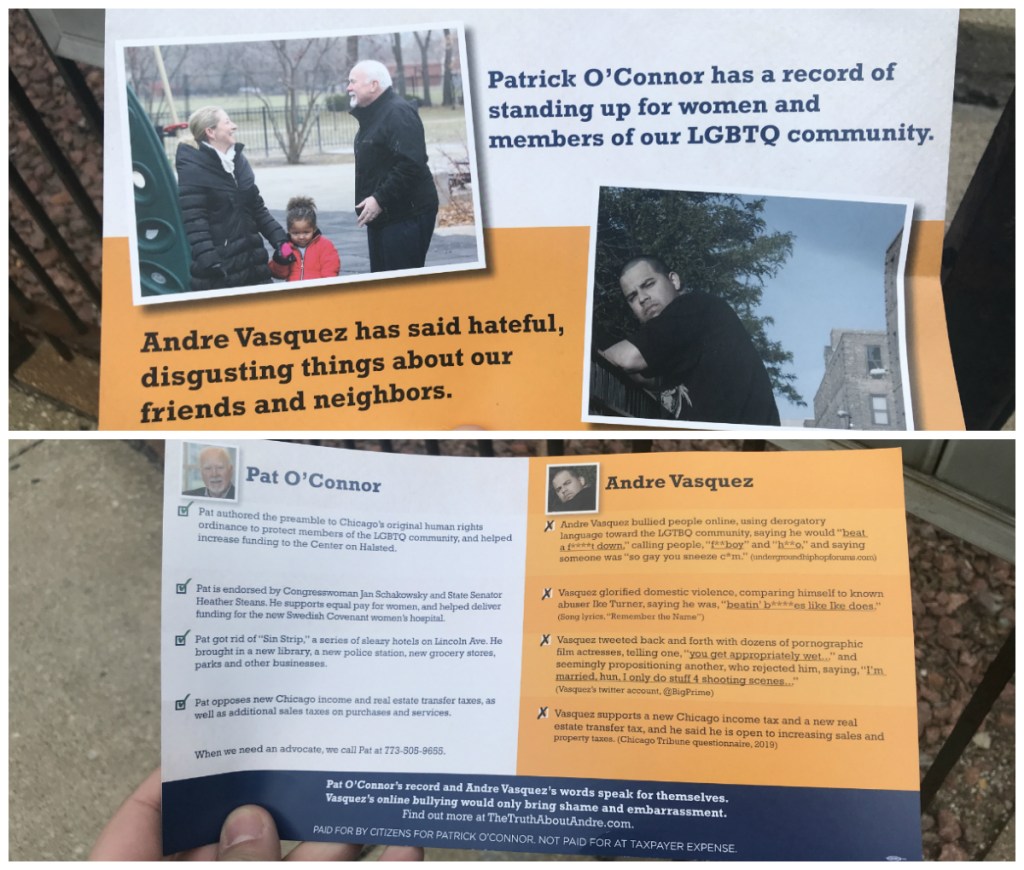 And in the weeks leading up to the April 2 runoff election, ward residents received calls about Vasquez's lyrics in a purported poll.
Vasquez said he was concerned the alderman used those terms quoted from Vasquez's posts — "homos and f-ggots, trannies" — at the forum "without warning," and "that there …are people calling neighbors also using those terms and not knowing who is on the other end of the phone."
O'Connor told the audience Vasquez's lyrics are fair game.
"Someone can say, 'I was young.' Factually speaking, I was young, too," O'Connor said. "But my record gets brought up all the time. So I think his record is fair game."

O'Connor was first elected at the age of 28 and was immediately involved in "Council Wars" in the 1980s, which pitted a coalition of mostly white aldermen — nicknamed the "Vrdolyak 29" — against then-Mayor Harold Washington, the city's first black mayor. O'Connor sided with the mostly white caucus to block Washington's agenda.

"I wonder what the Vrdolyak 29 would have had in their social media," Vasquez said.

RELATED: Ald. O'Connor Accused Again Of Racism Following 40th Ward Forum: 'Out Of Touch And Cruel,' Candidate Says

Vasquez also criticized O'Connor for being one of six aldermen who attended less than half of City Council and assigned committee meetings from 2015-2018, according to an analysis by The Daily Line and WBEZ.
"I also want to stress that [being alderman] is not a part time job," Vasquez said. "You can't show up to work 48 percent of the time and expect the people of Chicago to pay you a full time salary. That needs to change."
Talking the issues, Vasquez, a community organizer who works as a marketing account manager with AT&T, said the city is in "a crisis."
"When we talk about what brought us here, it's decades and decades of the council's status quo that has brought us to these problems," he said.

First elected in 1983, O'Connor has served as the unofficial City Council floor leader for Mayor Richard M. Daley and Mayor Rahm Emanuel. Responding to Vasquez's "status quo" jab, O'Connor said: "longevity is not something that is given to you but is something that you earn."

Vasquez supports a financial transactions tax, a real estate transfer tax, legalized marijuana revenue and a progressive income tax.
If elected, he will also push the state to lift the ban on rent control and will also advocate for Tax-Increment Financing (TIF) reform so money benefits local schools instead of "megaprojects" like Lincoln Yards or "the $5.5 million subsidy given to the anti-choice Presence Healthcare that my opponent [O'Connor] voted for," Vasquez said.

O'Connor agrees with Vasquez that taxes from legalizing marijuana would benefit the city, but is more skeptical on how a financial transactions tax could work and opposes a city income tax.
"You've heard my opponent tonight. Let's have [a Special Service Area] tax, let's have a vacancy tax. He's advocated for an income tax," O'Connor said. "At some point in time somebody is going to have to realize that the people who are going to pay those taxes are you and me."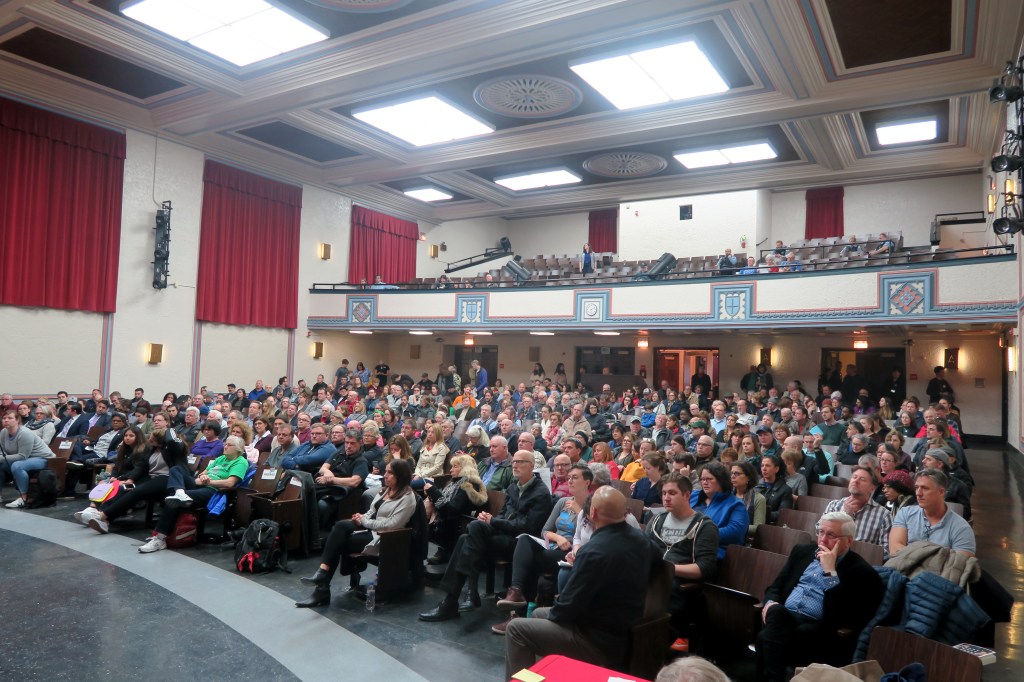 Rent control isn't the answer to the city's affordable housing crisis, O'Connor said, but he thinks free city college tuition and more jobs would do more to fix people's inability to pay the city's rising rents.

O'Connor also supports legalizing video gambling, which he said could generate $30 million to offset the city's pension obligations, and the creation of a Chicago casino.

"To the people who don't want to see gambling, Chicago already has a casino. It just happens to be in Hammond, Ind. where everyone from Chicago drives every day," O'Connor said.
If he wins the runoff, Vasquez vowed to stick to a self-imposed three-term limit. O'Connor said he's open to term limits if the City Council drafted a measure for him to review.

As the forum came to a close, O'Connor again went on the attack, saying Vasquez was only apologizing for his comments when he was a rapper because he wanted to run for office. Voters should elect someone who "doesn't call people names," O'Connor said.

Vasquez countered that O'Connor has yet to apologize to former 40th Ward candidate Ugo Okere for the "racially divisive language" he used during a forum at Ebenezer Lutheran Church in October.
O'Connor's big on ideas during election time, but his 36-year record shows that he voted to privatize the city's parking meters and Skyway, voted to close a record number of CPS schools and mental health clinics and OK'd the Lincoln yards deal, Vasquez said.

RELATED: Ald. Pat O'Connor Called 'Racist Troll' By Moderator Of 40th Ward Forum
"In all that time, all those decisions that have been made have hurt you," Vasquez said, addressing the audience. "Every time your property tax goes up it's because losses of public revenue sources that this council voted for. We have an opportunity to actually change the way this city works."

In the Feb. 26 election, O'Connor faced four challengers and got 33.2 percent of the vote. Because he wasn't able to get the 50 percent needed to avoid a runoff, he's facing Vasquez, who got 20.1 percent of the vote, in the April 2 runoff election.

This is the first runoff O'Connor has been in since first being elected to the 40th Ward in 1983.

The 40th Ward includes parts of Lincoln Square, Bowmanville, West Ridge, Edgewater and West Andersonville.
Monday night's forum was co-organized by the League of Women Voters of Chicago, Andersonville South Neighborhood Association, Bowmanville Community Organization, Heart of Lincoln Square Neighbors Association, Indivisible Lincoln Square, MidWest Women Network, Neighbors of Edgewater West, South Asian Civic Engagement Coalition and Winnemac Park Neighbors.

A full video of Monday's forum can be found below.

RELATED: Everything You Need To Vote In The 40th Ward Runoff Election

Do stories like this matter to you? Subscribe to Block Club Chicago. Every dime we make funds reporting from Chicago's neighborhoods.