NORTH CENTER — "It's the a– crack of dawn. Let's get some pancakes."
That's the sort of craving that fuels the almost 80-year-old Diner Grill in North Center.
The 24/7 greasy spoon at 1635 W. Irving Park Rd. has been the final spot for many late-night benders, attracting the city's chefs, bartenders and other nightlife figures.
Although a 2016 Christmas Eve fire shut down the business for more than 18 months, the Diner Grill is now stronger than ever, co-owner Arnold DeMar said.
The reopened grill is more than six months into its new life, with a new charcoal grill, jukebox, shiny stools and about half of the staff from before the fire. They are back to offering the signature "Slinger" (a concoction of hash browns, hamburgers, eggs, chili, cheese and onions) as well as NSFW "Mickey Mouse" flapjacks and other breakfast staples.
"It's new and shiny and everybody missed it," DeMar said. "We have a lot of customers who have been coming for years, so they were looking forward to it."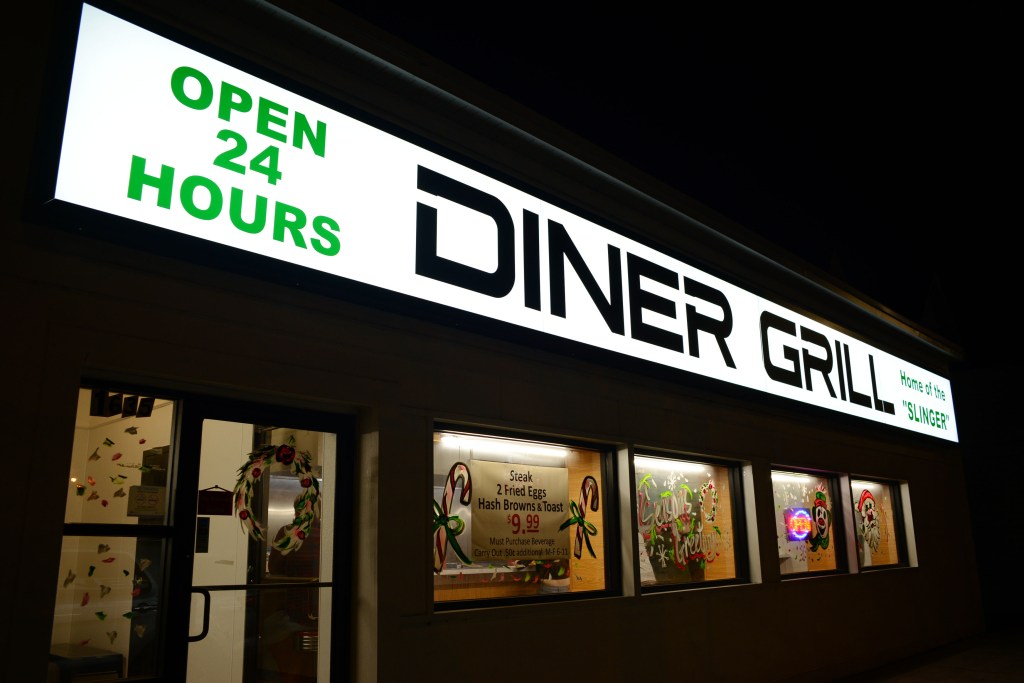 Opened in 1937 on Irving Park Road, the small restaurant then consisted of two streetcars. It's now owned by Sheila and Arnold DeMar, whose father bought the diner in 1946.
The 2016 fire caused severe damage to the restaurant. And while reopening the business took more work than expected, Arnold DeMar said they never questioned whether the grill would live on.
"Once we got the equipment in, I knew we were going to get it done," DeMar said. "During construction people would stop in — two or three people every day — wanting to know when we were going to reopen."
One such regular is Big Star bartender Tad Nelson, who used to live near Diner Grill and has a tattoo of the restaurant on his arm. Nelson also witnessed the 2016 fire.
"I was at my apartment," Nelson said. "All my roommates were out of town and I heard a bunch of fire trucks and I went out and saw it on fire, which was really awful."
While he doesn't frequent Diner Grill as often since moving from the area, Nelson said it has a special place in his heart.
"It's always a nice place to go. It was kind of like a buffer before I got home or a buffer before I went out for the night," he said.
Along with the classic Slinger, diners can enjoy a variety of skillets, hamburgers and shakes. The most notable item on the Diner Grill menu is a chili recipe that DeMar's father, according to DeMar, bought from a prostitute at the family's old restaurant on Clark and Division.
"We're using the same recipe basically," he said. "A little spicier now than it was then because things were a little more bland. The taste of people today are a little more spicy."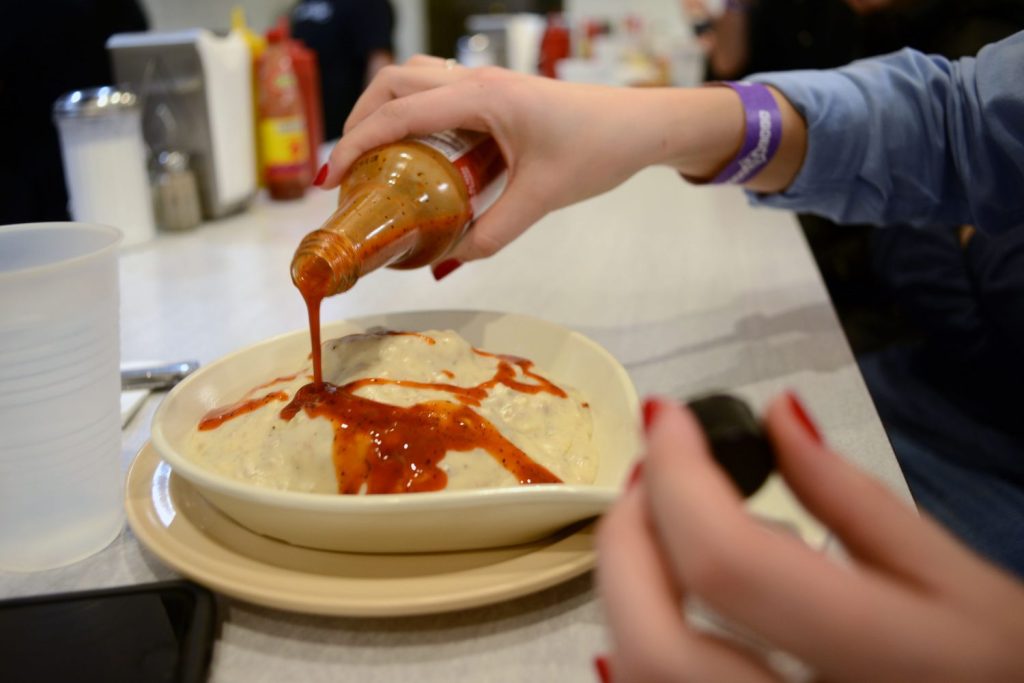 While the eclectic offerings fit any meal time, the grill truly comes alive on weekends after midnight, when bars let out and those looking to curb a hangover are drawn to the bright lights and a greasy snack. 
On a Saturday night earlier this year, couples on first dates, a bowling team of old high school peers and a group of friends coming from a Dave Matthews cover band concert all stopped by for a fourth meal.
Liz Eaton who lives in the area, said the temporary closure of the Diner Grill was a "loss to the neighborhood. It was sad to see it go dark here," because she hadn't had the chance to go before the fire. Her attempts to make a Slinger at home were unsuccessful. 
She was excited to try a true Slinger for the first time and also taste the "Mickey Mouse" pancake, a dish that does not resemble a beloved cartoon character but male genitalia instead.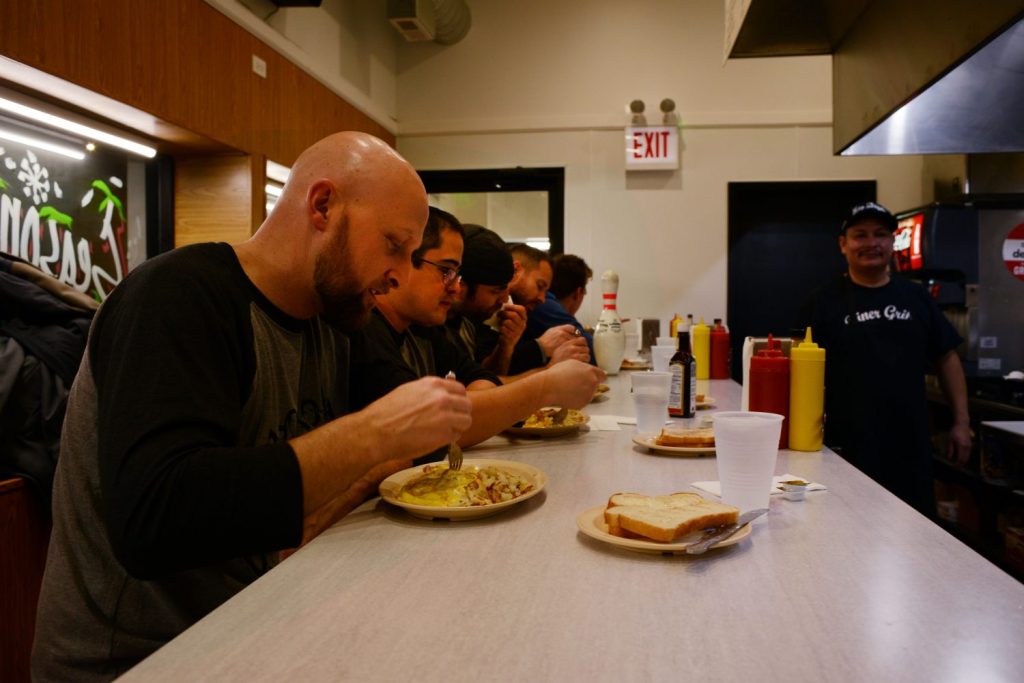 Her review of the Slinger: "It's got everything. It's got a bit of the breakfast flavor with the dinner flavor if you can't quite decide."
Diner Grill cook Orlando Vazquez said the Slinger is one of his favorite dishes to make. He's happy to be back behind the grill, having fun with customers, talking with them while he flips eggs, piles of hash browns and burgers.
This camaraderie is what draws in longtime customer Adam Brezak, who had come for a meal every day before his temporary move to Ohio.
"It's nice to see local businesses flourish in the area, especially one that's a staple in the community," Brezak said.
He said his fondest Diner Grill memory was doing shots of tequila with the staff this past New Year's Eve.
"Knowing the people that cook your food and getting to see it in front of you, it's a very neighborhoody-feel," he said. "Everybody lives right around the corner and we just have conversations with cool people at 2, 3, 4 in the morning or 6, 7, 8 in the morning. It doesn't matter."
Do stories like this matter to you? Subscribe to Block Club Chicago. Every dime we make funds reporting from Chicago's neighborhoods.