FULTON MARKET — An 18-story tower planned next to the Fulton Market gateway sign is sparking traffic concerns from residents in the the booming area.

New York-based Thor Equities revealed their plans for the 300-foot-tall brick-and-glass building that will bring more office and retail space to 800 W. Fulton Market at a community meeting last week at Catalyst Ranch in the West Loop.

The 18-story tower would replace the Mid nightclub building at 306 N. Halsted St., the former Isaacson & Stein Fish buildings at 800-810 W. Fulton St. and several other properties owned by meatpacker Morreale Meat.
In addition to 15 floors of office space, the project would feature 25,000 square feet of retail and restaurant space, 36 parking spaces and two loading berths.
Thor Equities also plans widened sidewalks around the building — which is bounded by Fulton, Green, Wayman and Halsted streets — in line with the city's Fulton Market Streetscape renovations.
The building would feature multiple setbacks and terraces, said Skidmore, Owings & Merrill partner Brian Lee, who recently completed the West Loop Public Library.The base of the building would be about the same height as neighborhood buildings, he noted, saying the firm kept the West Loop Guidelines in mind while designing the project.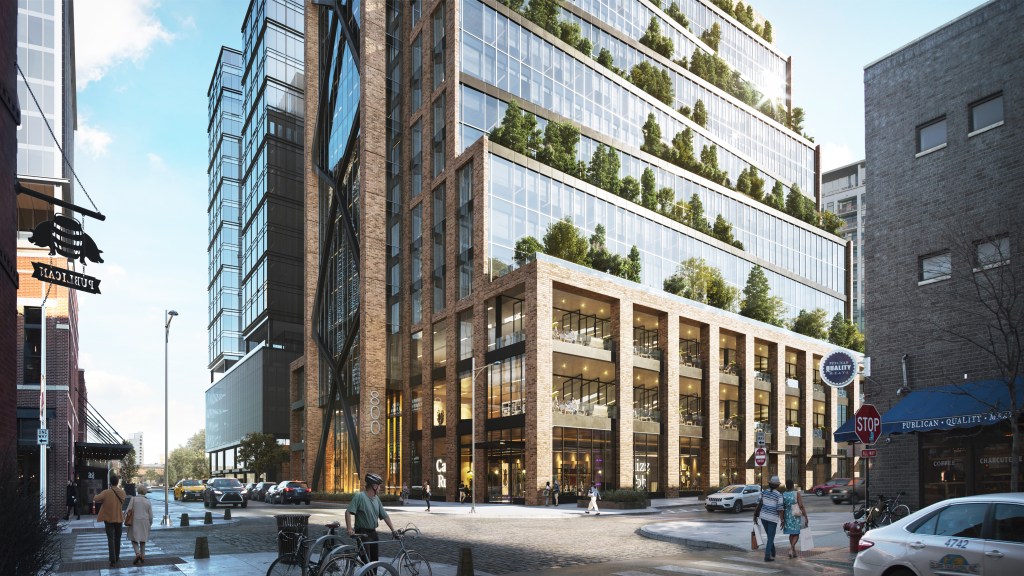 The developer hasn't yet secured tenants for the project, said Peter McEneaney, senior director at Thor Equities. A Rascal Flatts-themed restaurant was planned in the tower, but that plan has been scrapped, he said.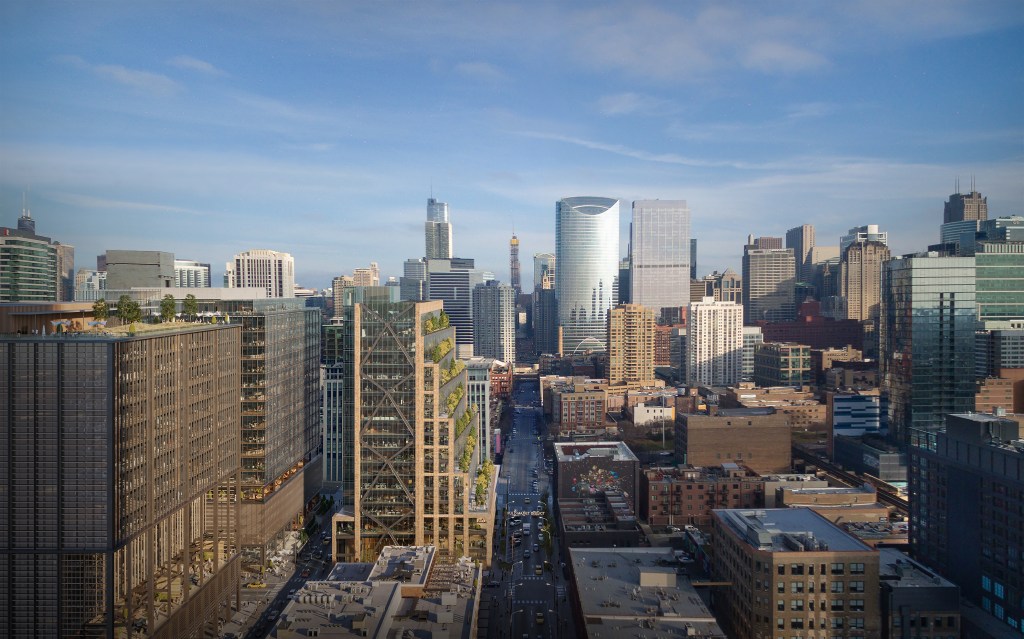 Neighbors worried about traffic congestion, safety and impact on infrastructure
The project was lauded for the design — with some residents even calling it "beautiful" — but others expressed concerns about how the density of this development, along with other planned office towers in the area, would worsen traffic congestion, compromise pedestrian safety and impact outdated sewer systems.

To the north of the proposed tower, West Loop developer Sterling Bay is constructing three office towers north of the proposed Thor Equities tower — a 20-story building at 330 N. Green St.,  a 19-story building at the old Coyne College parking lot, 333 N. Green St., and a 21-story building at 360 N. Green St.

Claudia Chavez, who has lived across the proposed development for more than a decade, said neither the developer nor Ald. Walter Burnett Jr. (27th) had addressed their concerns about the added traffic the development will bring to the area.

"We already have power outages…We already have issues with septic," Chavez said. "How will adding thousands more affect that?"

Noting that Metra tracks sit just a few blocks north of the proposed site, urban planner and West Loop resident Levar Hoard urged Burnett to consider the safety of pedestrians and cyclists as they flood the streets on already congested narrow walkways.

"There are some serious concerns with the density that is not met with proper urban planning and design or execution," Hoard said.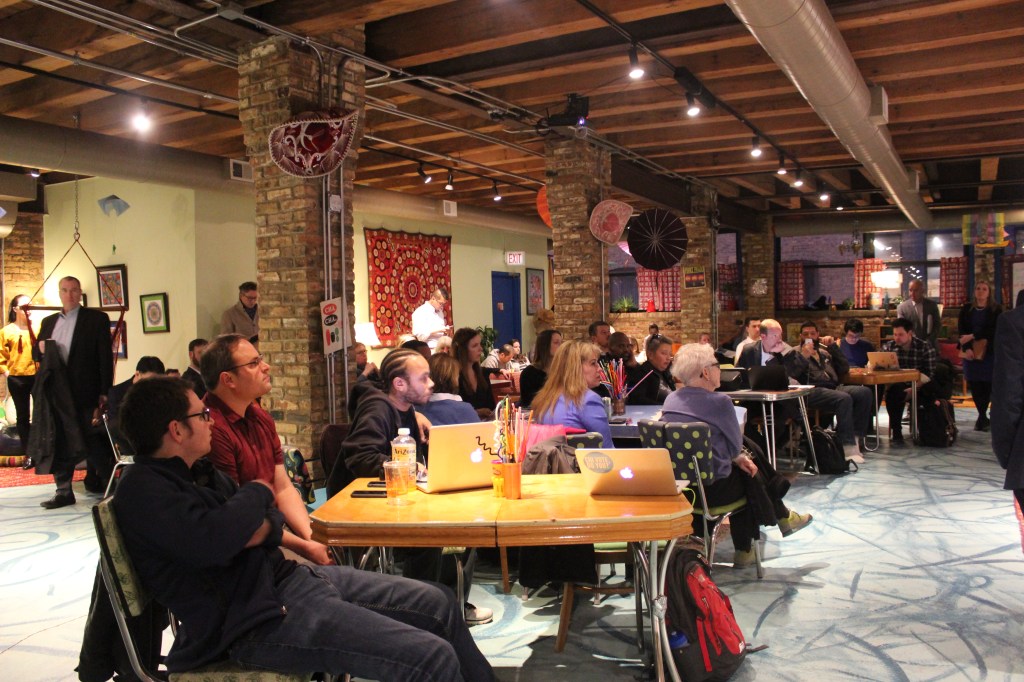 Another resident, Cindy Davis, who lives across the street, said her neighbors asked developers for a shade study, traffic study, air quality study and a structural study of the site in previously held closed-door meetings. They've yet to receive any of those studies since asking for them six months ago, she said.

"It takes 40 to 45 minutes just to get half a mile from the Milwaukee and Grand intersection to Fulton Market along Halsted, and "with these developments it's only going to get worse," Davis said.

Davis said the building's height would stand in stark contrast to the other buildings in the historic district.
"It's three times the height. It's not a great transition," she said.

Ward Miller, executive director of Preservation Chicago, urged developers to salvage the facade of the building.
Three influential neighborhood groups — Neighbors of West Loop, the West Central Association and the West Loop Community Organization — have yet to make a formal recommendation on the project.

Carla Agostinelli, executive director of the West Loop Community Organization, said she had concerns about "pedestrian safety" and vehicular traffic but was working with Chicago Department of Transportation to address some of those issues through the Fulton Market Streetscape project.
Burnett, who said he hasn't yet decided if he'll sign off on the project, noted that the area is now part of the city's Downtown district now. Adding density to the area is part of the city's plan, he said, and they are making improvements to plan for it, including adding a new Green Line stop at Damen in addition to the Morgan stop, which was added in 2012.

"This area is the hottest area in the county. …It's attracting more economic development than any other area of the City of Chicago," Burnett said. "This is the strongest economic engine right now."
Fulton Market is part of the city's "bigger picture," the veteran alderman said.
"We have to have gives and takes," he said. "…It's not just about our home, our block. …We have to take these enhancements while we can get it."

The building was previously pitched as 19-story building but was later modified after the developer received feedback from community groups, Lee said.
RELATED: 19-Story Building Planned At Fulton Market Gateway, But Streets Can't Handle It, West Loop Leader Says
If a zoning change is approved, construction on the 18-story building would begin this summer, said Peter McEneaney, senior director at Thor Equities. Thor aims to pay $3.8 million into the city's Neighborhood Opportunity Bonus Fund,a city program that allows developers to build bigger and taller projects in an expanded downtown area to support commercial projects in blighted neighborhoods.

Do stories like this matter to you? Subscribe to Block Club Chicago. Every dime we make funds reporting from Chicago's neighborhoods.