LINCOLN SQUARE — The new $24 million, three-story annex coming to Waters Elementary at 4540 N. Campbell Ave. is expected to break ground this spring.

The Lincoln Square school has experienced an 86 percent jump in enrollment over the past 10 years and has maxed out its existing space, necessitating the new annex.
A construction manager was appointed to the project last month, said Kerl LaJeune, deputy director of planning and design for the city's Public Building Commission. Construction will be happening while school is still in session, he said.
"The earlier we get ahead of this and plan, the better off we are making sure we're not disrupting the neighborhood or the school," LaJeune said.

Initial plans called for the school's expansion to be built on the site of a school garden with a 300-year-old oak tree.

Last October, Waters parents and surrounding neighbors organized to protect the garden, which serves as the focal point of the school's nationally recognized ecology program.

Thanks to their effort, the new annex will instead be built on the northeast part of the school's campus, replacing one of its two playgrounds.

RELATED: After Community Outrage, CPS Won't Bulldoze Lincoln Square School's Garden To Build $24 Million Annex

Last Thursday, Waters hosted a presentation on the proposed design of the expansion project in the school's current annex.

The addition will bring of a dedicated music room, an art room, two new science classrooms, a special needs classroom, a media center and a new playground to Waters Elementary. The school's building will also be upgraded with the aim of it qualifying for LEED (Leadership in Energy and Environmental Design) certification.

"We're adding new classrooms in the annex, but then some of these specialty rooms are going to be added throughout in the existing building too," said Omar Bailey, associate principal at Bailey Edward.

Plans also call for the current annex, located on the south end of the campus, to be modified into two new classrooms. Titia Kipp, principal at Waters, asked that the current annex remain a flexible, open space for the school.

"During inclement weather we need a place for our children to play during recess time," Kipp said. "And this is a a great community space …by cutting up this room and making some additional classrooms, that's going to cause additional issues."

Construction of the three-story annex will happen in four phases, and officials aim for the entire project to be completed by August 2020.
Under the project's first phase, the build site will be cleared by April to prepare for the new annex's foundation, LaJeune said.

With the foundation in place by August, construction on the three-story building could start in September or October.

LaJeune said crews will aim for the most disruptive parts of construction to happen over the summer to limit its impact on classes. They will also check in with the school's administration regularly to coordinate so crews won't be using a jackhammer while students are trying to take a test.

During the presentation, some parents asked about including upgrades, like modified water fountains that can easily fill water bottles, in the current building. They'd also like to see the current playground equipment saved so it could be installed elsewhere on campus.

LaJeune said those additional requests will be reviewed, but completing the annex on time is their primary goal.

Another parent said it was "unacceptable" that there were no renderings of what the three-story building will look like yet. LaJeune said the annex will be a masonry building, and plans are still being drafted.

Check out draft plans for the new Waters Elementary annex below: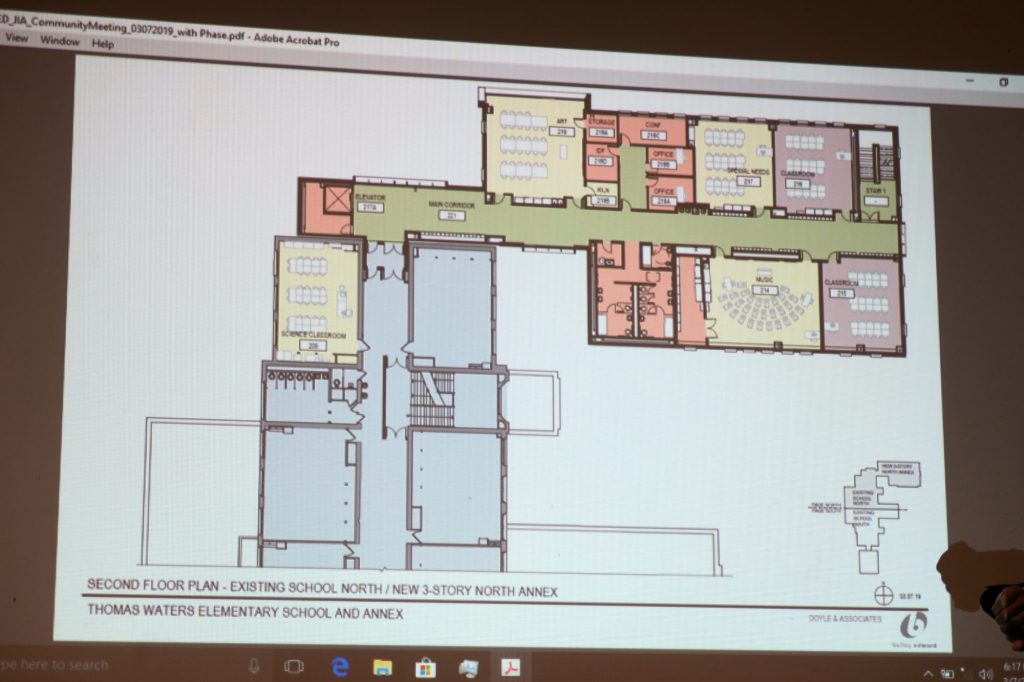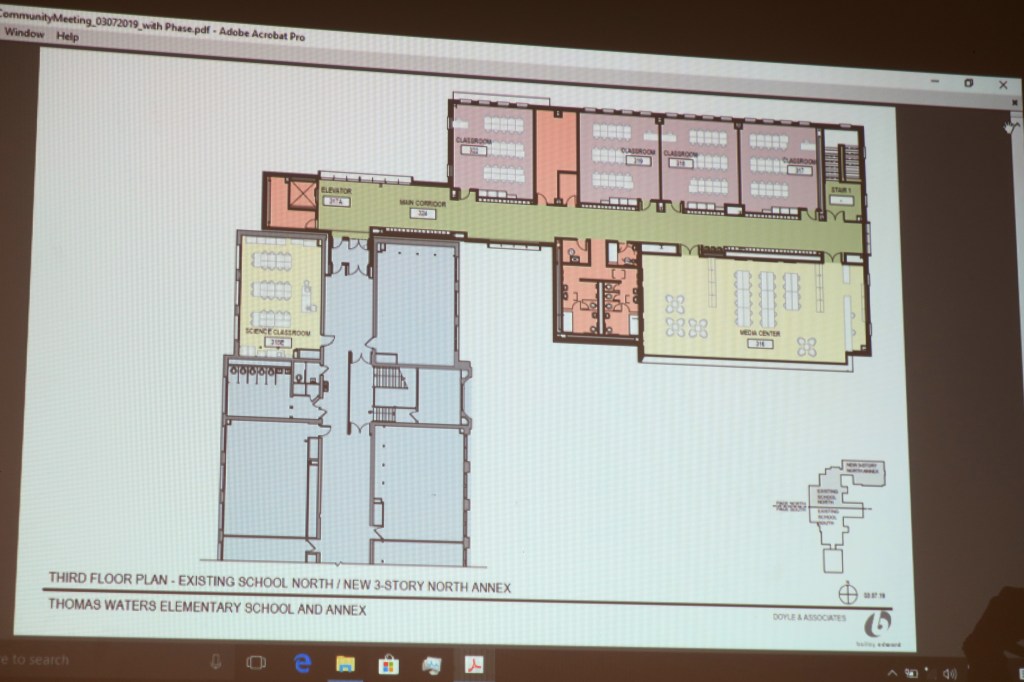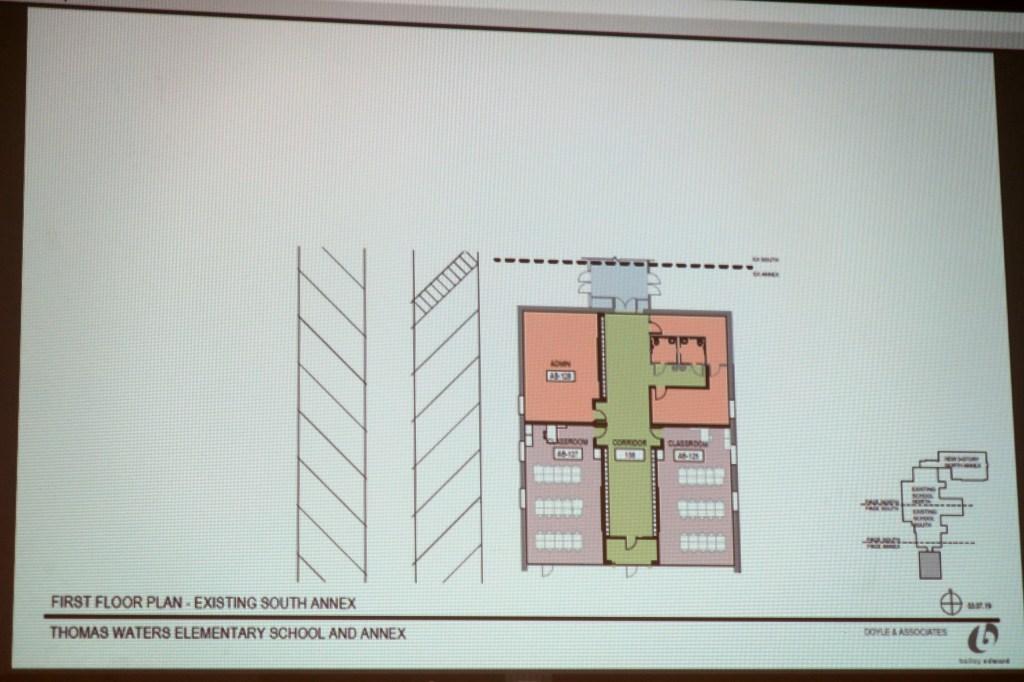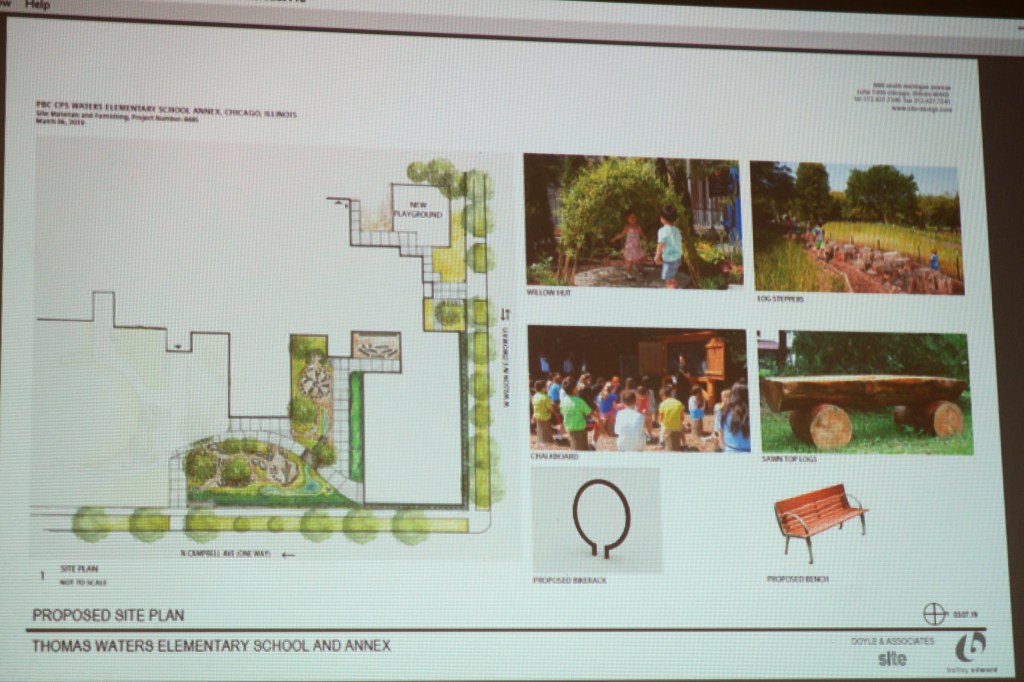 Do stories like this matter to you? Subscribe to Block Club Chicago. Every dime we make funds reporting from Chicago's neighborhoods.