AVONDALE — Some 200 Chicago Public Schools students in Avondale and Albany Park will get their families' water tested for lead — and the results expedited — as part of a new pilot program driven by Ald. Deb Mell (33rd).
Frustrated by the city's slow testing process, Mell approached Rosemont-based water treatment company Culligan International to help get 33rd Ward families' water tested for lead. Unlike the city process, which can take months, Culligan International's process only takes 3-5 business days.
"The Water Department is inundated with requests for lead kits, so we're just looking to augment their practices. [The city] is doing the best they can right now. We just want to look outside the box," Mell told reporters Thursday morning at Carl Von Linne Elementary, 3221 N. Sacramento Ave.
Von Linne is one of two schools participating in the program. The second is William G. Hibbard Elementary at 3244 W. Ainslie St. Both schools serve mostly Hispanic low-income students, according to CPS data.
Fifth and sixth grade students at both schools received filtration kits donated by Culligan International and detailed instructions from their science teachers. The program was designed to be part of their science curriculum this school year.
"We learned how to use a microscope and test our water underneath the microscope," Von Linne sixth grader Penelope LaFosse said. "We saw different particles and we compared it to water that our friends had and water in Flint, Mich. And we learned how water molecules are formed."
The students were instructed to bring the kits home with them, fill them up with cold water and then bring them back to school to get them tested by Culligan International.
LaFosse said her water looked clean compared to the water of some of her classmates.
"It was very different from the water my friends had. My water was very clean. My friends had dirt or hair in their water," the 11-year-old said.
Von Linne student Lizbeth Vallegos, 11, said her water "wasn't the cleanest," but she suspects that's because of microbes or other organisms, based on what she's learned in class.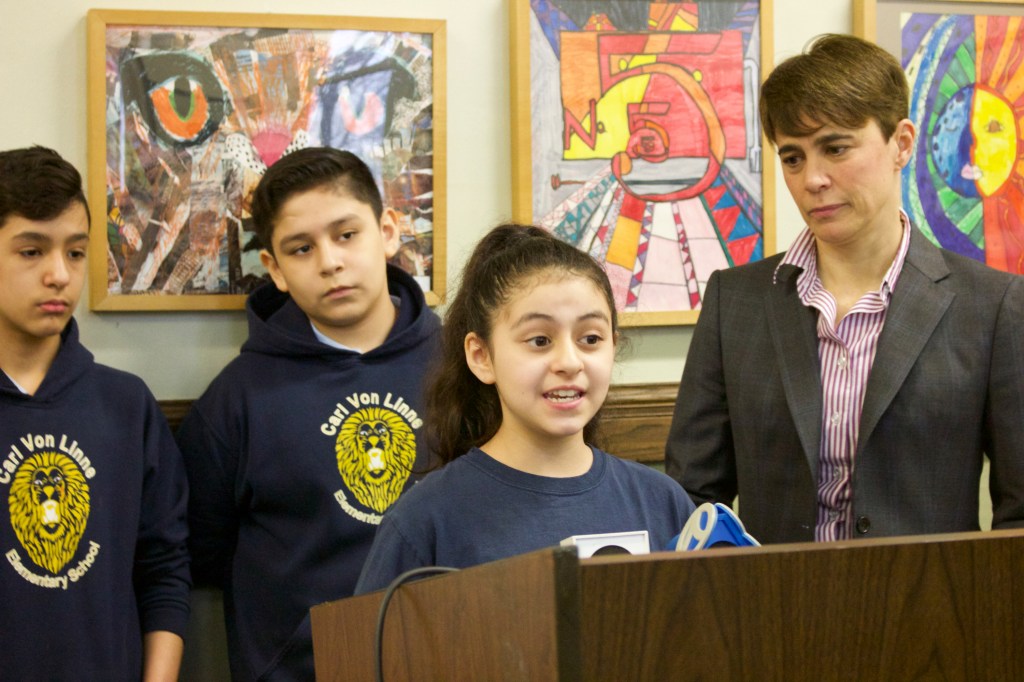 "When you see the water in the container, it looks very different from what you see up close," Vallegos said. "You never realize what's in your water. It is kind of scary when you realize what's in your water and you're hoping it's not something dangerous."
Culligan International expects to get results back next week, depending on when all of the filtration kits come in. If lead is found in any of the families' water, the company will provide counseling on next steps.
In an investigation the Chicago Tribune called "the most conclusive evidence yet of widespread hazards that have remained hidden for decades," the newspaper found lead in nearly 70 percent of the 2,797 homes tested during the past two years. There is no level of lead that is safe to consume, according to the EPA and the U.S. Centers for Disease Control and Prevention. Lead can cause serious health problems including brain damage, particularly in young children.
At Thursday's announcement, Mell said Chicago is dealing with a "serious public health issue around the presence of lead in our drinking water" that disproportionately impacts low-income people.
"For the most part, Chicago's water is excellent thanks to Lake Michigan and the Department of Water. But the presence of lead in some homes has nothing to do with Lake Michigan or how we treat our water," she said. "It has to do with the lead service lines that have existed for a long time and are connected into our homes."
Mell said the city's testing process, which often takes several months, is "not terrible, but could be a lot better."
The alderman said she's planning to call for hearings on the matter in City Council.
"The fact that we haven't had comprehensive hearings or information shared with us is not OK," Mell said, adding she hopes the pilot program "elevates the lead discussion in our city and the kids learn from it."
After failing to secure a majority of the vote in February's election, Mell will face community organizer Rossana Rodriguez in a runoff April 2. Mell has been 33rd Ward alderman since 2013, when she was appointed to replace her father.
Do stories like this matter to you? Subscribe to Block Club Chicago. Every dime we make funds reporting from Chicago's neighborhoods.