CITY HALL — Opponents of the Lincoln Yards mega-development aren't optimistic.

They've lived in this city long enough to know that mayoral support and aldermanic prerogative — which gives aldermen virtually unchecked control over their wards — means one of the biggest developments in Chicago history will sail through City Council the way it sailed through various committees over public outcry.
But even if they lose again on Wednesday, when the council is set to vote, organizers who spent months trying to delay the rapid approval process for the $6 billion development that will transform 55 acres of riverfront property said all is not lost — and they're not going anywhere.
"We are going to keep on fighting," said Christina Granfield, executive director of Friends of the North Branch Park.
The latest loss for Lincoln Yards opponents came at a zoing hearing Thursday, when despite what some say was a theatrical effort by Ald. James Cappleman (46th) to delay the vote, the measure passed.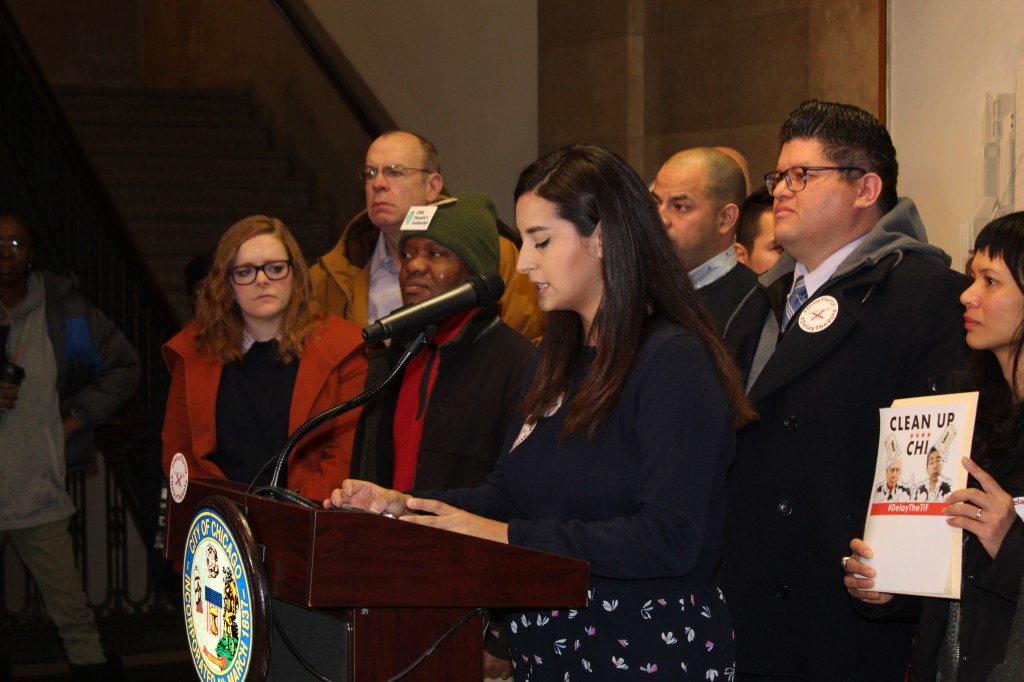 Friends of the North Branch Park is a coalition of more than 25 community groups working for "a more balanced development of Lincoln Yards." They've been fighting for a more open process since 2016, Granfield said, acknowledging their efforts are starting to feel futile.
"It feels like it doesn't matter that we showed up," she said after the Thursday zoning meeting. "The community continues to be ignored. It doesn't feel like democracy, it feels like a big rubber stamp."
RELATED: Lincoln Yards Almost A Done Deal After Sailing Through Bizarre Zoning Committee Meeting

Andrea Ortiz with Grassroots Illinois Action, agreed. Ortiz said she is tired of "constant disinvestment" from her community.
"Lincoln Yards is not being built for people of color and low-income families," she said. "It's a playground for the wealthy."

'Contrary To The People's Choice'
Mayoral candidates Lori Lightfoot and Toni Preckwinkle have repeatedly called on aldermen to put the Lincoln Yards plan on hold until a new mayor is sworn in, but they've been ignored.
Ald. Brian Hopkins (2nd) told the Sun-Times that the candidates didn't understand the project and accused them of using their opposition as a "sound bite."
"You can fly by the seat of your pants as a candidate. You can't do that as a mayor," Hopkins told the paper. "You can't make decisions without being fully briefed on every detail … and it's not the way to govern."

Ald. Scott Waguespack (32nd) and Ald. Michele Smith (43rd), whose wards will be directly impacted by the development, also feel left out of the process.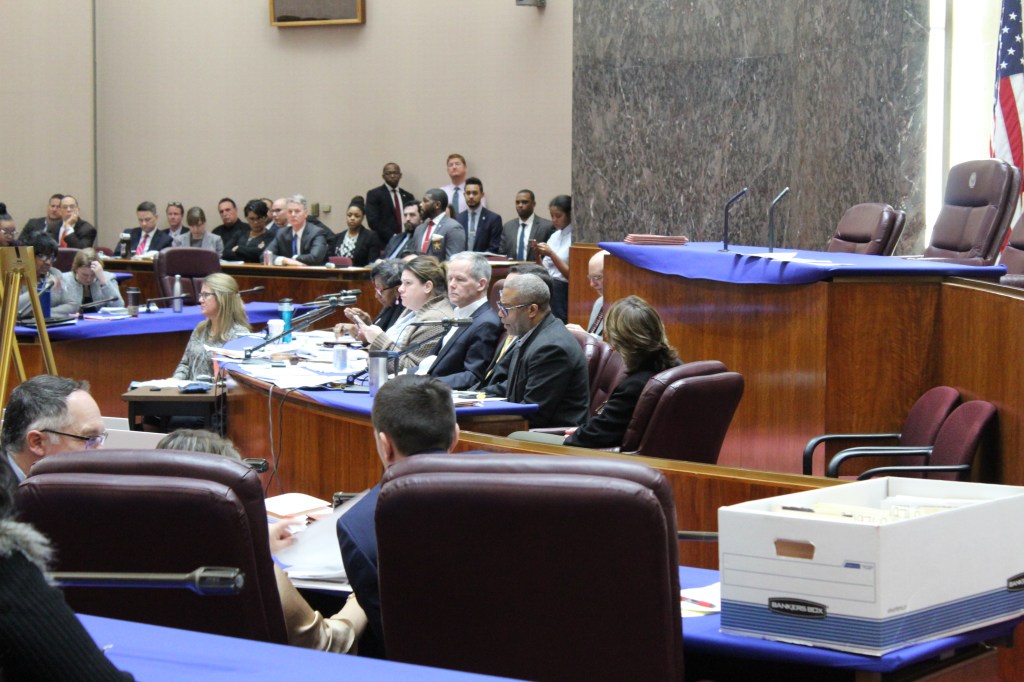 Smith has continually called on Hopkins to allow residents of her ward to have more say on the project — but she says it hasn't happened.
"There has not been one public meeting about the actual plan," said Smith at Thursday's zoning meeting. "What I know, is that railroading [Lincoln Yards] is contrary to the people's choice."
From the beginning, both aldermen have been cautious about supporting the project, continually asking for more details and transparency.
"Token concessions, an orchestrated list of speakers in a precise order, well-funded consultants distributing marching orders and a meeting that every unbiased observer called 'a charade' enabled a rushed vote for a project and process that are tainted and lack transparency," Smith said.


Last month, 11 aldermen vowed to vote against Lincoln Yards, but already some have waffled, others have gone back on their word, and some simply refuse to say where they stand.

Before the Feb. 26 elections, Ald. Joe Moreno (1st) vocally opposed the project and as recently as Feb. 15 told his constituents he would vote no at the March zoning meeting. Moreno was ousted by challenger Daniel La Spata and his term will expire in May.

At Thursday's zoning meeting, Moreno voted to approve the plan.
Lincoln Yards has been approved by the city's Plan Commission, and last month, the city's Community Development Commission approved forking over $900 million in taxpayer funds for the Cortland/Chicago River Tax-Increment Fund (TIF) District.
The TIF for the project is expected to be introduced to City Council Wednesday, which would allow it to be considered by the Finance Committee next month. If it is introduced at Finance Committee next month, the TIF could be approved by City Council later next month.
The project's zoning is expected to be approved at City Council Wednesday.
'A Five Hour Ordeal Of Shame'

A mere stone's throw away from the Lincoln Yards development is The Hideout — a Prohibition-era bar that hosts live music and entertainment in a small wooden house. If Lincoln Yards is approved, a massive skyscraper will dwarf the tiny but historic music venue.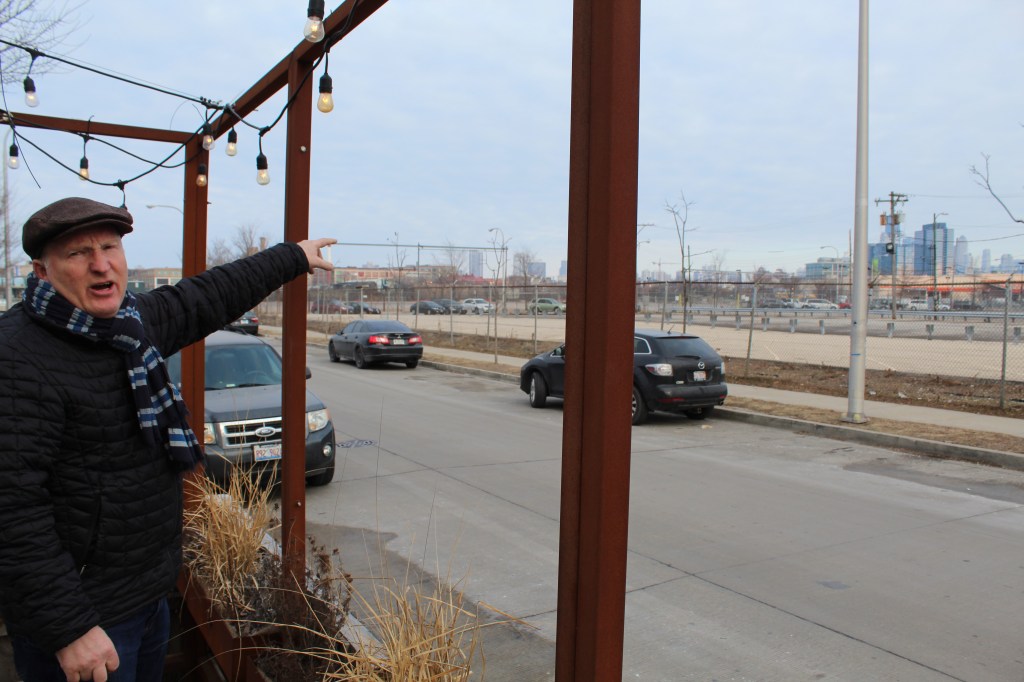 Tim Tuten, who owns the bar at 1354 W. Wabansia Ave. with his wife Katie, said even though he expects the development to be pushed through City Hall, he and his supporters have no plans of stopping their resistance.

"We are going to continue what we have been doing all along," he said. "We are going to every meeting. We are telling everybody to tell every alderman not to vote for it."

The Hideout, which hosts progressive political talk shows and organizing meetings along with live music, was politically active long before Lincoln Yards took center stage, and Tuten said the community has always been a loud voice for responsible development.

"We have always been active," he said. "This isn't a response to some crazy mega-development. This is a mature, longterm, deep-seated community of people that choose to live in Chicago and choose to live in neighborhoods and develop them in an appropriate way."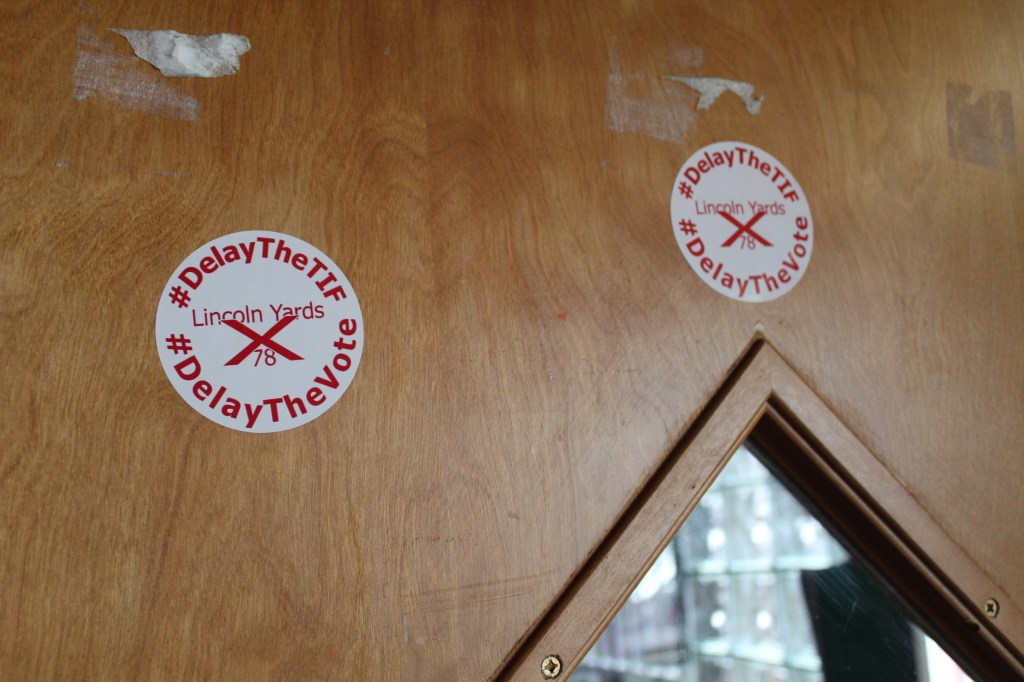 And while Cappleman and other aldermen applauded developer Sterling Bay's announcement that it would increase the number of affordable housing units and decrease the height of their tallest building, Tuten isn't convinced.

"That was their plan and they think we are idiots," he said. "We believe they asked for the moon, knowing that they could pull out a few things and get what they really wanted. And what they want are luxury towers."

Tuten said if the development is approved The Hideout has no intention of going anywhere.

"Our taxes for this little bar that sells PBR and Old Style are going to go way up to pay for the development of the skyscraper across the street," he said.
Tuten said he hasn't completely given up on the idea that enough aldermen could vote "no" during the next full council meeting.
But he knows that hope is a long shot at best.

Tuten said fighting for equitable development is never truly futile. At the very least, they are going to try to make things difficult for alderman who support the "rushed project."

"We are taking what would normally be a five minute rubber stamp session and we are turning it into a five hour ordeal of shame," Tuten said. "We know they are going to pass it."

He said he hopes the public outcry will leave a lasting impression on Chicago's next mayor.

"I believe that the message we are sending to the future mayor is that you need to include community groups," he said. "The arc of justice moves slow, but we are ultimately moving towards a better city."
Do stories like this matter to you? Subscribe to Block Club Chicago. Every dime we make funds reporting from Chicago's neighborhoods.