IRVING PARK — There's a duck with a big problem on the North Branch of the Chicago River — and neighbors are desperately trying to help.
The mallard has its head stuck in a plastic six-pack holder and isn't apparently interested in human help.
For four days now, volunteers have gone down to the banks of the river near Horner Park in the Irving Park neighborhood to try to rescue the duck. And for four days, they've emerged duck-less.
The concern for the yet-to-be-named duck began with a Saturday Facebook post by Holly Swyers. She asked neighbors what could be done to help.
Volunteers flocked to her soon after. Swyers and her crew mobilized by sea and land to try and help the mallard, which appears to be nesting around the river in the northwest corner of Horner Park, near the bridge on Montrose Avenue with its mate.
Tess Smith-Meseth, one of the neighbors who organized the effort, said she saw Swyers' Facebook post.
"Me being the neighborhood animal person, I decided I'll go get this duck. Now I'm on my fourth day trying to get this duck," she said.
"He looks like a perfectly healthy duck, except for the plastic gagged through his mouth and wrapped around the back of his head. This is a human problem, it's not like he's an elderly duck at the end of his life," Smith-Meseth said. "He can't really eat anything besides bread, so eventually he's going to get really weak and tired."
Soon, the story of the stuck mallard spread, and others joined in.
"I saw what was happening on the Illinois Birding Network [Facebook group]," said Martin Kusumosurarso, who lives in suburban Berwyn. "I came by yesterday and it was getting late and cold. And after a while the duck kind of got full of bread, so we all left. I plan on coming back tomorrow if needed but hopefully we can get him soon. "
Tuesday has been the warmest day yet since the rescue effort began. At about 11:30 a.m., Kusumosurarso and Smith-Meseth were army-crawling in mud and tall grass on the south river bank, tossing bread into the water with one hand while holding a net or animal control hook with the other.
At the same time, other neighbors in kayaks and canoes paddled around to try to corral the injured duck toward the nets in the riverbank while also shooing away a pair of geese and another male duck vying with the injured one for the bread and birdseed being tossed into the water.
"It was a lot easier to get the duck in this general vicinity but then it just didn't want to come into the net," said Andrea Knepper, who was in a kayak. "Stop using the damn soda pop, six pack things. Chop them up."
Knepper normally paddles on this part of the river but Tuesday was the first day she was out with her kayak trying to help the duck.
"Andrea's been telling us what to do and where to go, coordinating us in the boats," said Sol Hinami, who was in one of the other boats in the river on Tuesday.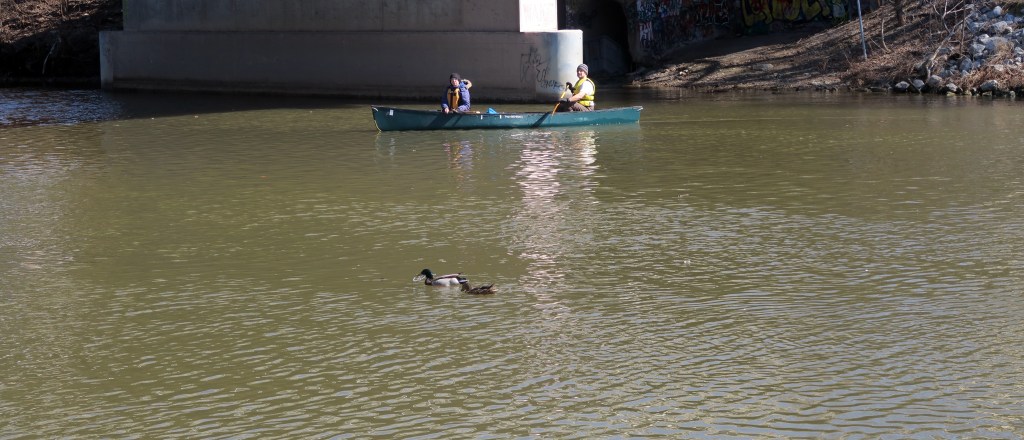 A few times the duck got very close to the south bank of the river, almost within reach of a net, but then would either paddle away quickly or fly a few feet away before landing on another part of the river.
As of early Tuesday afternoon, the duck was still hanging out around the Montrose Avenue bridge near Horner Park, and many of the volunteers decided to track a break and try again Tuesday afternoon.
"It's frustrating, and I understand Tess's pain now over the past few days. It keeps coming to us and then going away," volunteer Maggie O'Neill said. "Everyone's really willing to help too. No one minds getting dirty, it's just the duck is too skittish."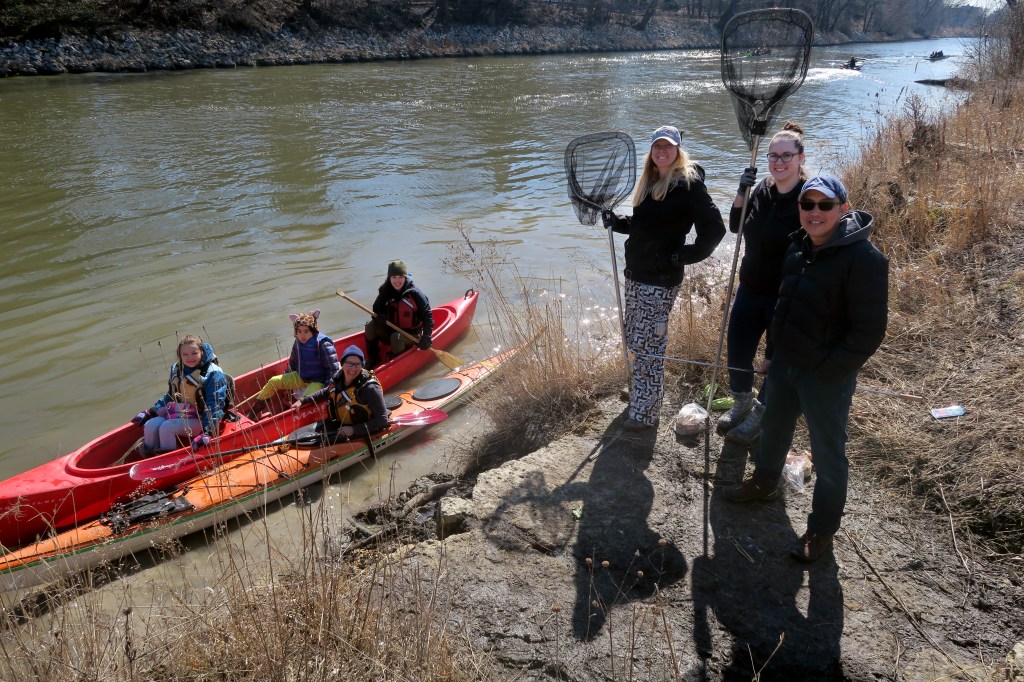 Anyone hoping to volunteer with the ongoing rescue effort is being asked to contact Smith-Meseth via her business at 773-558-3488 or thegratefuldawgchi@gmail.com.
"We need a trapper, somebody's uncle from the country. Somebody who is willing to jump in this river," Smith-Meseth said. "I'll come back out again this evening to see what I can do."
Do stories like this matter to you? Subscribe to Block Club Chicago. Every dime we make funds reporting from Chicago's neighborhoods.