CHICAGO — Despite pleas for delay from residents, business owners and both mayoral candidates, the City Council's Zoning Committee voted Thursday to approve Lincoln Yards — a 55-acre development expected to transform vacant, industrial land along the Chicago River's North Branch.
Before the vote, dozens of concerned opponents lined up at City Hall to once again ask leaders to reconsider their support for the development.
A slightly larger swath of people — 55, as Ald. Brian Hopkins (2nd) noted in a tweet to Block Club Chicago — spoke in support of the massive project.
But those who consistently showed up to public meetings to oppose the project wondered — who were those 55 people?
"Every single person I know is opposed to this, but we all work during the day," Meggan Taylor Trevey tweeted at Hopkins. "Apparently that means we don't have enough money to matter to you people. Certainly won't be able to afford living in the luxury sham you just approved. Shame on you. Shame on Chicago. #NoLincolnYards."
"Interesting, since literally every single person i know strongly opposes it. But we were at work so i guess we don't count!" Michelle Favia wrote.
Many people do support the development, from residents who are tired of the swath of industrial land to electricians, union leaders and trade representatives who will benefit from the construction of the $6 billion project.
But one woman who came to speak against the development noticed something peculiar in City Hall last week — a copy of a printed agenda in the hands of a union representative who addressed the Committee on Zoning.
Turns out, Sterling Bay offered free Downtown parking and breakfast to those who came to the meeting, and coached them with talking points in advance.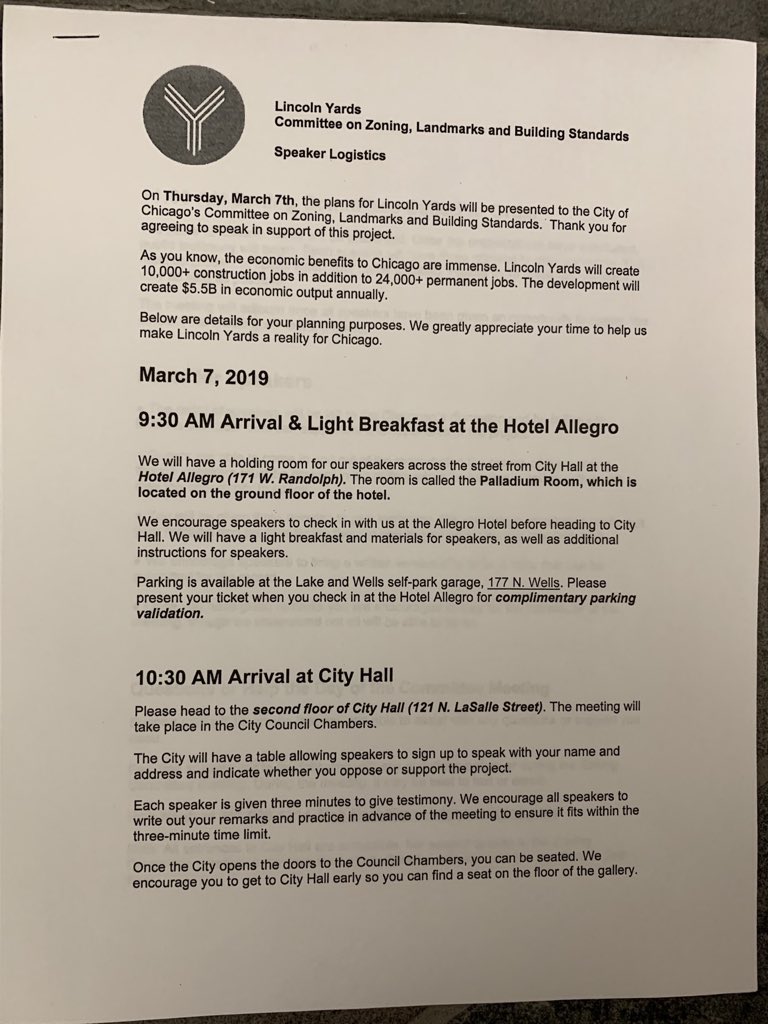 The agenda given to supporters noted Sterling Bay's intention to create more than 10,000 construction jobs in addition to 24,000 permanent jobs. The agenda offered pointers, such as, "We encourage all speakers to write out the your remarks and practice in advance of the meeting."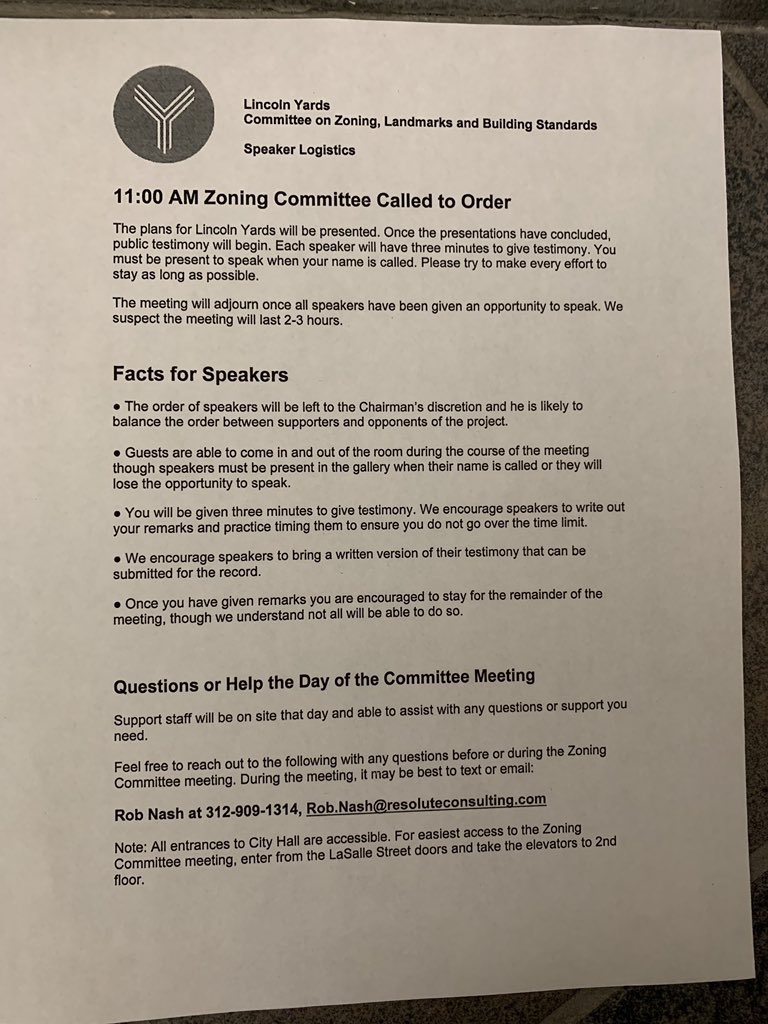 "To help make getting to meetings easier for people, we organized pre-meetings to ensure the outstanding questions were answered and conveyed," Sterling Bay spokesperson Sarah Hamilton said.
The developer paid for the parking and breakfast, too.
When asked whether or not the 55 speakers were paid to be there — and whether or not they stood to gain financially from the project's success — Ald. Hopkins emailed the following statement to Block Club Chicago:
"City Council committee meetings are open to the public for a reason. This is a democratic process that allows all opinions to be heard on issues that impact local residents and the city as a whole. I wholeheartedly support a Chicagoan's right to share their opinions in these forums, whether our views align or not."
On Tuesday afternoon, the zoning committee provided Block Club with the list of speakers. Those who spoke in support ranged from representatives of social organizations, such as the Chicago Low-Income Housing Trust Fund and Friends of the Chicago River, to labor union reps, such as Chicago and Cook County Building Trades, Black Contractors United and the Carpenters Union.
The list of opponents included several area residents, as well as members of the Friends of the North Branch Park and Nature Preserve and the Logan Square Neighborhood Association. View the full list of speakers below.
While Hopkins declined to elaborate on Sterling Bay's motives behind the breakfast and paid parking, longtime strategists said bringing in supporters to speak at committee meetings is not uncommon.
Becky Carroll, a longtime public relations strategist and president of C-Strategies, described the attempt to herd speakers as "advocacy 101."
"Everyone from labor and business to community organizations have offered conveniences like free parking or some coffee and bagels," she said. "It's pretty standard given that folks are often sitting for sometimes hours on end before getting a chance to go on the record."
Ald. Michele Smith (43rd), who represents part of Lincoln Park and faces an April 2 run-off election, disagreed.
"Token concessions, an orchestrated list of speakers in a precise order, well-funded consultants distributing marching orders and a meeting that every unbiased observer called 'a charade' enabled a rushed vote for a project and process that are tainted and lack transparency," Smith said.
Rob Nash of Resolute Consulting, the contact listed on the Sterling Bay agenda, did not return calls or emails.
This isn't the first time Sterling Bay recruited "taxpayers" to support the project in City Hall. During a Plan Commission meeting in January, Sterling Bay employees wore and handed out shirts that read, "This taxpayer supports Lincoln Yards."
Sterling Bay's massive project has been approved by the city's Plan Commission, and last month, the city's Community Development Commission approved forking over $900 million in taxpayer funds for the Cortland/Chicago River Tax-Icrement Fund (TIF) District.
The TIF for the project is expected to be introduced to City Council Wednesday, which would allow it to be considered by the Finance Committee next month. If it is introduced at Finance Committee next month, the TIF could be approved by City Council later next month.
The project's zoning is expected to be approved at City Council Wednesday.
A last minute 'compromise'?
Last week, Hopkins said last-minute changes to the development — which he acknowledged came at the "11th hour" — made the project better.
"The community review process worked," Hopkins said.
Among the changes formally unveiled less than two hours before Thursday's meeting started included the reduction of the height of the tallest building set to be part of the 55-acre development to 600 feet from 800 feet.
In addition, the total size of new buildings will be capped at 14.5 million square feet, Hopkins said.
Smith, who represents Lincoln Park, challenged Hopkins when pointed out that the overall size of the project has increased since its initial one-time presentation to he community.
"This development was 3.3 Willis Towers a month ago and now it is 3.2 Willis towers," she said. "Who says that is a win for honest compromise?"

Hopkins also said his office would hold a public meeting on each phase of the project as Sterling Bay prepares to build it, in an effort to give residents a chance to review the plans.
In addition, Sterling Bay will be required to submit an annual traffic and transit study to the City Council, and Hopkins pledged to hold a public hearing on those studies.
It is unclear when Sterling Bay will hold any public meetings. It is also unknown whether the developer will construct a school, library or community center as previously promised — nor is it clear how the developer plans to finance this concession.
"The project hasn't been approved yet," Hamilton, the spokesperson for Sterling Bay, said.
Under aldermanic prerogative — the city's unwritten policy of giving aldermen the ultimate authority over projects in their own wards — the project only needs the support of the mayor and Hopkins.

Sterling Bay has said it needs the $900 million in public funds to use Lincoln Yards to truly transform the industrial stretch of land along the Chicago River, with a revamped intersection, bridge repairs and park space.
Who's opposed — and why?
Many opponents aren't outright against the idea of Lincoln Yards — or opposed to Sterling Bay.
In fact, several residents who live near the site said they want this land developed — they just want it developed thoughtfully, and with input from the community.
For example: Chuck Griffin, who lives in Ranch Triangle, just a few blocks from the proposed development.
As a member of the Ranch Triangle Neighborhood Association's planning and development committee, it's Griffin's job to review new construction in the area.
At a meeting with Hopkins last month, Griffin was frustrated and concerned that Sterling Bay's master plan did not describe what side of the street it plans to orchestrate garbage pick-up, let alone where it plans to construct a school and park its residents' cars.
During that meeting, Hopkins chided residents for being anti-development. Ranch Triangle Neighborhood Association Vice President Reatha Kay said that label is unfair.
"This gives the appearance of being basically very dismissive of any kind of review," she said.
In an editorial published in Crain's this week, leaders of the Chicago Independent Venues League wrote that they were not of a mind to "stop Lincoln Yards." They, too, asked city leaders to delay Thursday's vote.
"Not forever, but to give the new mayor and City Council a chance to examine the project, listen to the community and create a Lincoln Yards that works for everyone," the CIVL co-chairs wrote. "Instead of rushing through this process and making it an us-against-them scenario, let's all do the right thing: Engage in constructive dialogue to make this the best Lincoln Yards it can be."

On the other side of the river, Wicker Park, Bucktown and East Village community leaders have voiced serious concerns about how Lincoln Yards will affect traffic in their neighborhoods.
Sterling Bay hired a consultant to perform a traffic study. But residents and community leaders have said the city is obligated to perform an independent traffic study.
"The transportation study is on Hopkins' website, but dig into that thing and you just get overwhelmed immediately," Ed Tamminga, chair of preservation and development in the Wicker Park Committee, has said.
Hopkins told the Ranch Triangle Neighborhood Association last month that the traffic study was under review from a team at DePaul University.
Zoning Committee Speakers by on Scribd
Do stories like this matter to you? Subscribe to Block Club Chicago. Every dime we make funds reporting from Chicago's neighborhoods.