CITY HALL —  Preservationists are pushing for three iconic neighborhood streetscapes known for their unique architecture and cultural connections to the communities they serve to become official Chicago landmarks.
On Thursday, members of the city's Commission on Chicago Landmarks unanimously agreed that the rainbow pylons and Legacy Walk memorial of North Halsted Street in Boystown, the Little Village Arch at 26th Street and Albany Avenue and the Puerto Rican flag gateway on Division Street in Humboldt Park could all potentially be worthy of landmark status due to their architectural uniqueness and historical and cultural significance. To officially make the structures landmarks, the full City Council would have to vote in favor.
While many Chicago neighborhoods have streetscapes and branded geographic markers — such as the Fulton Market gateway — preservationists proposed that these particular streetscapes, which have become synonymous with the communities they represent, go beyond simply placemaking and meet criteria required for landmark destination.
A report submitted to the commission argued that each item serves as a symbol that reflects the neighborhood's heritage, is an "exemplification" of a unique, original architectural style, is visible from the public right-of-way, and uses imagery and symbolism to represent the cultural and social aspects of the community — all requirements for consideration for landmark status.
Matt Crawford, a project manager for the report, said the imagery used in the streetscapes evoked "civic pride and weighted meaning."
"These examples serve both to attract visitors to a community and as concrete reaffirmations of the community's collective identity in Chicago," the report states.
Little Village Arch

The Little Village Arch has been welcoming visitors to "La Villita" since 1990, effectively serving as the gateway to what has been called the "Mexican capital of thee Midwest," according to the report. It was designed by architect Adrian Lozano in a traditional Mexican style at the behest of then-Ald. Jesus "Chuy" Garcia during a time when the neighborhood's Latino population was booming.
In 1991, during a visit to Chicago, former President of Mexico Carlos Salinas de Gortari stopped by the freshly minted arch and spoke with nearly 2,000 residents, later gifting the community a bronze clock, which was placed in the arch's crown where it remains today.
Paseo Boricua's Flags
In Humboldt Park, the massive flags that pay homage to Puerto Rico along the Paseo Boricua section of Division Avenue are also a source of both tremendous local pride, as well as landmark-worthy architectural features, according to preservationists.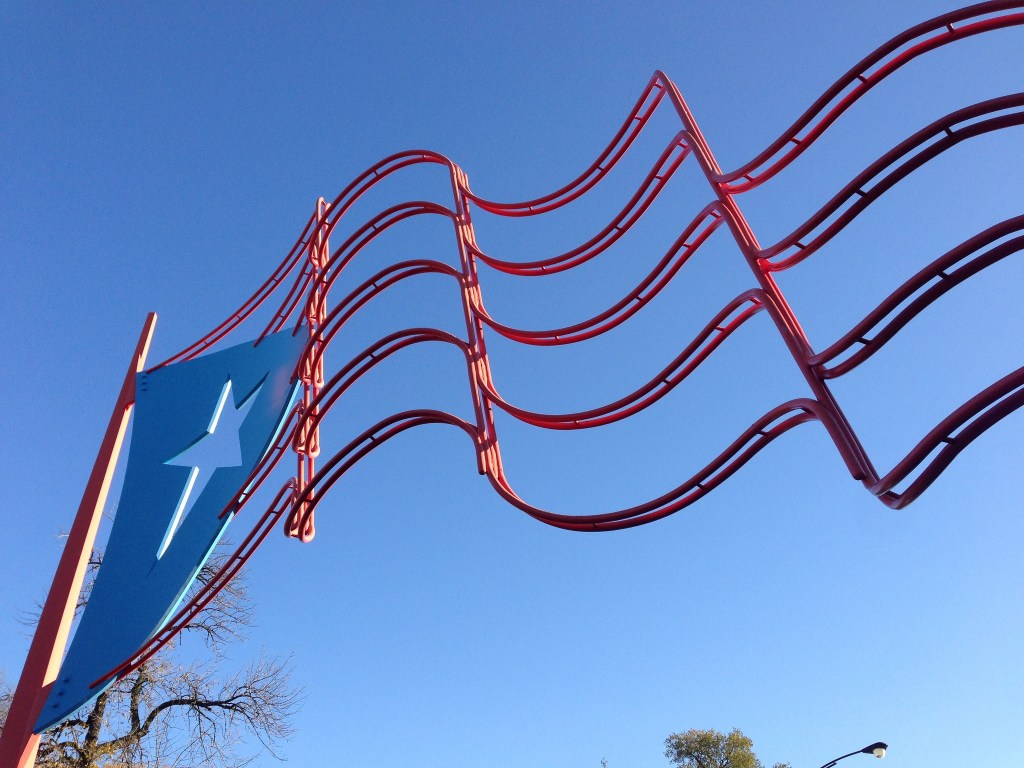 The flags, created by architects from DeStefano + Partners, McClier Company and Rodriguez Associates, stand 55 feet tall and 56 feet wide, weighing in at 50 tons each.
"Although they weigh 50 tons each, the intricately welded tubes form flags that appear to billow and ripple in the wind," the report states. "They are monuments of civic and cultural pride."
The flags' installation was complete in 1995, and a formal dedication took place on January 6, 1995 — also known as Dia de Los Reyes Magos, or "Three Kings Day."
Within a year, 16 new businesses had opened along the strip of Division between Artesian Avenue and Mozart Street, with over 90 businesses calling the area home less than five years later, according to the report.
The gateway has won seven awards since its installation, and underwent a restoration and rededication in 2013.
Boystown Pylons and Legacy Walk
In 1997, architecture firm DeStefano + Partners also helped create the Art Deco-style rainbow-clad pylons seen along North Halsted Street in the Boystown neighborhood, which has strong cultural and historical ties to Chicago's LGBT history.
The 20 pylons run along Halsted Street between Bradley Place and Melrose Street, guiding residents and visitors along the stretch's many LGBT-owned and themed shops and restaurants, which by 1997 helped establish Halsted as "the country's first LGBTQ commercial, entertainment and cultural center officially recognized by a city government."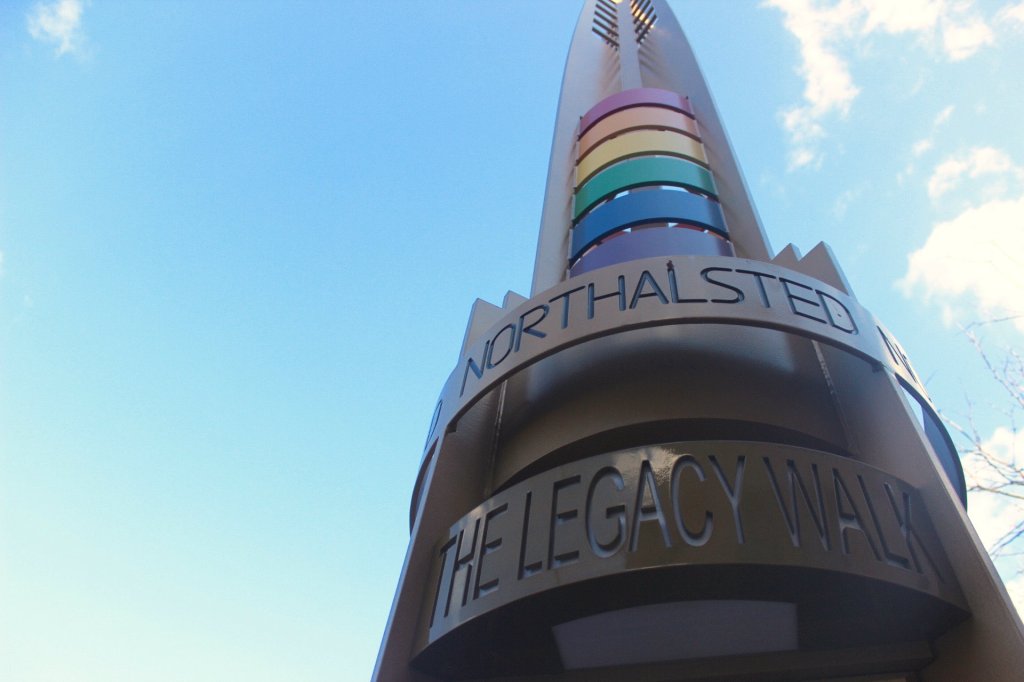 In 2012, the Legacy Project, a nonprofit organization, adorned each rainbow pylon with a bronze plaque that paid tribute to a notable LGBT figure. Collectively, the pylons and the plaques are known as the Legacy Walk, which serves as a memorial, educational source and the country's first outdoor LGBT museum.
Currently, the Legacy Walk showcases 40 plaques featuring influential people such as Frida Kahlo, Jane Addams, Sally Ride, Leonard Bernstein and Alan Turing, as well as historical events such as the Stonewall Riots.