ENGLEWOOD—For years, Asia Cooper was afraid to smile.

The 37-year-old mother, a survivor of intimate partner violence, had struggled for years to feel normal.
The embarrassment of missing teeth cost her job opportunities, and forced her to miss family events. Although she had been years removed from a crippling drug addiction, her teeth were a constant reminder of the past.
So when Englewood activist Aleta Clark surprised her with a trip to ABC7's"Windy City Live" last May, she was excited —and a little terrified.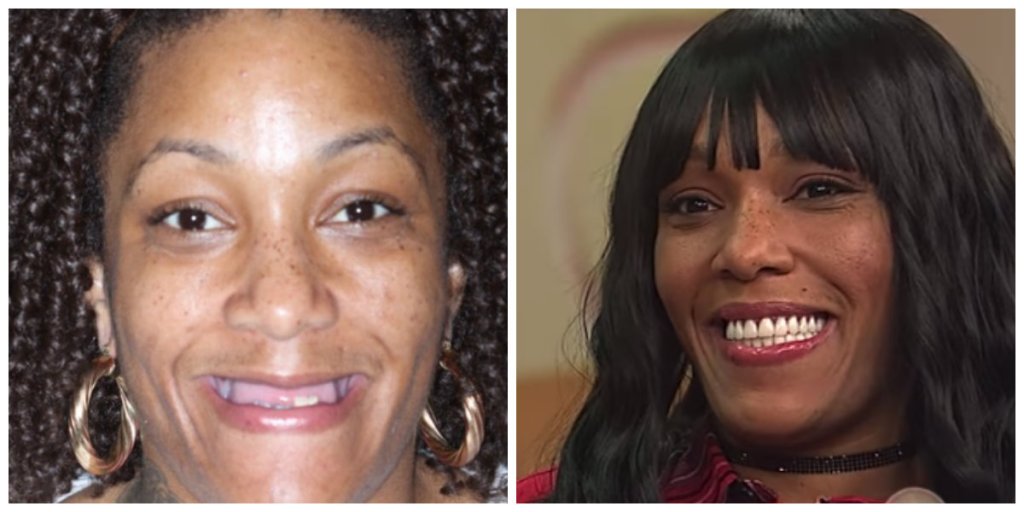 "I didn't know what was going on until I saw my name on the teleprompter," Cooper said. "I see my name on the teleprompter and I'm like 'Whoa, that's my story!' I was in shock."

It wasn't until "Windy City Live" hosts Ryan Chiaverini and Val Warner introduced Dr. Ogbonna Bowden that she realized it was a setup. That's when Bowden announced he would be gifting Cooper with free dental work.

Finally, she thought, she could get her life back.

It had been a hard journey for Cooper, who at one point was using cocaine and prescription drugs to get by. It wasn't until she was going from house to house for a place to crash that she realized she needed help. That help came in the form of her son's godmother, who got her into a drug treatment program.

Ironically, it was the drug used to wean her from her addiction that caused her teeth to fall out.

"The suboxone really did a number on me," said Cooper. "I started covering my mouth when I spoke to people."

For Bowden, taking on Cooper's case was the right thing to do. Through Smiles of Tomorrow — the philanthropic arm of Woodlawn Dental Gallery— he regularly works with patients unable to afford the cost. Bowden, who runs the South Side practice with his three siblings, visits preschools and daycares in low-income neighborhoods, and works at community health fairs.

"I do this work so that I'm able to give back," Bowden said. "It's so fulfilling to transform people all the time, but this one touched me."

The idea of helping a fellow Englewood native also appealed to Bowden, who grew up in a three-bedroom, 900-square-foot apartment with eight siblings.

"My father mentored fatherless boys, and was always active in the community," said Bowden, a Chicago State University alum. "Charity always starts at home."

The total cost of Cooper's dental work was $23,000, and involved bone grafting and guided surgery. What was originally thought to be somewhat of a quick fix became much more complicated.

"We could've just given her dentures but it wouldn't have improved her quality of life, so we wanted to give her implants," said Bowden.

Using a procedure called guided surgery, where CT scans help form a template for drilling, he was able to place the dentures in a way that would allow them to lock onto the implants, allowing Cooper to enjoy food without worry of embarrassment.

"You could see her confidence change right away," he said. "It was great to see."

For Cooper, the procedure was life-changing.

"I'm overwhelmed," said Cooper, who surprised her family and friends with her new smile ahead of the Feb. 26 reveal. "When they saw me, they hugged me and cried."

She's hoping that her new look will help her land a job. In the past, she's worked as a receptionist, a Champs cashier and a Safe Passage escort.

"I'm healthy, my body is great, my skin is clearer, my eating habits have changed," said Cooper. "I'm able to live again."

She hopes that her story inspires others who have been through similar circumstances to keep pushing on.

"I didn't know who I was, and that's what led me to use," You've got to be true to yourself."
Here's the big reveal on "Windy City Live" …
Do stories like this matter to you? Subscribe to Block Club Chicago. Every dime we make funds reporting from Chicago's neighborhoods.