WEST LOOP — When it's not 10 below zero, Chicago has many thriving backyard and community gardens. But is the food grown in city soil safe to eat?
That is what a team of researchers from the University of Illinois and  University of Illinois Extension is exploring in a two-year study that aims to empower urban growers to test their own soil for lead contamination.
"In our lab, we've been ourselves kind of confused about what is the definitive threshold of how much lead is too much lead," said Andrew Margenot, assistant professor of soil science at the University of Illinois–Urbana Champaign. "That's kind of what motivated this project about two years ago."
Margenot and Zack Grant, director of local food systems and small farms at UIUC, shared their plans for the study with about 20 gardeners from across the city late last month at Advocates for Urban Agriculture's West Loop offices.
This study won't work without gardener participation, they said.
"We need your help," Margenot said. "We want to get from you what you think the priority questions are."
The study will use two on-site tests to determine the edibility of different crops in plots across the city. The first will examine the relationship between soil lead concentration and the lead concentration in the edible part of the plant, such as a tomato or collard-green leaf.
The other test will examine the effects of different types of mitigation practices — like adding compost, biochar or phosphate to soil — on lead concentration levels. For gardeners who offer up plots for the study, the researchers will not only plant the crops, but will provide regular soil analysis to the gardeners over the two-year period.
By the end of the study, Margenot said, they hope to have learned what plants are safest to grow in soils with higher lead levels, and what mitigation practices are most effective in Chicago soils.
Ultimately, the team will use conclusions from the data to share best growing practices. But while they're collecting that information, they want to give back to the gardening community they're working with.
Over the course of the study, they'll provide free and low-cost soil analyses for gardeners across Chicago. The resulting data will be used to create an open-source, citywide map of lead levels and hotspots.
The current options home gardeners have to pursue lead testing and implement lead mitigation strategies can be less than intuitive.
Confusion stems in part from the lack of federal or state consensus on what the maximum acceptable lead concentration in soil is, Margenot explained. The EPA sets its upper limit at 400ppm (parts per million), but other state agencies and European authorities set upper limits of 80ppm. It makes it difficult for gardeners to know when they should be concerned about lead, and what they should do to protect themselves from lead poisoning.
'Let's Make A Map For Chicago'
In a city like Chicago, the natural occurrence of lead in soils fluctuates between 10 and 50 parts per million (ppm). But the reality is often very different because lead is one of the most stable elements, and can't be easily broken down or removed.
Even after the banning of the use of lead in paint in 1978 and in gasoline in 1990 — and decades after the metal industries that produced lead as a byproduct moved out of Chicago —thousands of tons of lead remain in surface-level soils. In a Washington Park lot that Margenot worked in during a preliminary study last summer, for example, he found levels ranging from 90 to 580 ppm.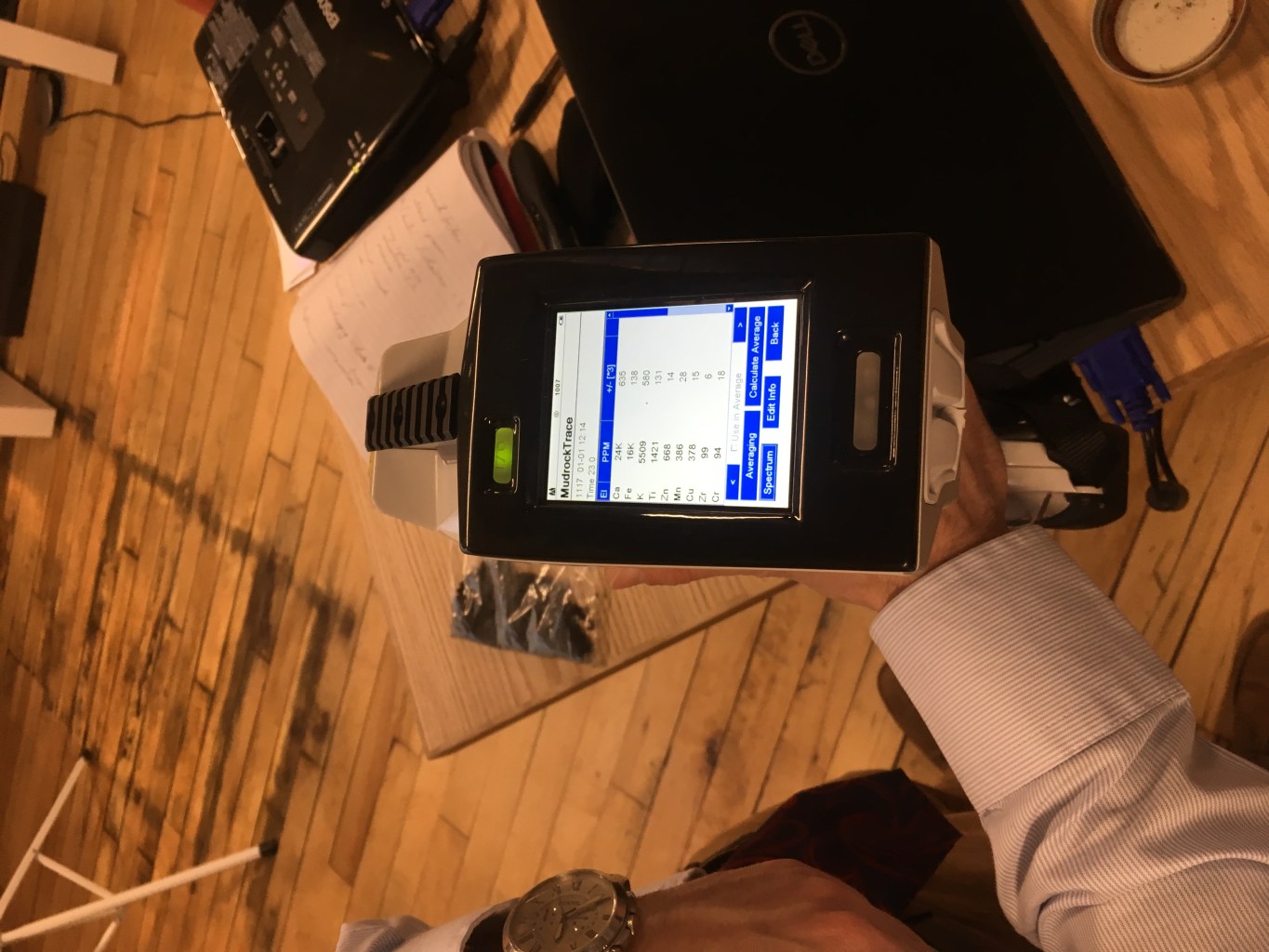 When Margenot asked if anyone in the room had had their soils tested for lead, Rachel Kimura, an Avondale resident, said she had been curious about whether small stretch of soil outside her apartment building would be safe for growing vegetables, and sent in a sample for testing to a local lab. But when she got the results back, she had trouble deciphering the analysis, she said. When she called the lab to ask if the soil was safe to garden in or not, she couldn't get a straightforward answer. Kimura and other attendees said such testing costs between $35 and $80 per sample.
But with a portable x-ray fluorescence device (PXRF), a heavy-metal tester that resembles a laser gun, Margenot and Grant said they can provide on-the-spot analyses and data interpretations for gardeners at a much lower cost. (They haven't decided on an exact price, they said, but gardeners can expect to pay between $2 and $5 per sample.)
At the Good Food Expo last year, the duo provided soil analyses on the spot for free, and will do so at this year's Good Food Expo March 23-24.
Margenot said they hope to provide a mail-in option as well, which would allow gardeners to send soil to any of the Extension's seven Cook County offices and receive results via email in one week.
Representatives of Advocates for Urban Agriculture, which is working with researchers to facilitate the project, and gardeners at the meeting were excited about the environmental justice prospects of this project.
Robert Beedle, one of the co-founders of the McKinley Park–based Neighbors For Environmental Justice, said he intended to spread the word about the initiative among the neighborhood's many gardeners, many of whom grow their crops directly in the ground.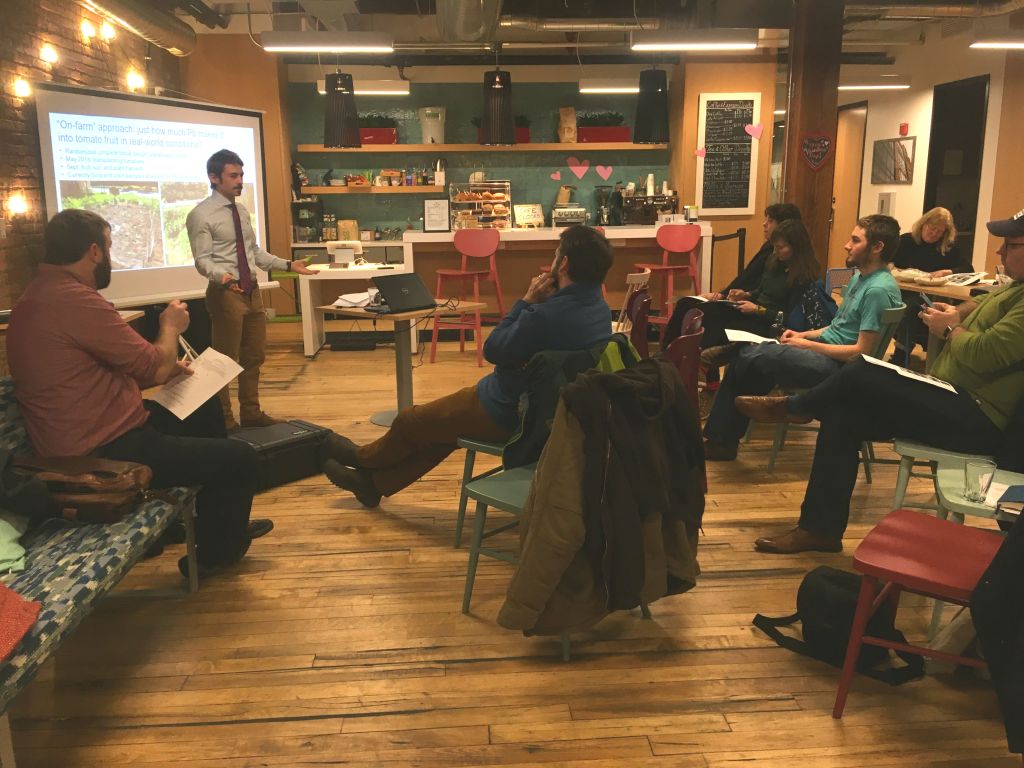 Beedle had also brought in a soil sample to be tested by the portable x-ray device. Margenot held the gun to the plastic bagged–soil for several minutes, and then read the results out loud.
"There's some lead … at 74 [ppm], which is above the background of 20ppm, but it's definitely below the 400 [ppm] that the EPA says is a risk," Margenot said, adding that the copper levels were high, too. "Copper's typically like 15 to 50, maybe 60, ppm, and it's 370 ppm."
While the study is focused specifically on mitigating the risk of lead, Margenot said that they would be testing for other heavy metals, too.
"Lead is the poster child, but it's also a good proxy of other contaminants," he said, depending on the type of industry located in the area. "So if you get lead, you're probably going to have — or it's not going to be a surprise if you have — arsenic. But you don't find arsenic by itself. A lead hotspot might tip us off to arsenic… Cadmium is [also] a common co-contaminant with lead."
Viviana Gentry Fernandez-Pellon, a Technical Assistance Manager for Advocates for Urban Agriculture, said that they were in communication with other environmental justice groups, like the Little Village Environmental Justice Organization, to ensure that this project was on the radar of a representative sample of gardeners in the city, and not just English-speaking ones.
The next information session on March 13 will be conducted in Spanish.
In the past, the University of Illinois Extension — the branch responsible for agricultural research, education, and outreach — has focused much of its attention on issues affecting farmers in rural areas.
But thanks to what Grant called a "reboot" of the Extension, the branch has been repositioning itself to be able to provide useful research for Chicago growers, too. A call for urban ag–focused research projects several years ago allowed this project to get off the ground.
Margenot said it was high time for a research project like this to take place in Chicago, where the popularity of urban agriculture has continued to grow.
"Many cities have had their lead soil content mapped—New Orleans, Boston, L.A.," Margenot said. "We're the third-biggest city in this country, let's make a map for Chicago."
Margenot said that the research team would be in touch with those interested in participating in the onsite trials by April, and would begin planting in early May. Independent soil testing will be available over the next two years.
For more information about soil testing or to get involved with the onsite studies, interested gardeners can email Chicagosoils@gmail.com.
Do stories like this matter to you? Subscribe to Block Club Chicago. Every dime we make funds reporting from Chicago's neighborhoods.